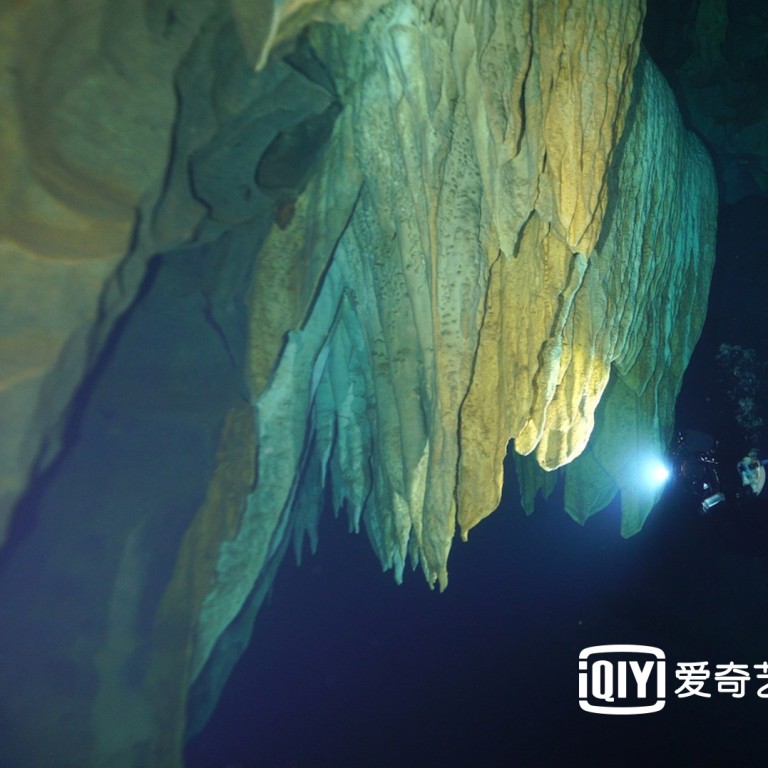 China Netflix-style providers are facing a tough time amid sluggish growth in new users
Chinese streaming providers are shelling out big bucks on content, including buying copyright licences and self-produced shows
With over 100 million paying subscribers, China's iQiyi and Tencent Video have secretly grown to become the world's second- and third-major video streaming services providers by paying user base, behind only Netflix.
However, both firms are facing continued net losses amid slower growth of new users and sluggish advertising sales.
At a Tencent conference held in Beijing last Friday, the Chinese tech giant announced that its video streaming service is used every day by over 200 million users, while its platform has surpassed the milestone of 100 million paying subscribers, a claim that was first revealed in the company's third-quarter earnings report.
Tencent Video is the second Chinese video streaming business to hit the 100 million mark, after its rival Baidu-backed iQiyi, which announced a subscriber base of 105.8 million as of September. Meanwhile, US-based Netflix reported over 158 million paying users, and is projected to reach 177.5 million by 2023.
Unlike ads-free Netflix, which is predicted to generate total revenues of US$20 billion and a net income of US$1.5 billion in 2019, according to its third-quarter earnings report, Chinese players are facing difficulties in paving the way to profitability.
Although Tencent does not detail the financial situation of its streaming unit, the deep-pocketed tech powerhouse said at the beginning of the year that Tencent Video's annual net loss could hit 8 billion yuan (US$1.15 billion) in 2019. Likewise, iQiyi is also money-bleeding. In the first nine months of the year, its accumulated net loss surpassed 7.8 billion yuan, 40 per cent wider than the figure from the same period in 2018.
Chinese streaming providers are also shelling out big bucks on content, including buying copyright licences and self-produced shows. iQiyi, for example, reported that only in the third quarter of 2019, it spent 6.2 billion yuan on video content, which is equal to 84 per cent of its revenue during the period.
Tencent did not specifically mention this part of its expenses, but its cost of revenue for value-added services increased by 32 per cent year-on-year to hit 22 billion yuan in the second quarter of 2019, mainly due to higher content costs for services, which also included online games.
According to iQiyi CFO Wang Xiaodong, the company sees content costs as a kind of investment, which is necessary for the business. "We will continue to lower the number down to somewhere below 70 per cent next year," Wang said during the company's third-quarter earnings call.
While membership services are the main revenue generator of these video streaming platforms – 50 per cent of iQiyi's revenues were from paying users in Q3 – and attracting more paying viewers is becoming harder.
Net additions of iQiyi's subscribers from the end of 2018 to the end of September 2019 were 18.4 million, down 38 per cent year-on-year. Tencent instead managed to earn 11 million new subscribers in the first nine months of this year, only about half of the 20 million obtained last year over the same time span.
Tencent and iQiyi also make a part of their revenues through online ads. But Sun Zhonghuai, chief executive of Tencent Video, predicted in May that the growth rate of advertising sales will decrease from 37 per cent to just 19 per cent, as reported by the Nikkei Asian Review.
iQiyi also reported that its online advertising services revenue decreased by 14 per cent year-over-year in Q3 to 2.1 billion yuan, largely due to the challenging macroeconomic environment in China, the delay of certain content launches and the intensified in-feed advertising competition, the company stated.
In the race to get more paying users, Chinese streaming services are also running aggressive discounts on their platforms. With coupons and promotions, users can sometimes get one-month subscriptions for as low as six yuan (less than one dollar).
iQiyi's CEO has said that the Chinese market has stabilised after a period of intense competition for subscribers, laying the groundwork for price hikes of 10 per cent to 20 per cent in the second half of 2020.
While Tencent Video did not announce similar plans, recently, it introduced a controversial moneymaking idea, which was also followed by iQiyi. Tencent's video unit unveiled a premium VIP plan targeting its paying members where it charged an additional 50 yuan for access to the latest episodes of the trending Chinese TV series "Joy of Life," KrASIA reported.
The policy promptly triggered a backlash from netizens and even from state-owned news outlet People's Daily, which in a commentary wrote that both platforms are "looking down upon users' rights". Tencent Video and iQiyi later apologised and cancelled part of the new VIP program.
Although more than 300 million Chinese paid for video streaming services in 2018, contributing more than one-third of overall revenues for platforms, according to a Xinhua report, it remains unclear if these major Chinese streaming services will be able to hit profitability soon.
Purchase the China AI Report 2020
brought to you by SCMP Research and enjoy a 20% discount (original price US$400). This 60-page all new intelligence report gives you first-hand insights and analysis into the latest industry developments and intelligence about China AI. Get exclusive access to our webinars for continuous learning, and interact with China AI executives in live Q&A. Offer valid until 31 March 2020.
This article appeared in the South China Morning Post print edition as: IQiyi, Tencent Video struggle with losses