Huawei
Get more with myNEWS
A personalised news feed of stories that matter to you
Learn more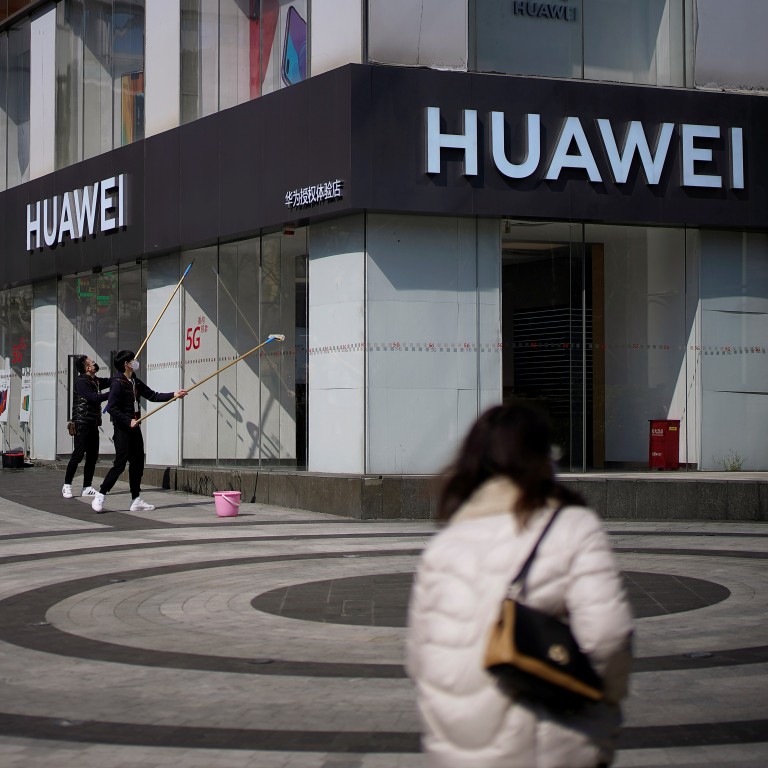 Huawei sees 'complicated' year ahead despite posting record group sales of US$121 billion on strong domestic sales of smartphones
Net profit increased 5.7 per cent to 62.7 billion yuan for the year while the company said it invested 15.3 per cent of revenue in R&D
Huawei's annual revenue growth last year was slightly lower than the 19.5 per cent recorded in 2018
Huawei Technologies reported that revenue grew 19.1 per cent year on year to a record 858.8 billion yuan (US$121 billion) last year but said that Trump Administration curbs on its ability to do business outside China are biting and that its 2020 outlook amid the US sanctions and global coronavirus pandemic "will only get more complicated".
Last year, revenue from China accounted for 59 per cent of total sales, driven by a domestic market growth rate of 36 per cent, almost double that of the global figure, indicating how difficult the international market has become for the Chinese telecoms giant amid the US pushback.
"Despite enormous outside pressure … Business remains solid," Eric Xu, Huawei's rotating chairman, said in a statement on Tuesday, adding that the "external environment will only get more complicated going forward".
The Shenzhen-based company's latest annual sales for the year ended December 31, up from 721.2 billion yuan in 2018, were driven by a jump in smartphone shipments in China and robust demand for its 5G networks, according to the statement.
However, given the challenges of a US trade ban issued in May 2019, Huawei saw its annual revenue growth come in slightly lower than the 19.5 per cent recorded in 2018, although it exceeded its 2017 growth rate.
Huawei's key business segments – consumer, carrier and enterprise – produced revenue of 467.3 billion yuan, 296.7 billion yuan and 89.7 billion yuan respectively.
Net profit increased 5.7 per cent to 62.7 billion yuan for the year while the company said it invested 15.3 per cent of revenue in research and development.
Xu said on the earnings call on Tuesday that the company's 5G revenue was around US$3 billion, "very low" as a percentage of overall sales because the new generation wireless roll out just kicked off last year.
"The pressure coming from the United States on Huawei's 5G systems has brought about quite a substantial impact. We had to spend a lot of our time explaining [the situation] to our customers, partners and also government regulators," he said.
Huawei's carrier business could be impacted by the pandemic if the outbreak is not controlled soon because macro uncertainty and supply chain disruptions will continue to damage economic growth, according to analysts.
"If the coronavirus cannot be brought under control in Europe by the first half of this year, Huawei's carrier business will be hurt due to the delay of local internet construction," said Jia Mo, an analyst at research firm Canalys. "In terms of smartphones, Huawei's overseas business will be hurt badly without Google mobile services while the virus limits domestic demand … Huawei will have more challenges [this year]."
Xu said if some of the company's suppliers cannot maintain their supply chain due to the coronavirus it would present long term challenges and uncertainty over whether Huawei can continue to supply products to its customers.
Last year was arguably one of the most challenging in the company's recent history, after it was added to Washington's Entity List on national security concerns, restricting the Chinese company's ability to purchase hardware, software and services from American suppliers without approval from the US government.
Commenting on a Reuters report last week that said the Trump Administration was considering tightening restrictions on Huawei's ability to access semiconductors made using US manufacturing equipment, Xu said he hoped it was "fake news", adding that if Washington did do that the Chinese government would have no choice but to do the same to US companies.
He also said Huawei could turn to Samsung Electronics for chips if the company was blocked from using TSMC-made chips due to US pressure.
The US ban, which also prohibits Huawei from using Google mobile services on its smartphones, had already crimped its global sales in 2019, before the coronavirus outbreak in China in January, which has since become a global pandemic.
"I don't think Covid-19 will have any huge impact on our annual plan," Ren Zhengfei, the founder and chief executive of Huawei said in a sit-down interview with the South China Morning Post last week.
"Sales at the retail stores of our consumer business group may be affected a little. However, the surging demand for equipment required for online learning and telecommuting has made up for the declining sales of other products. Our overall sales have grown significantly recently, and there are no signs of decline," he said.
The company's two smartphone brands – Huawei and Honor – saw a 16.5 per cent increase over 2019 shipments to 240 million units. Its smartphone business continued to grow strongly in its domestic market last year, which helped offset a drop in sales in western markets, where overseas users are hesitant to buy phones without Google mobile services.
Last Friday, Huawei launched its P40 series smartphone, dubbed the "monster camera" for its five Leica-brand lenses on the Pro+ version, but the handsets do not have Google apps.
The coronavirus outbreak led to a lockdown on millions of Chinese citizens, and now the same is happening in many countries abroad. Combined with a rupture in the global tech supply chain, these conditions have adversely impacted the entire smartphone industry. Canalys and Strategy Analytics both expect shipments of smartphones in China to drop 50 per cent in the first quarter from a year ago while IDC sees a 30 per cent slide.
In 2020, Huawei plans to increase its research and development investment by US$5.8 billion to over US$20 billion in an effort to help the company maintain "global leadership", Ren told the Post last week.
Purchase the China AI Report 2020 brought to you by SCMP Research and enjoy a 20% discount (original price US$400). This 60-page all new intelligence report gives you first-hand insights and analysis into the latest industry developments and intelligence about China AI. Get exclusive access to our webinars for continuous learning, and interact with China AI executives in live Q&A. Offer valid until 31 March 2020.
This article appeared in the South China Morning Post print edition as: Huawei faces 'complicated' year ahead