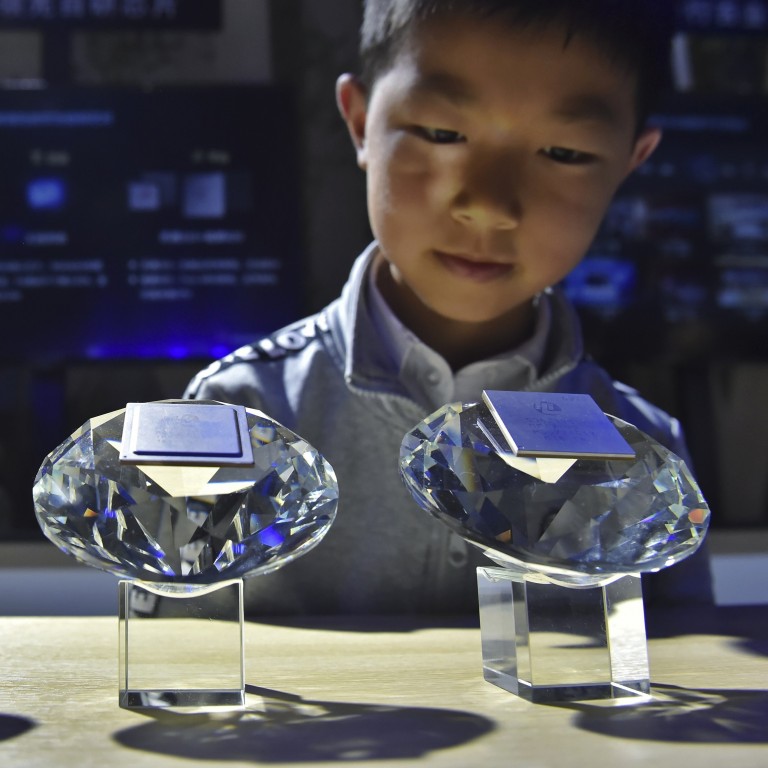 US plans to further restrict Huawei's development of semiconductors using American technology
US Commerce Department said it would target Huawei's acquisition of chips made with American software and technology
Restriction on Huawei comes as Taiwan Semiconductor Manufacturing Company announces plan to invest US$12 billion to build a chip factory in Arizona
The Trump administration announced on Friday its plan to further restrict the ability of Chinese telecommunications giant Huawei Technologies to develop semiconductors using American technologies.
The Commerce Department said it would refine its regulations specifically on how to define "direct product" rules to "narrowly and strategically target Huawei's acquisition of semiconductors that are the direct product of certain US software and technology".
The changes will help "cut off Huawei's efforts to undermine US export controls", the department said.
The statement coincided with an announcement by Taiwan Semiconductor Manufacturing Company (TSMC), the world's largest contract manufacturer of silicon chips, that it would invest US$12 billion to build a chip factory in Arizona.
The two developments reflect momentum in the US's effort to decouple from China on tech as the Trump administration and lawmakers in both US political parties voice concern that America's dependence on China for critical technology could threaten the country's national security.
"TSMC is probably one of the most important companies in the world" when it comes to "the United States' national security," said Keith Krach, the State Department's undersecretary for economic growth, energy and the environment.
The US is focused on building "the economic prosperity network that is comprised of countries and economies [that] operate on a set of trusted principles -- things that symbolize what we have in common with Taiwan and what we have in common with TSMC, like integrity, accountability, transparency, and respect of law," Krach said.
"Moving the supply chain closer to home and also moving it out of Communist China is a big part of it," he added.
The US has warned that letting Huawei and other Chinese telecom companies such as ZTE in American tech infrastructure can endanger the national security as the companies could be obliged to give up information to Beijing.
While details of the new regulations directed at Huawei have not been disclosed, the Commerce Department's statement indicated the changes could include chipsets that are the direct product of certain semiconductor manufacturing equipment located outside the United States. Such a change could prohibit Huawei from obtaining products from overseas companies and bypassing the US restrictions.
"This rule seems written to directly impact Huawei and seems to specifically target Huawei's ability to access tools for the design and manufacture of their chips," said Stacy Rasgon, a telecoms analyst at AllianceBernstein. "The regulations also seem to confine the new rules to products and designs produced by Huawei themselves."
The development indicated, said Rasgon, "overall further tit-for-tat worries seem likely to continue to grow".
In a separate announcement, the Commerce Department also said it will extend for the last time the temporary general licence that allows US tech companies to make certain transactions with Huawei for another 90 days.
The licence, which was due to expire on Friday, allows American companies to sell to Chinese companies products deemed non-critical, as an exemption to a blacklist known as the "Entity List" last May. The restrictions are aimed at preventing Huawei from buying critical American products to advance its chip technology.
The US has extended the general licence seven times as the agency has allowed time for domestic companies to absorb the revenue damage brought on by the restriction.
Washington has been lobbying allies around the world to not to incorporate Huawei's telecoms gear in their networks citing security concerns. But foreign governments such as Germany and the UK have pushed back, insisting there are other ways to ensure security safety by setting up standards for 5G products and services.
Failure to convince its European counterparts to ditch Huawei highlights the challenges the Trump administration faces as the Chinese tech company's lead in future technology widens and the products are offered at a significant discount to other alternatives.
In a continued effort to tighten tech export controls, the US two weeks ago broadened the scope of products that must be reviewed by national security
regulators
before being shipped overseas.
Any products that can be used to support or contribute to military operations will now be required to apply for licences.
Although since the "Entity List" restrictions, the Commerce Department said Huawei continued to use US software and technology to design semiconductors by commissioning their production in overseas foundries using US equipment.
"Huawei and its foreign affiliates have stepped-up efforts to undermine these national security-based restrictions through an indigenisation effort. However, that effort is still dependent on US technologies," Commerce Secretary Wilbur Ross said. "This is not how a responsible global corporate citizen behaves."
The plan put forth on Friday would amend the foreign direct product rule and the "Entity List" to specifically prevent Huawei from bypassing the US restrictions.