Huawei
Get more with myNEWS
A personalised news feed of stories that matter to you
Learn more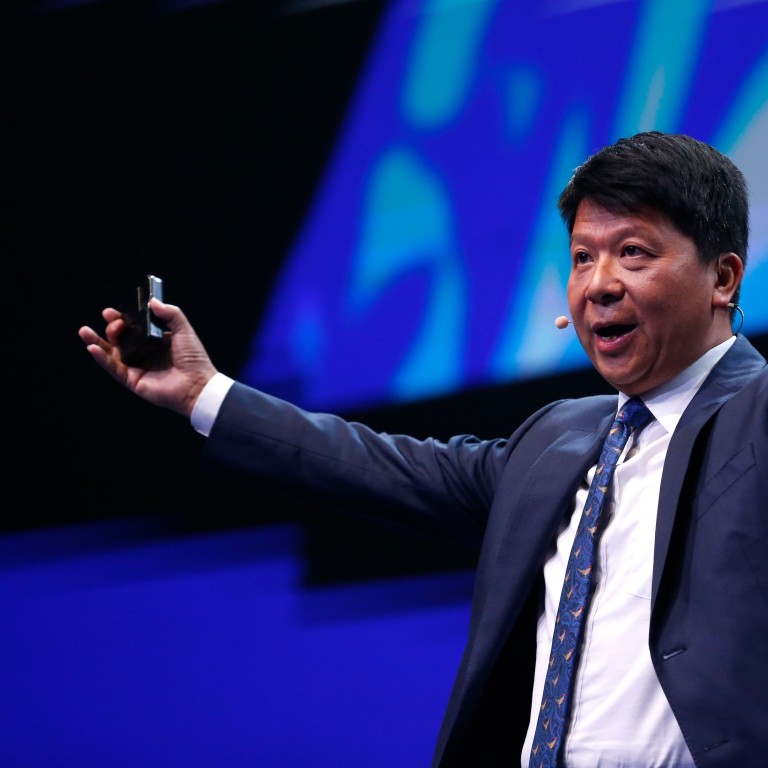 Huawei says now is the time to focus on 5G use cases and move beyond network rollout issues
5G mobile networks, with their higher capacity and reduced latency, have been touted as the connective tissue for a range of future technologies
Huawei's rotating chairman said that with 5G network roll-outs proceeding apace, attention should now turn to applications, with the mobile tech already being used to combat Covid-19 and for an array of cost-saving industry measures, such as remote aeroplane inspections.
With over 1.5 million 5G base stations set to be deployed worldwide this year, Huawei Technologies "needs to strengthen its focus on industry applications. This will help us unleash the full potential of 5G," said rotating chairman Guo Ping on Monday during a live-streamed company event.
Guo said the new information and communications technology had helped "fight back against the virus" on multiple fronts. "With 5G networks … a medical expert over 700 kilometres away was able to perform remote ultrasounds on patients in Wuhan," he said.
Huawei, which is currently at the epicentre of a trade and tech war between the US and China, can help to meet a diverse range of digital transformation needs, said Guo. 5G mobile networks, with their higher capacity and reduced latency, have been touted as the connective tissue for a range of future technologies such as the Internet of Things and artificial intelligence applications.
"An aviation technical service provider in Europe is using 5G applications to make aircraft maintenance more efficient … One of these applications is 5G-enabled remote inspection," Guo said. "Another application is 5G-enabled cockpit design. With 5G, the customer can reduce costs by 66 per cent annually … 5G is also laying the foundation for digital cities."
This was the first time that the Huawei chairman had made a public speech since early July, when the UK said Huawei would be excluded from its 5G network roll-out on security concerns.
"Going forward, we will continue investing heavily in research and development, bringing more high-calibre R&D talent on board to keep the innovation coming," Guo said. "As our CEO Ren Zhengfei puts it, we are keeping focus and doing what we do best. No matter what challenges come our way."
Huawei said earlier this month that its revenue grew 13.1 per cent year-on-year in the first half of 2020 despite the global coronavirus pandemic and ongoing sanctions from the US. The Shenzhen-based company generated 454 billion yuan (US$64.8 billion) in revenue in the first six months of the year, up from 401.3 billion yuan during the same period in 2019.