Tencent
Get more with myNEWS
A personalised news feed of stories that matter to you
Learn more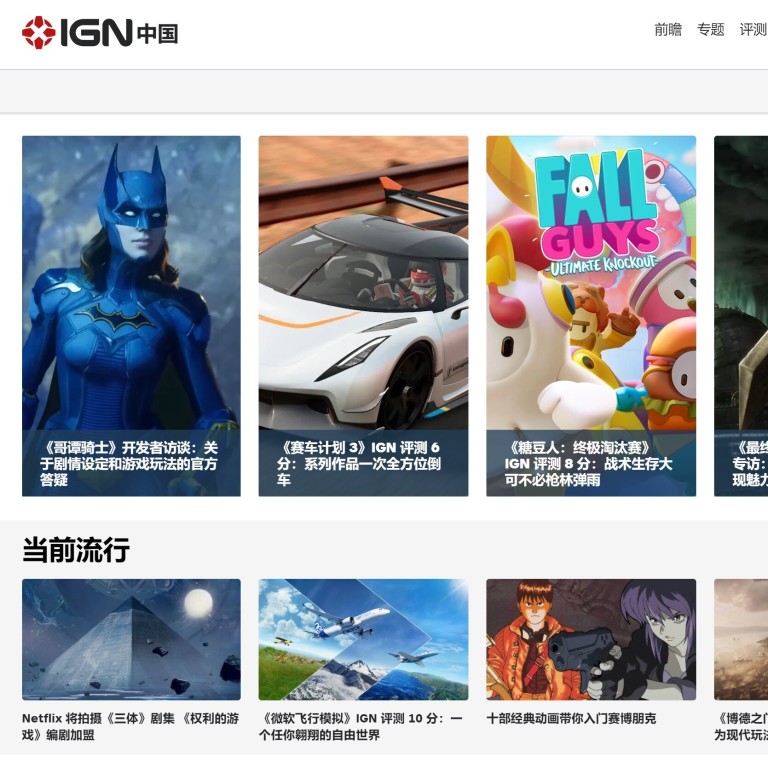 Gaming media title IGN relaunches official Chinese site in a tie-up with Tencent as demand booms
San Francisco-based IGN Entertainment currently has more than 200 million monthly users on its global website
Leading US video game media title IGN Entertainment has relaunched its official Chinese website in a tie-up with Tencent Holdings as game sales and appetite for gaming content continue to surge in China.
IGN China, the official Chinese website of IGN Entertainment, went live on September 1, resuming a presence in the country following the termination of IGN's old website in 2018. Chinese gaming giant Tencent has replaced Anji360 as the operator of the site and the editor in chief of IGN China is Charles Young, who also manages Tencent's gaming news app Gouhuo.
San Francisco-based IGN Entertainment currently has more than 200 million monthly users on its global website and 40 million users on social platforms, making it the leading gaming media worldwide, according to the company.
"Today, China has become an indispensable part of the global entertainment industry. The demand for cutting-edge information is as high in China as it is overseas," IGN China wrote in a press release, "From today on, a renewed version of IGN China has confidence in serving each and every reader and client well."
The relaunch of IGN's Chinese website comes at a time when game sales have surged thanks to more people working and playing from home as a result of the Covid-19 pandemic. Sales of games in China surged to 139.4 billion yuan (US$20.4 billion) from January to June, 22 per cent higher than the same period last year, according to a report in July by the government-backed China Audio-Video and Digital Publishing Association.
Tencent did not immediately reply to a request for comment.
Appetite for online gaming content has also been growing at a rapid rate in recent years. Gouhuo, launched by Tencent in June 2018, is one of a new generation of gaming news outlets, many of which attract millions of visitors on a monthly basis.
While content on the new IGN website appears to be mostly content translated from its original English site, Charles Young has tweeted that he was set to interview Game Science, the company behind the much-anticipated Chinese title Black Myth: Wukong, for an upcoming story.
However, the majority of games currently featured on IGN's global website are not officially available in China. Games have to obtain official government approval in China before they can be released in the country and foreign titles can face lengthier regulatory reviews than domestic games.
That said, many Chinese gamers still find ways to play foreign games in the grey market, and there is high demand for Western gaming news.
Iju Shih, APAC marketing manager of 505 Games, said that Tencent's collaboration with IGN in China will boost its influence in the country and make the Chinese gaming community more connected with the rest of the world. Most of 505 Games' top titles such as Death Stranding and Control are not officially available in China but still have a large following in the country thanks to extensive media coverage.
"We work with IGN a lot when it comes to exclusive reveals of trailers, so IGN China is also a very important piece to make any IGN initiative truly global," Shih said, "We are giving a lot of voice and space for China specifically because, in many cases, China is either taking the lead in terms of sales or taking up a very big chunk compared to before."
Analysts also said that a Tencent-backed IGN China would likely set a good example for China's gaming media market, which is looking to shed a controversial past, where pirated titles were often reviewed and discussed.