Apple
Get more with myNEWS
A personalised news feed of stories that matter to you
Learn more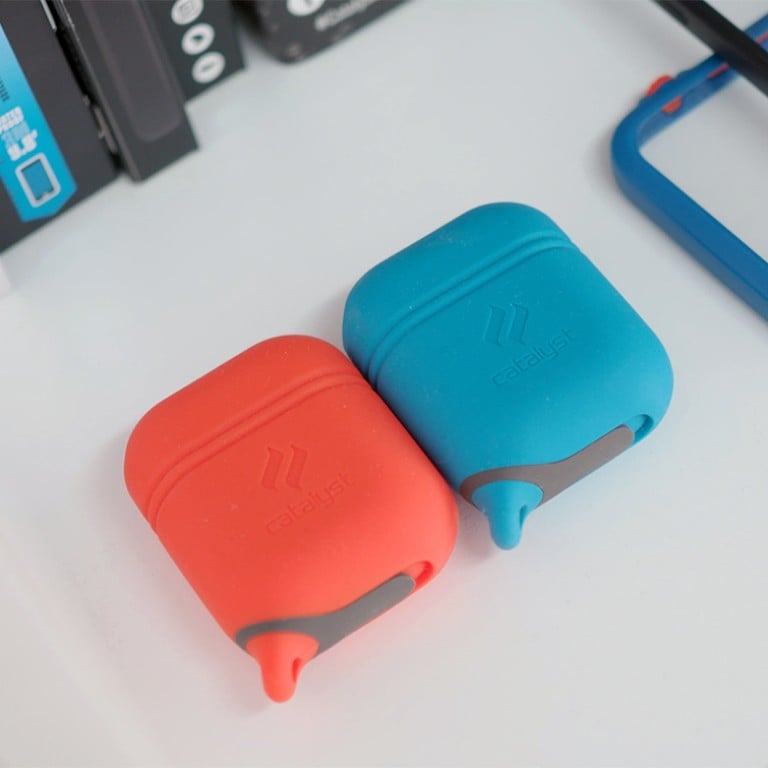 How two outdoor adventurers built an accessory that Apple didn't know it wanted
Hong Kong-based startup Catalyst makes waterproof and drop-proof cases for AirPods, iPhones, iPads and Apple Watches
This article originally appeared on
ABACUS
June Lai and Josh Wright wished they could take their iPhones with them wherever they went. But the outdoor enthusiasts knew the devices wouldn't survive the places they regularly visit… like mountains, canyons and beaches. 
"We're using our iPhones for our route guides for rock climbing. They are obviously used for navigation and communication, but we really couldn't use them in the climbing cracks," Wright told me in their office in Hong Kong. 
The potential hazards ranged from dropping the phone while pulling it out of a backpack in the middle of a climb to getting it soaked under a massive downpour. 
By 2010, seeing no viable solutions, the duo decided to take the matter into their own hands. After months of research, Lai and Wright launched a
Kickstarter campaign
to try to crowdfund their idea. In the process, they discovered hundreds of other people who were also looking for a way to protect their handsets from the elements. Their proposal to build a waterproof iPhone 4 case received almost US$55,000 in backing, and the partners set off to make their dream product a reality.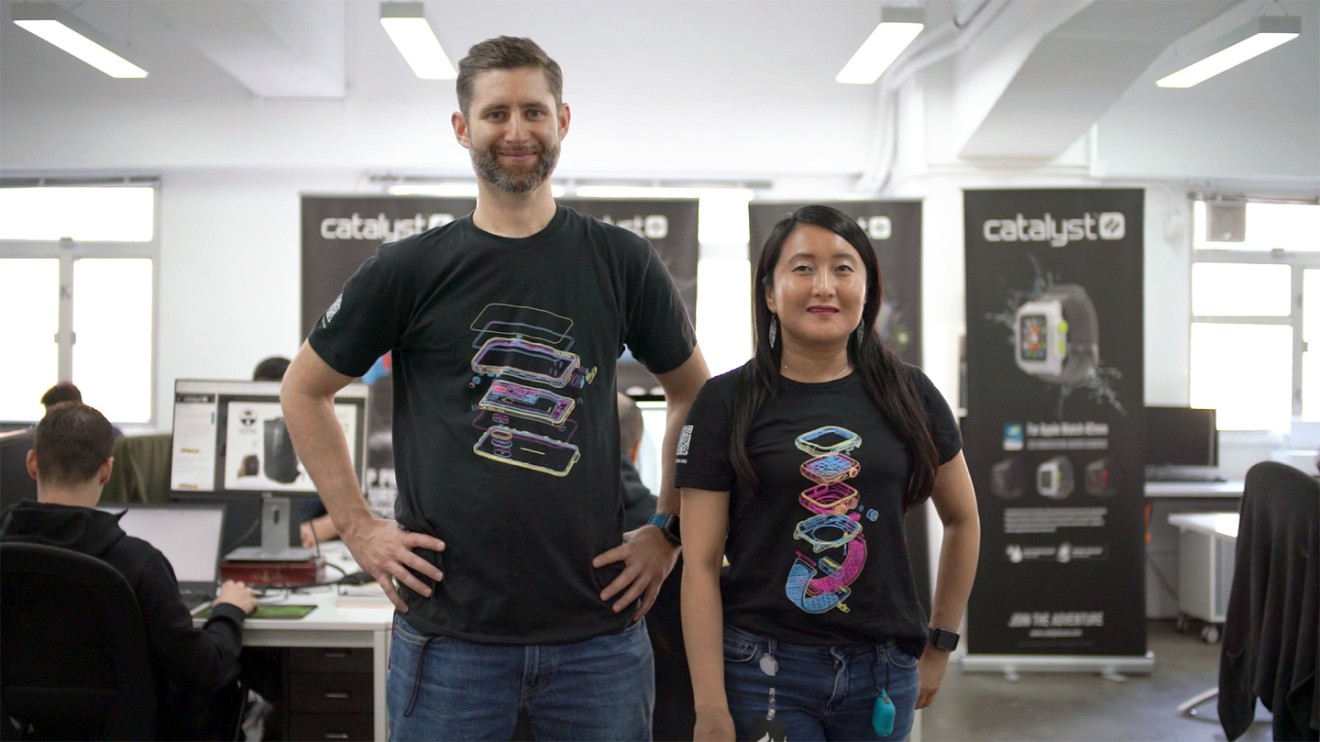 Today, Catalyst products are sold in 70 countries around the world, from online outlets like Amazon to physical stores like Best Buy and Target. The line has since expanded to include cases tailored for different gadgets -- iPhones, Samsung phones, iPads, Apple Watches and AirPods. They're made to withstand a drop from the top of a three-story building or a 6-feet dive into the ocean. 
Even Apple took notice: Earlier this year, the Apple Store started selling a special edition Catalyst case for the AirPods.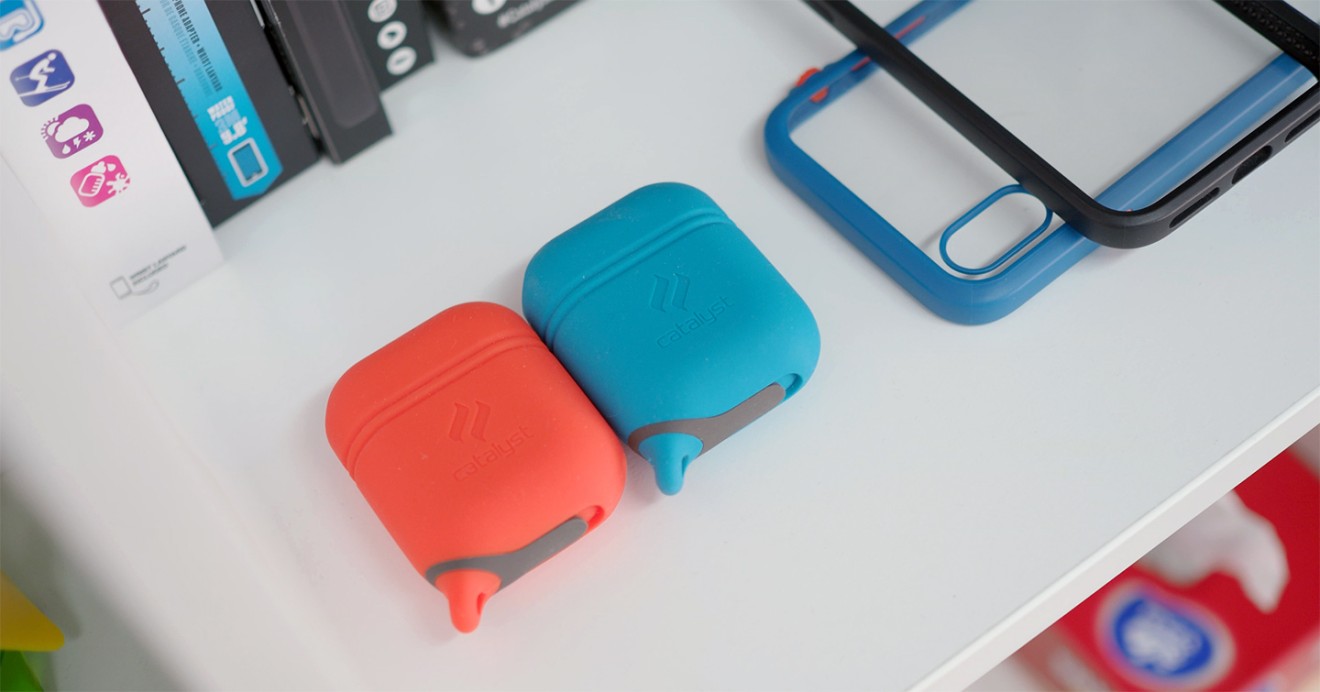 The idea might seem simple enough: A case that protects a device from the outside elements. But that turned out to be a challenging endeavor since most electronic gadgets aren't designed to be used inside a sealed enclosure.
Take a smartphone, for example. To make a call, you speak into the microphone and press your ear directly against the loudspeaker. To adjust the volume of the ringtone, you toggle the switches on the side. And to navigate the touchscreen, you have to, well, touch the screen. 
All these simple gestures require direct physical interaction with the phone. Adding a barrier around it suddenly makes everything a lot more complicated.
When you use a Catalyst waterproof iPhone case, though, you will find that the touchscreen is just as sensitive as it would be without the protective casing. Plastic switches on the the case rest right on top of the actual buttons on the phone, so pressing on the outside of the case works just as well as without it. A special plastic dial controls the mute switch from the outside.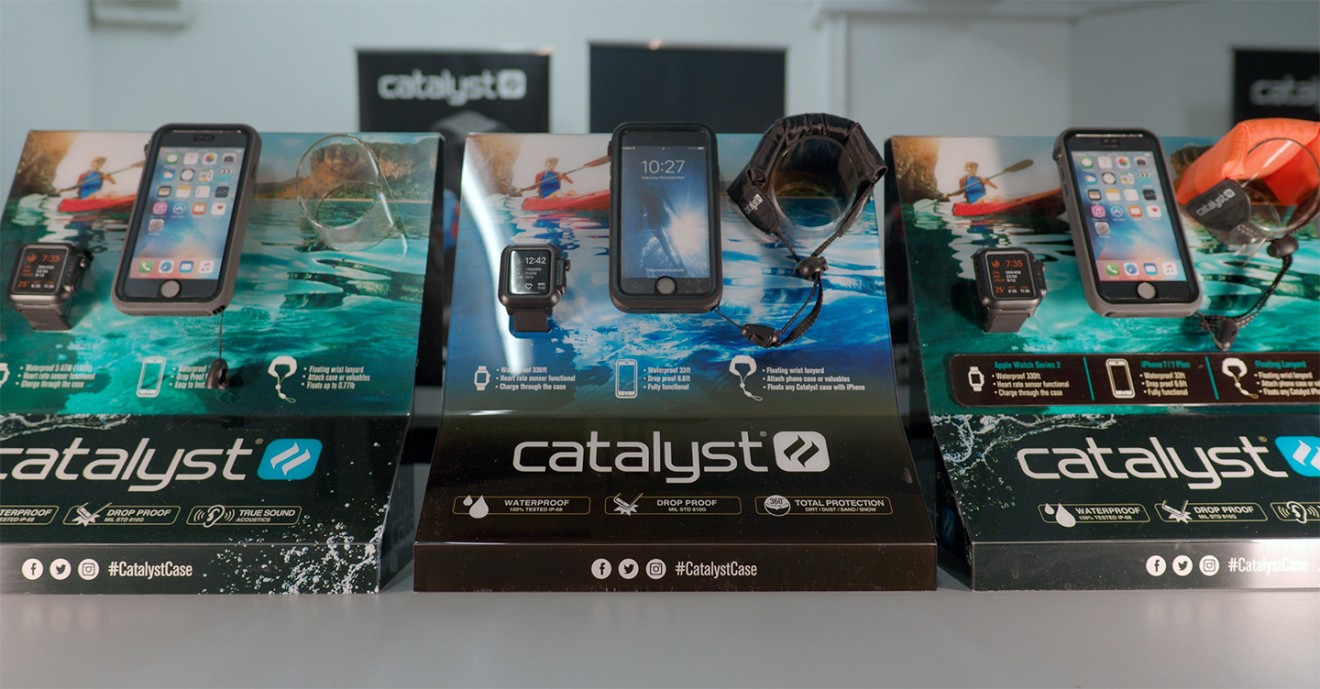 But the hardest part, Wright said, was to get the acoustics to work correctly. In a closed box, any sound emitted from inside is trapped. That means without any additional engineering, the sound coming from the phone's loudspeakers would go right back into the microphones, creating undesirable echoes. 
To solve that, the Catalyst team designed and built parts to separate the microphones and loudspeakers while using ultrathin membranes to direct the sound in and out of the case. 
All of this is the result of a precise assembling process. Lai said the iPhone X waterproof case, for instance, consists of a whopping 44 components, each made by a different supplier. To make sure that everything fits together, the maximum error tolerated is 0.05mm -- "a fraction of a hair," according to Lai. 
That brings in another challenge: Finding reliable manufacturing partners. 
Lai and Wright say the team benefits from being close to Shenzhen and Dongguan, China's southern tech hubs that are also home to the supply chains of drone maker DJI and power accessories maker Anker. The cities have a long manufacturing history and are right across the border from Catalysts' home base of Hong Kong.  
"There's nowhere else in the world you could be this close to manufacturing and make the products we make at the precision that we make them," said Wright. "If I'm located in the United States or Europe or anywhere else, this is a flight, this is a late night Skype call."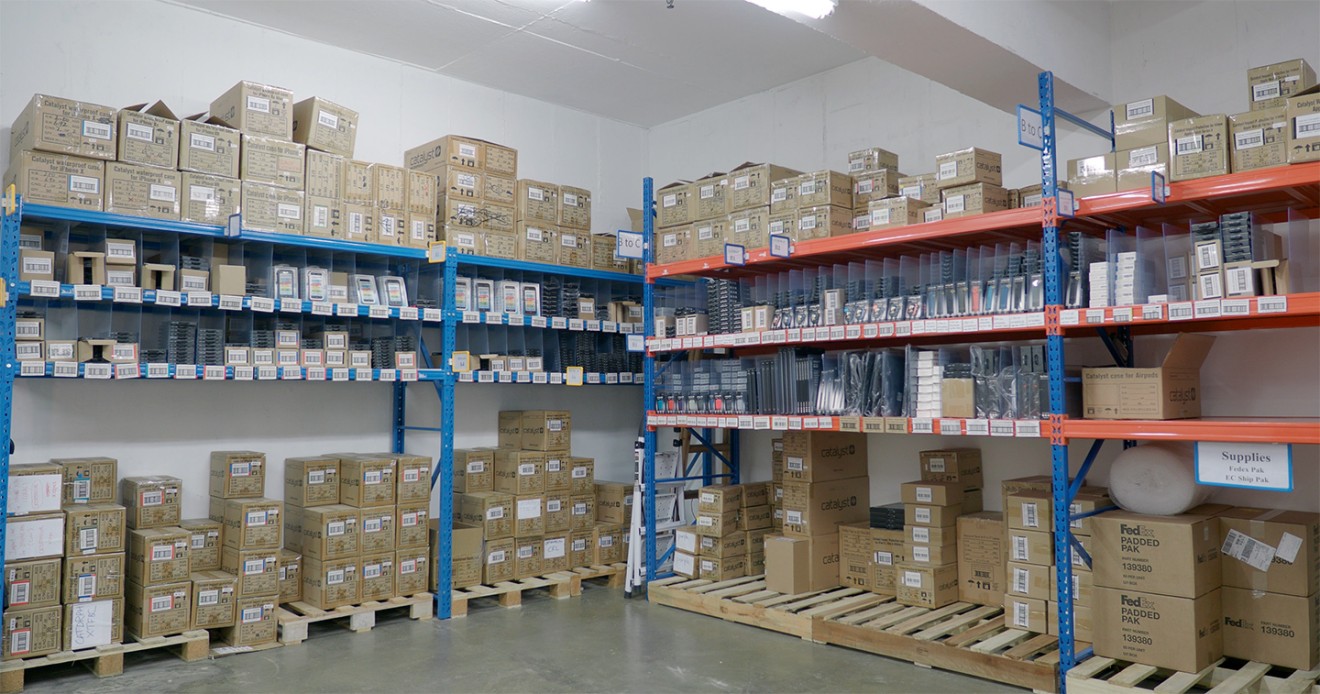 The proximity also helps Catalyst deal with a common pitfall experienced by startups with original designs. Several years ago, Israeli entrepreneur Yekutiel Sherman invented a phone case that unfolds into a selfie stick, 
only to see an identical product being sold by Chinese vendors
just a week after he launched on Kickstarter. 
Lai said they try to get to know their suppliers before revealing their designs. And even then, they use multiple suppliers for different manufacturing processes, with each only getting the data for the parts they make. The team has also learned to know who to trust through trial and error. 
"One of the things I look for from a product design perspective, I look for suppliers that don't say yes; I look for suppliers that say no," said Wright. "When you ask a supplier a question and they go yes, yes, yes, yes, yes, we can do that -- you're like, hmm, they're not telling me everything, 'cause I know what I'm gonna ask them to do is a little challenging."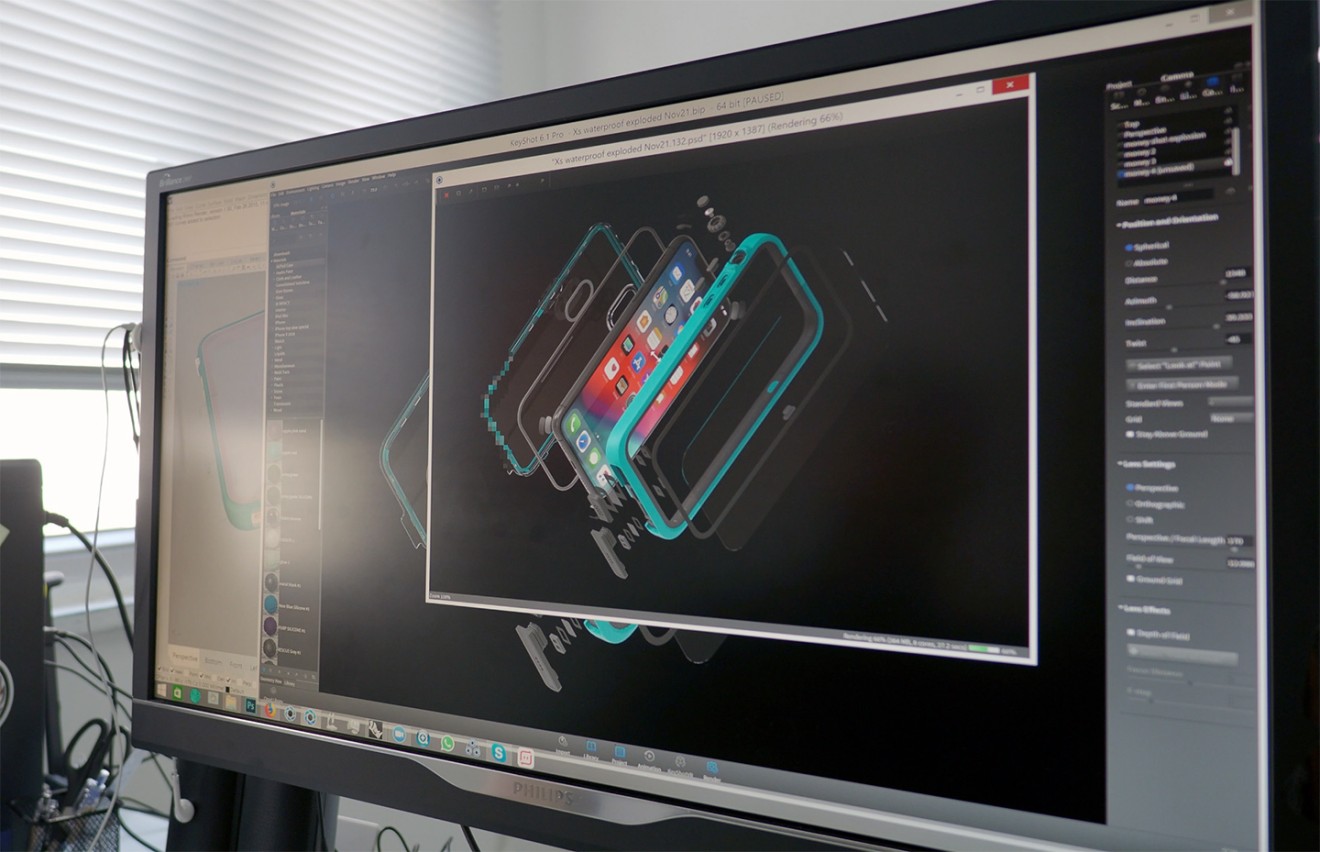 The complicated design and manufacturing processes come with a price. The iPhone X waterproof case, one of the brand's most expensive products, sells for US$89.99. The AirPods waterproof case, far smaller, still costs US$29.95. But it's a price that some consumers are willing to fork out.
"One person was using our iPhone 6 case, our waterproof case, and they were on a rollercoaster," Wright recalled. "And it slipped out of their pocket, they say. Who knows, they were probably taking a photo or a video… Anyway it fell 50 feet to the ground. And they recovered their device." 
"We have corporate customers as well," said Lai. "We have an oil and gas company that uses our products. And they say it survives everything with our field technicians, except for the bulldozer."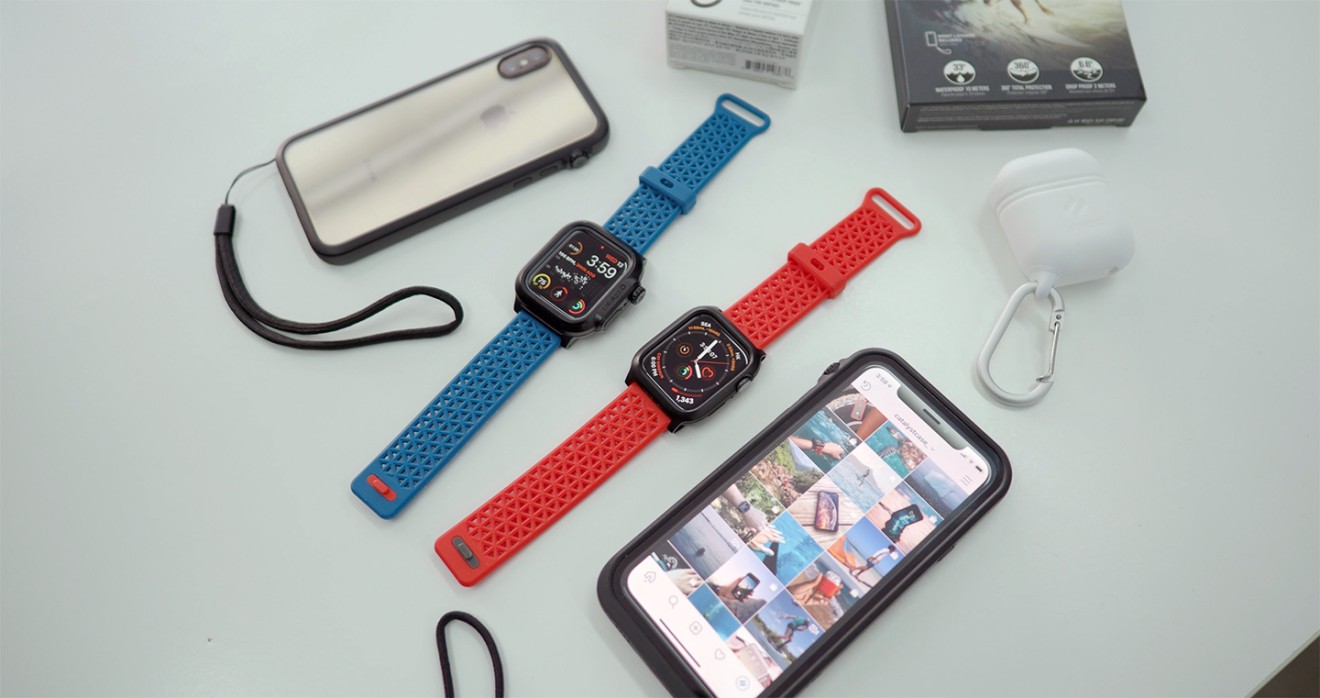 The products attracted enough attention to catch Apple's eye. Lai said the Cupertino giant reached out to her team after a store manager flagged the Catalyst AirPods case through an internal recommendation process.
"We had a face-to-face meeting [with Apple], and things progressed really quickly from there," she said. "They gave us some product feedback and some changes they want. What they wanted and what we did was built a unique product for them as a twist on what we have." In the Apple-exclusive version, for instance, the carabiner has been re-oriented 90 degrees to make the clasp face inward.
Catalyst currently builds cases for Apple gadgets and Samsung's flagship Galaxy line, so the team tries to release a new product as soon as a gadget launches. And as the team has accumulated product know-how over the years, Lai said they've been able to shorten their development cycle. Catalyst cases for the iPhone 11 series are scheduled to ship in October after the phone just launched in September.
Is the team planning to launch accessories for more brands?
Lai said, "We're always interested in developing new products so…"
"So the answer is yes," Wright finished.