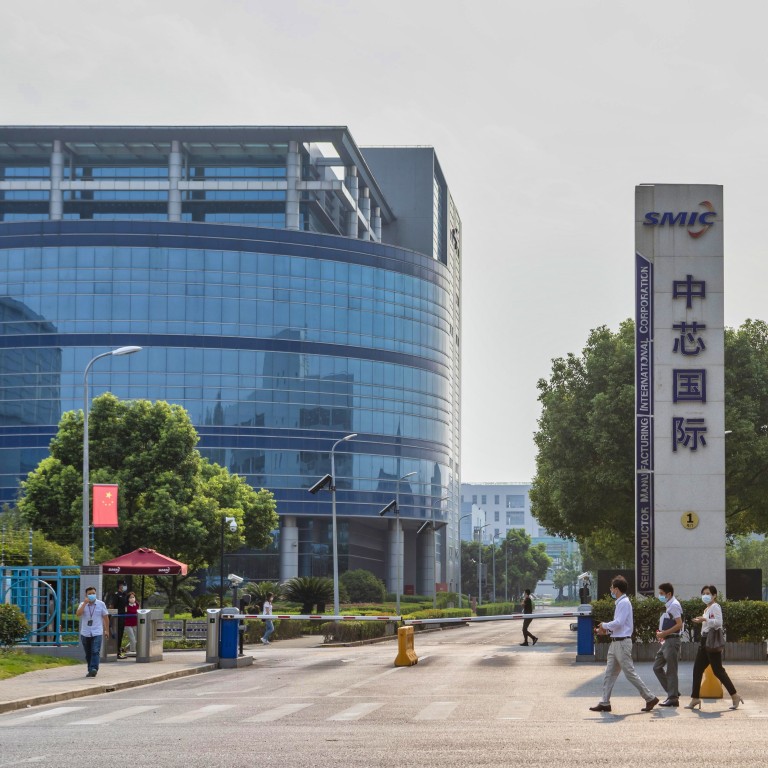 China's No 1 chipmaker SMIC gives ex-TSMC veteran top role, highlighting need for pragmatism amid push for home-grown tech
SMIC said in a statement on Wednesday that it was communicating with co-CEO Liang to verify his intention to resign
The boardroom shake-up comes at a time when the Chinese foundry is facing increased US scrutiny over its alleged ties with the Chinese military
A boardroom shake-up at China's leading wafer foundry Semiconductor Manufacturing International Corporation (SMIC) could be an attempt to bring stability to a national chip champion trying to reduce the country's reliance on core US semiconductor technology.
Chiang Shangyi, who spent nine years as head of research and development at Taiwan foundry giant TSMC before retiring in 2006, has been appointed executive director and vice-chairman of SMIC and a member of its strategic committee, according to a SMIC stock filing on Tuesday.
Previously, Chiang had served as an independent non-executive director at SMIC from December 2016 to June 2019.
"SMIC needs stable management right now," said Stewart Randall, head of electronics and embedded software at Intralink, a Shanghai-based consultancy.
Liang Mong Song, co-CEO of SMIC, is said to have resigned over the appointment of Chiang, according to Liang's resignation letter seen by several Chinese media outlets. Liang was still listed as co-CEO among other senior executives in SMIC's stock filing issued Tuesday.
Liang also worked for TSMC before joining SMIC but was overlooked for the top R&D job when Chiang left, according to Taiwan media reports at the time.
SMIC said in a statement on Wednesday that it was communicating with Liang to verify his intention to resign.
SMIC and its subsidiaries, which have been supported by local governments and state-backed semiconductor-dedicated funds, is seen as China's best shot to catch up with its global peers like TSMC in semiconductor manufacturing as the country continues its drive for greater self-reliance in core technologies.
However, under the cloud of US sanctions, analysts say that SMIC's pursuit of a leading edge strategy is not going to work.
"We only need to look at Samsung and Intel to know that even if you don't have one hand tied behind your back like SMIC does, it is still difficult to catch up with TSMC," said Randall.
Liang, who backed an aggressive leading edge strategy for SMIC, was at odds with co-CEO Zhao Haijun, who preferred to develop commercially viable products using older technology, according to a report by the Financial Times last year.
Chiang did not reply to questions about his new roles at SMIC when contacted by the Post via LinkedIn.
Chiang, 74, previously led TSMC in setting milestones in semiconductor technology in the 0.25 micrometre to 16 nanometre nodes, transforming the company from a "technology follower to a technology leader," the SMIC statement read.
Chiang is entitled to an annual cash compensation of US$670,000 and other annual incentives. In June he
resigned as chief executive
of the cash-strapped Wuhan Hongxin Semiconductor Manufacturing Company (HSMC), telling the
Post
that his experience with the company was "a nightmare".
Chinese chip companies, flush with state funding, have been keen to lure top semiconductor talent from Taiwan to help build a domestic chip making industry.
In his leaked resignation letter widely published in Chinese-language media, Liang said he was "astonished and puzzled" by the decision to hire Chiang.
Liang said he has been fully dedicated to his job since being tapped as co-CEO in November 2017. Leading a team of 2000 engineers to complete the development of process nodes from 28nm to 7nm, he added, would have taken other companies more than 10 years to complete.
Liang did not immediately respond to the Post's repeated phone calls. SMIC's chairman Zhou Zixue did not immediately respond to a call for comment. The Post has not been able to verify the authenticity of the letter.
"There is no room for two tigers," Eric Tseng, chief executive of Taiwan-based semiconductor research firm Isaiah Research, said of Liang's possible resignation, adding that it made the market more skeptical about the current SMIC situation on top of the impact from US restrictions.
SMIC is trying to persuade Liang to stay, according to one analyst. "SMIC should hope that the two generals can help the company solve the current difficulties encountered by the US export control order and advance manufacturing processes," said Arisa Liu, an industry analyst at the Taiwan Institute of Economic Research.
Gu Wenjun, chief analyst at Shanghai-based semiconductor research firm ICwise, said Chiang's appointment will tilt SMIC to a more "pragmatic and balanced" development in the next phase.
Given the fact that SMIC is barred from buying leading edge equipment such as EUV lithography machines capable of producing chips at the 7nm node, it is "neither realistic nor scientific" to insist on making progress in more advanced technology, Gu added.
The boardroom shake-up comes at a time when the Chinese foundry is facing increased US scrutiny over its alleged ties to the Chinese military, which SMIC has repeatedly denied. In September, the US Commerce Department told SMIC's American suppliers that they needed to
apply for a licence
before shipping any more products to the Chinese company.
This article appeared in the South China Morning Post print edition as: Shake-up at chip maker may be part of tech drive