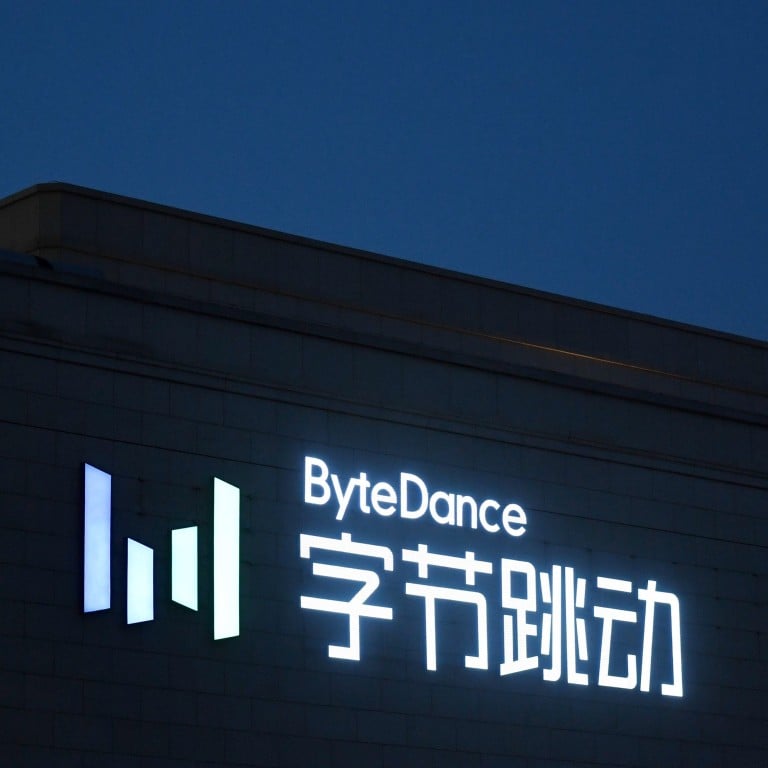 ByteDance was China biggest tech deal maker in 2020 as education, health care boost overall value of tech investments
Out of 604 acquisitions in China's new economy sector, ByteDance led with nine deals in fields ranging from entertainment to health care
The next three most active tech deal makers were Tencent Holdings, JD.com and Alibaba Group Holding, with eight, six and five acquisitions respectively
Beijing-based ByteDance, best known for its short video app TikTok, was the biggest deal maker among China's tech giants in 2020, expanding out of its core area of entertainment and advertising, according to a new report.
Out of 604 acquisitions in China's new economy sector last year, ByteDance bought nine companies in fields ranging from entertainment and advertising to education and health care, according to a report released on Thursday by Chinese start-up database ITJuzi.
This comes as investment activity in China's technology and internet sector cooled down in 2020, continuing the slowdown that began in 2019. However, the total value of tech-related investments increased as demand for online education and health care services was boosted by the coronavirus pandemic.
"Funding for most industries went down, but health care and education doubled in 2020, which helped lift the whole funding amount for the past year," the report said.
However, even these types of investments could see a slowdown this year, according to analysts, as Beijing further scrutinises Big Tech's market behaviour as part of ongoing efforts to crack down on "disorderly expansion of capital."
"Chinese internet titans are going to face tougher scrutiny from SAMR [the State Administration for Market Regulation[, the anti-monopoly regulator, especially in fintech and media sectors," said Ling Yang, deputy editor of Mergermarket in China. "The investments and acquisitions made by internet giants are facing more regulatory tightening as the government seeks to encourage competition from smaller players."
Cameron Johnson, an adjunct faculty instructor at New York University and partner at Tidal Wave Solutions, said future acquisitions will be more constrained and strategically focused. "Companies will need to be especially careful with overseas acquisitions as national security, export controls, and other policies will take precedence in any M&A activity," he said.
The cautious M&A outlook will also impact those companies looking to be bought. "The big tech players will likely be more careful this year," said Jason Ong, director of the consultancy AlixPartners. "For companies looking to be acquired, it may mean that they will need a longer runway or seek improvements in operations to ensure that they can sustain [their business] for the year until the heat comes off," he said.
"However, this does not prevent them from [seeking] partnerships, discussions, or perhaps even minor stakes in attractive companies. This could also be an opportunity for smaller players or private investors to be more active in seeking out targets," Ong said.
Besides deals in ByteDance's core business of entertainment and advertising, the company expanded its footprint into education and health care, with two new acquisitions in each sector. It also acquired a firm that holds an online payment license, paving the way for e-commerce expansion.
The next three most active tech deal makers were Tencent Holdings, JD.com and South China Morning Post owner Alibaba Group Holding, with eight, six and five acquisitions respectively.
Funding for private companies in the "new economy" industries – fast-growing sectors on the cutting edge of technology - saw the number of deals decline 18 per cent to 4,300 last year, but their collective monetary value increased 11.7 per cent to 815 billion yuan (US$126 billion), according to ITJuzi.
In the past decade, funding for China's new economy has gone through four stages that ITJuzi calls "blossom, explosion, peak and trough" – with the latter stage starting in 2019 and expected to last three to five years. In 2019, deal numbers and size in the sector fell by 35 and 42 per cent, respectively.
The pandemic, which was at its worst in China in early 2020, dampened investment activity. Deals in February added up to only 26 billion yuan but the market recovered after that as work from home and remote schooling became the new normal, the report said.