Tencent
Get more with myNEWS
A personalised news feed of stories that matter to you
Learn more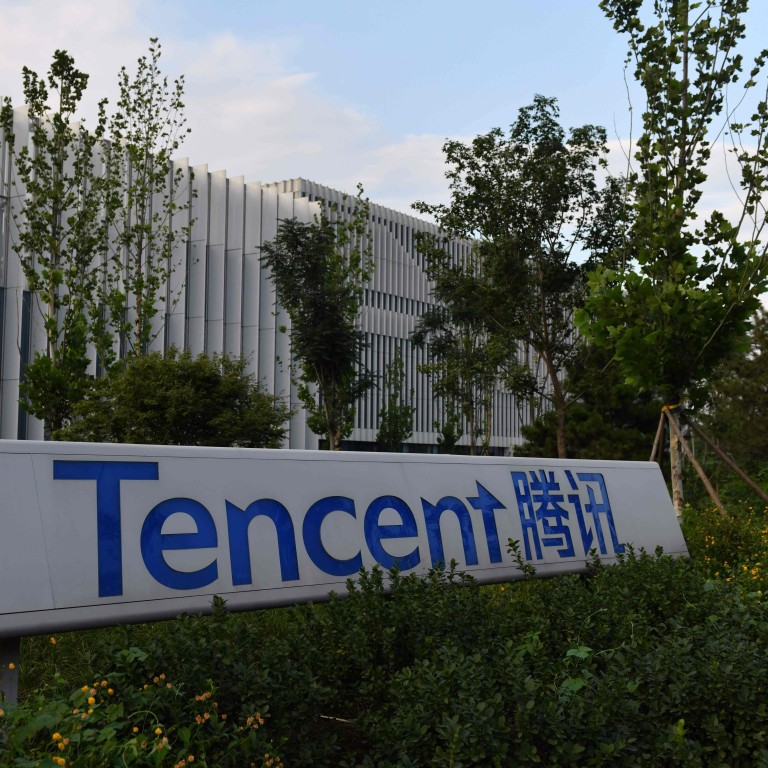 Tencent executive under investigation for ties to China's disgraced deputy police chief, The Wall Street Journal reports
Zhang Feng has been under investigation by Chinese authorities since early 2020, allegedly for the 'unauthorised sharing of personal data collected by Tencent's social-media app WeChat' with a disgraced police chief, WSJ reported
Pony Ma Huateng, the founder and chief executive officer of Tencent, has not been accused of any wrongdoing, WSJ said
An executive at
Tencent Holdings
has been detained by Chinese authorities in relation to the corruption investigation against Sun Lijun, a former vice-minister at the powerful Ministry of Public Security,
The Wall Street Journal
reported on Thursday.
Zhang Feng, the Tencent executive, has been under investigation by Chinese authorities since early 2020, allegedly for the "unauthorised sharing of personal data collected by Tencent's social-media app WeChat" with Sun, according to the report written by unnamed "Wall Street Journal staff" citing unidentified people familiar with the matter.
Chinese investigators are looking at the type of data that Zhang shared with Sun, and what Sun "might have done with it," the report said. The former vice-minister, who headed China's domestic security, as well as the office in charge of Hong Kong, Macau and Taiwan affairs within the ministry before his promotion in March 2018, was put under disciplinary investigation for suspected serious violations on April 19. He was sacked from his vice-minister's position in May last year.
Tencent's shares fell 0.5 per cent to HK$757 in Hong Kong before taking a two-day break for the Lunar New Year public holiday. Trading will resume on February 16. Shares of the Shenzhen-based technology giant have soared 85 per cent in the past 12 months, giving it HK$7.263 trillion (US$936.8 billion) in market capitalisation as the world's sixth-most valuable company ahead of Facebook.
Sun's downfall was another major case that shook China's police and public security system, after the arrest of the former
Interpol president Meng Hongwei
. Corrupt elements, or "poisonous residue", still exist in China's public security ministry, and are traceable to Meng, Sun and the country's former security tsar Zhou Yongkang, the Central Commission for Discipline Inspection (CCDI), China's anti-corruption investigation agency,
said in a statement
this week.
Zhou, who ran China's public security and court system, was sentenced to life imprisonment in 2015. Meng, also a former vice-minister, was convicted of bribery and sentenced to 13-and-a-half years in jail by a Chinese court in January 2020.
Chinese authorities have yet to release any official report on Sun's investigations, after 10 months. The sole statement about his fate was an
April 20 statement
soon after his detention, where his downfall was cited as "an inevitable result of his … neglecting the party's political disciplines and political rules over a long period of time".
Tencent's spokespeople said their executive Zhang was being investigated for his personal wrongdoings, without elaborating. He joined Tencent in 2018, after spending "most of his career in a Communist Party Central Committee department overseeing appointments of top party officials," WSJ reported. Zhang left the party organ for a state enterprise before joining Tencent, the report said.
Pony Ma Huateng, the founder and chief executive officer (CEO) of Tencent, has not been accused of any wrongdoing, WSJ said.
Ma "has not been seen publicly in mainland China or in person at major public events" while the investigation of Zhang was going on, citing unidentified sources as saying that the Tencent CEO had been spending most of his time in Hong Kong, according to WSJ.
Separately, Bloomberg reported that Ma had travelled to Singapore last year, citing unidentified sources.
Ma, a delegate since 2013 to the National People's Congress (NPC), took a leave of absence during the 2020 meeting of China's legislature for undisclosed health reasons. At a high-end award for scientists sponsored by Tencent Foundation last November, Ma sent an audio clip congratulating the scientists. In December 2020, Ma published a preface for an internal journal.