JD.com
Get more with myNEWS
A personalised news feed of stories that matter to you
Learn more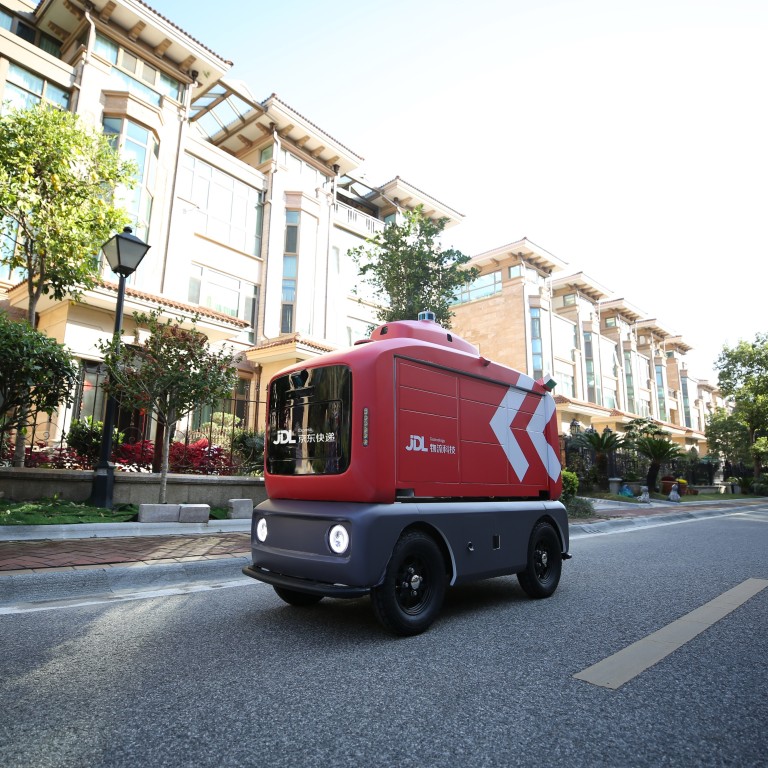 JD Logistics IPO expands the e-commerce empire of China's largest retail company with third related public listing in nine months
After the JD Health IPO and a secondary listing for JD.com, China's second-largest e-commerce firm now plans a public offering of its logistics unit
With its fleet of delivery workers, drones and autonomous vehicles, JD.com has often been compared to Amazon
Richard Liu Qiangdong, the billionaire founder of Chinese e-commerce giant JD.com, has applied to list his company's delivery arm JD Logistics in Hong Kong, which will be the third public offering of his business empire within nine months.
The company has not specified the amount it hopes to raise, but JD.com is expected to raise about US$5 billion by floating shares of the logistics unit, with the total value of JD Logistics possibly reaching US$40 billion, according to a report by Bloomberg. That would make it China's second-most valuable delivery company after Shenzhen-listed SF Express. This comes after JD.com's US$4.5 billion secondary listing last June and a US$3.5 billion IPO by JD Health in December.
At the heart of JD Logistics is its 240,000-person strong army of deliverymen and service crew members, whom Liu has publicly referred to as "my brothers". But the company also seeks to differentiate itself from the competition by selling itself as a more technologically advanced logistics company.
"Supply chain technology is the bedrock of our operations and differentiates us from our competitors," the company said in its prospectus, published on the Hong Kong exchange website on Tuesday. The company said it is applying technologies "such as 5G, AI, big data, cloud computing and Internet of Things" to delivery jobs.
"JD is the only company building an integrated, on-demand, digitised and increasingly autonomous logistics infrastructure at this scale," said Jeffrey Towson, professor of investment at Peking University's Guanghua School of Management in Beijing.
Spun off from JD.com in 2017, JD Logistics' network includes over 800 warehouses across China, covering a combined area larger than 11 Victoria Parks, as well as a large fleet of robots, drones and autonomous vehicles, according to the prospectus.
Unlike its larger competitor SF Express, a purely third-party delivery service provider, JD Logistics has grown by serving as the delivery unit of the country's second-largest e-commerce platform, similar to a model now used by Amazon in the US, where the American e-commerce giant has built up its own logistics capabilities.
Even after the offering, JD.com will continue to hold more than 50 per cent of JD Logistics, but revenue from other sources is growing.
In its prospectus, JD Logistics said it is now serving 190,000 clients, with revenues from external clients accounting for 43.4 per cent of total revenue in the first nine months of 2020, up from 38.4 per cent in 2019 and 29.9 per cent in 2018.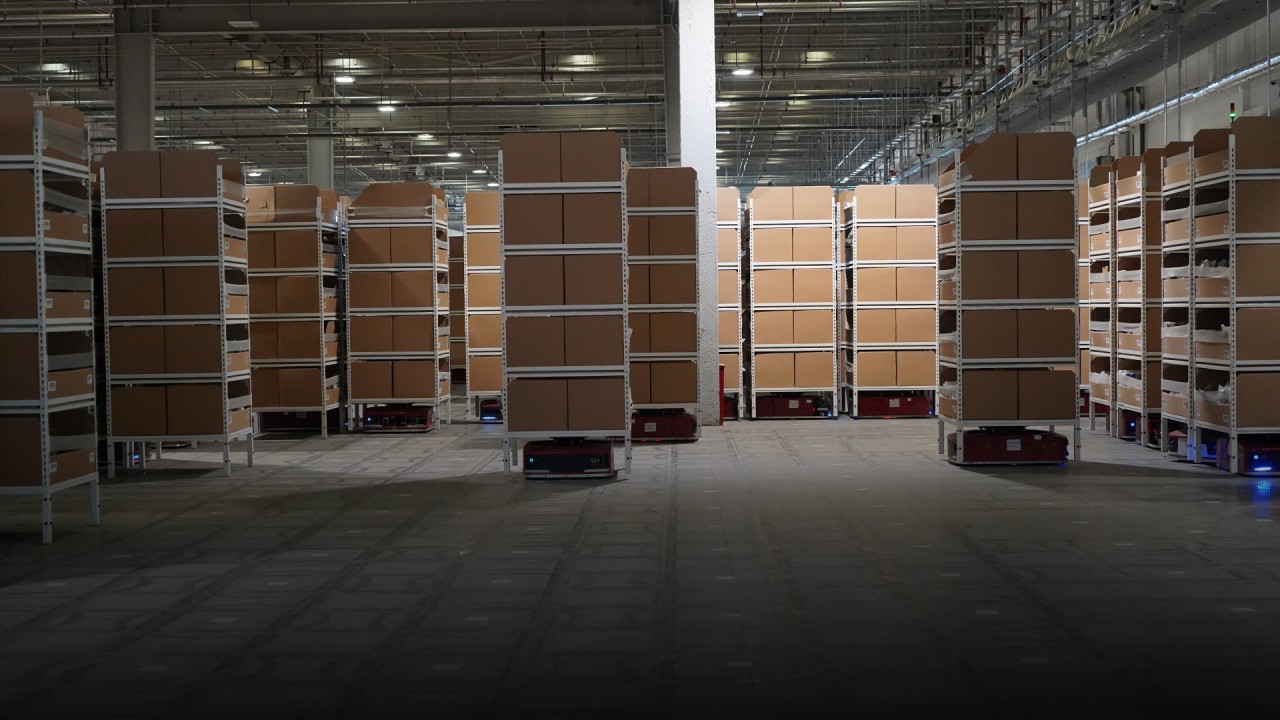 02:20
Intelligent sorting systems help China's JD.com cope with demand during Covid-19 pandemic
Intelligent sorting systems help China's JD.com cope with demand during Covid-19 pandemic
Revenues increased 43.2 per cent during that period to 49.5 billion yuan (US$7.7 billion) compared with the same period in 2019, aided by a boom in online shopping during the Covid-19 pandemic. But that revenue was still just about half of what SF Express took in during the same period.
As the company continues to make massive investments, JD Logistics has yet to turn a profit. Its losses have narrowed, however, to 11.7 million yuan in the first nine months of 2020 from 996 million yuan a year earlier.
A report by 36Kr, an online publication covering Chinese technology, reported that Richard Liu had inked deals with investors in early 2018 when it raised US$2.5 billion from a group of investors, with one condition being that JD Logistics complete an IPO within three years or before March 2021.
According to JD Technology Committee chair Bowen Zhou, who spoke at a company event in November, promoting supply chain digitisation is JD's ultimate goal. It is one that fits in with industry trends in the country.
"China is pulling away in smart logistics by virtue of scale, but also because it can connect digitised consumers, retail and manufacturing in a real-time, data-driven loop," Peking University'sTowson said. "No other country has all four pieces at this scale."
JD.com claimed to be the first company to use drones to send out goods to shoppers. The company tested the JDX-500, its latest heavy-load drone, in December. It has also been developing smart vehicles, and its unmanned minivans were seen roaming the streets of Wuhan during the Covid-19 outbreak, delivering goods to hospitals and residential areas. In October, JD announced that 100 of these self-driving minivans would be hitting the streets of Changshu city in Jiangsu province.
One of JD Logistics' more ambitious plans is to build an underground smart logistics system for delivering parcels. The company said in early 2020 that it was testing the new technology in the Xiongan New Area, southwest of Beijing.
The listing of JD Logistics is also expected to give Liu the necessary cash to modernise and upgrade his delivery army. In a letter to his "delivery brothers" in April 2019, when Liu was forced to cut benefits and cancel base salaries for JD delivery crews, Liu wrote that he had to make the difficult decision to keep JD Logistics afloat.
Liu did not attend the market debut ceremony for JD.com last June, but two delegates from JD Logistics in Wuhan, Zhang Jin and Li Huabin, attended as guests of honour.