JD.com
Get more with myNEWS
A personalised news feed of stories that matter to you
Learn more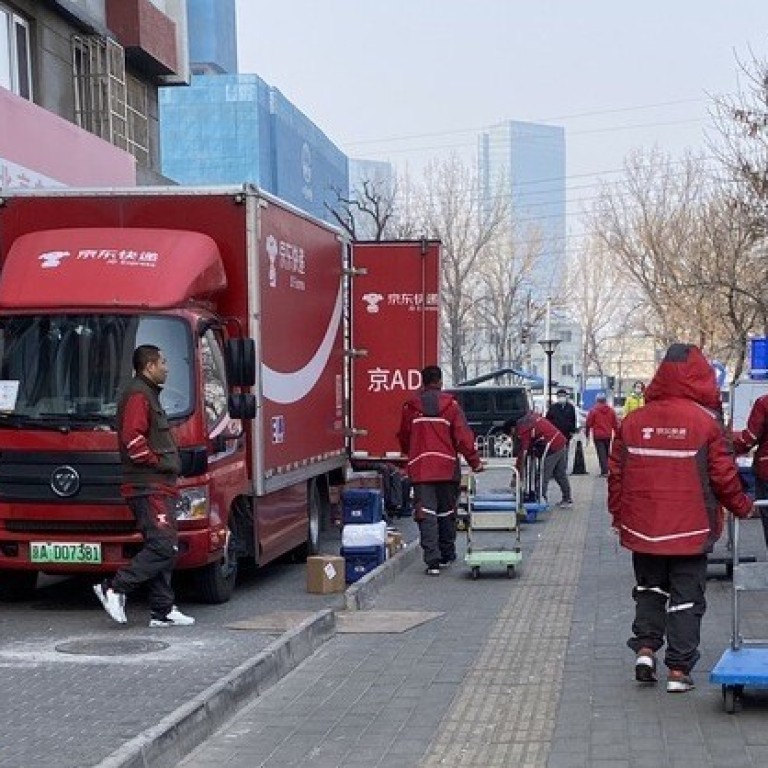 JD Logistics IPO: How the company's delivery army spurred the rise of Richard Liu's multibillion-dollar empire
JD Logistics, slated for a Hong Kong listing, employs hundreds of thousands of full-time couriers and millions more contract workers
The massive delivery crew is known for its reliable and speedy services, but also accounts for one of the company's largest expenditures
On a recent chilly afternoon, a dozen couriers in red JD Logistics uniforms were sorting through a mountain of parcels spilling from a giant truck parked in a distribution station outside a residential complex in Beijing.
Quickly and quietly, the delivery drivers – all in their 20s and 30s – loaded the goods onto their electric tricycles and vans, ready to complete the last leg of the packages' long journey from vendors to customers.
One of them is a man in his early 30s surnamed Liu, who was stuffing about 40 boxes and bags in various shapes and sizes into his van, destined for a nearby residential block that is home to about 1,600 families.
A migrant worker from the primarily rural province of Henan in central China, Liu said he has been working for JD Logistics for nearly a year. He found that the job pays better than his previous gig in the provincial capital Zhengzhou at the city's sprawling Foxconn factory, the world's largest iPhone plant.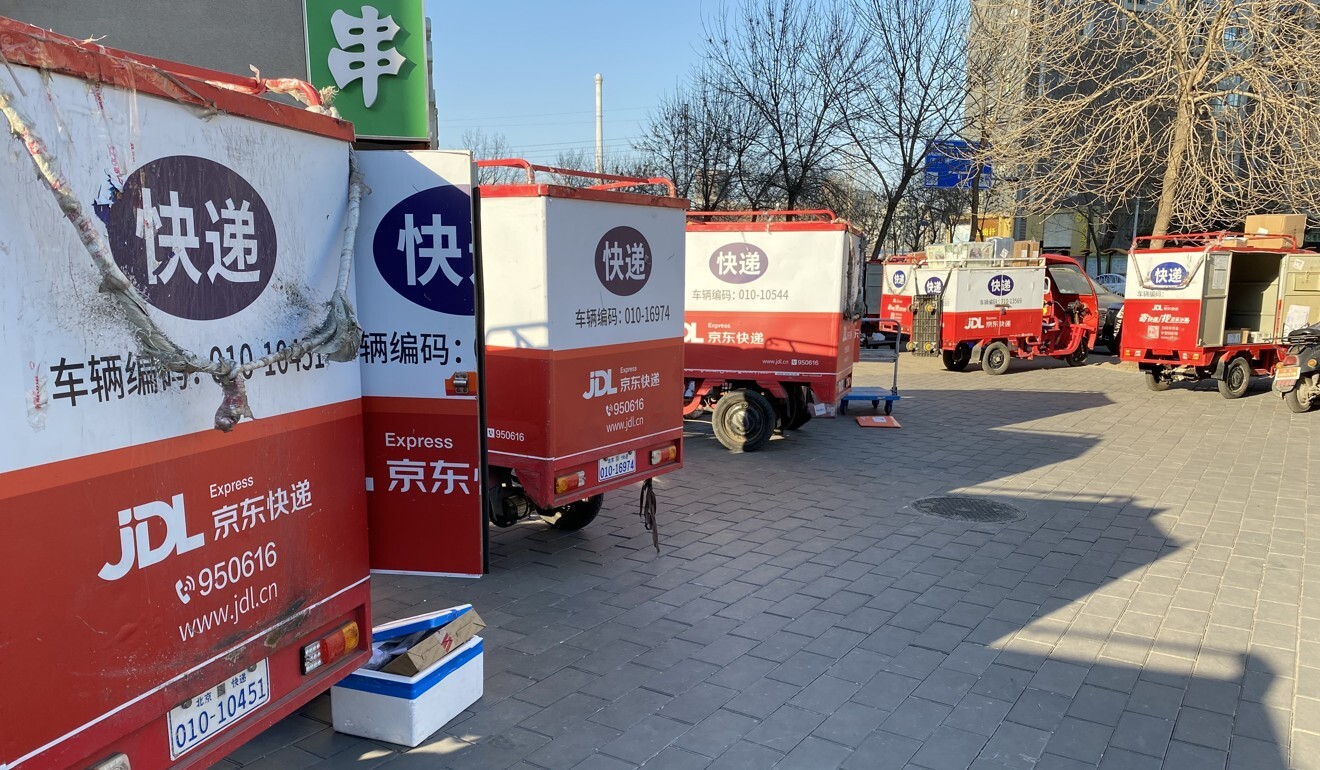 Liu said he made about 5,000 yuan (US$773) a month at Foxconn during peak season, but less than 2,000 yuan during the slow days. In contrast, he can earn roughly 10,000 yuan a month on his current job if he works hard enough.
"The Foxconn job was good, but the JD job brings more money even though it is much more tiring," Liu said. "We from the countryside are not afraid of hard work."
After parking his van outside a residential community, Liu hauled the contents of his latest delivery – including four heavy packs of bottled water – onto a trailer. Despite the frigid weather, sweat beaded on Liu's forehead of Liu, even as he wore only a flimsy uniform and a shirt underneath.
With all his parcels in tow, Liu swept through the five high-rise buildings. He said he walks at least 20,000 steps a day, or around 15km.
In addition to completing deliveries, Liu also collects parcels from senders. On a normal day, Liu shuttles several times between his delivery station and the residential compound.
On that particular day, he set off from the station for his last round at about 5pm, when the traffic began to thicken on Beijing's busy roads. He was hoping to complete the delivery in two hours, after which he still had to bring back items he collected from the residential complex to the station, where a truck was waiting to carry them to a warehouse for immediate processing.
"I work like this every day throughout the year, and my back is always in pain," said Liu. He was having a bad day as his right ring finger was cut by an uneven marble wall in a lift, forcing him to visit a nearby clinic for treatment.
The clinic recommended that Liu go to a hospital for suturing, but he chose not to because he had no time to waste.
"There's no way my doctor's visit would be accepted. Last Tuesday, I was too sick to get up from bed, and the manager called me six times, asking if I was OK. I know he was actually begging me to work," Liu said. "I went to the hospital, got a shot, and returned to work the next day."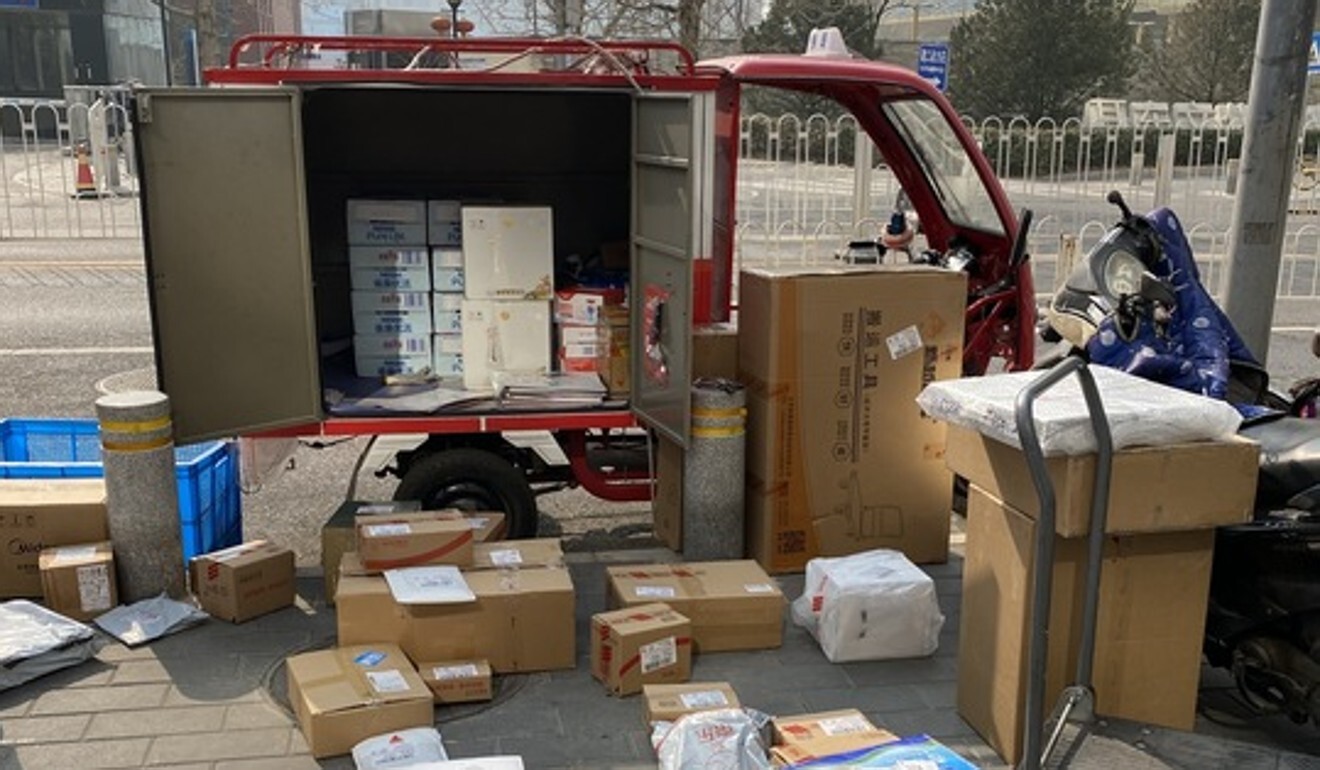 Over the years, JD.com's delivery service has built a reputation among its urban middle-class consumers for being speedy and reliable. In 2020, around 90 per cent of JD.com's online retail orders sent through its logistics unit were completed on the same day or the day after the order was placed.
It is a strength that sets Beijing-based JD.com apart from its e-commerce rivals such as Alibaba Group Holding, the owner of the South China Morning Post.
Unlike JD.com, which invests heavily in building its own warehouses and logistics networks, Alibaba has chosen to rely on a relatively lightweight model consisting of third-party delivery networks operating under the brand name of Cainiao. Analysts say JD.com's approach gives the company better control over the delivery process, leading to higher efficiency.
"JD Logistics has been empowered by JD.com's retail business, and the data generated gives the logistics unit a strong forecasting ability and distribution capacity, which is a benefit that other delivery firms don't have," said Chen Tao, analyst at consultancy firm Analysys.
But maintaining an army of delivery men – female couriers are still a rarity in the industry – is expensive.
According to JD Logistics' IPO prospectus, the company's business costs for 2020 amounted to 67 billion yuan. Around 36 per cent was spent on "employee benefits", while another 36 per cent was "outsourcing costs". In other words, the money spent on people like Liu accounted for nearly three-quarters of the company's business costs.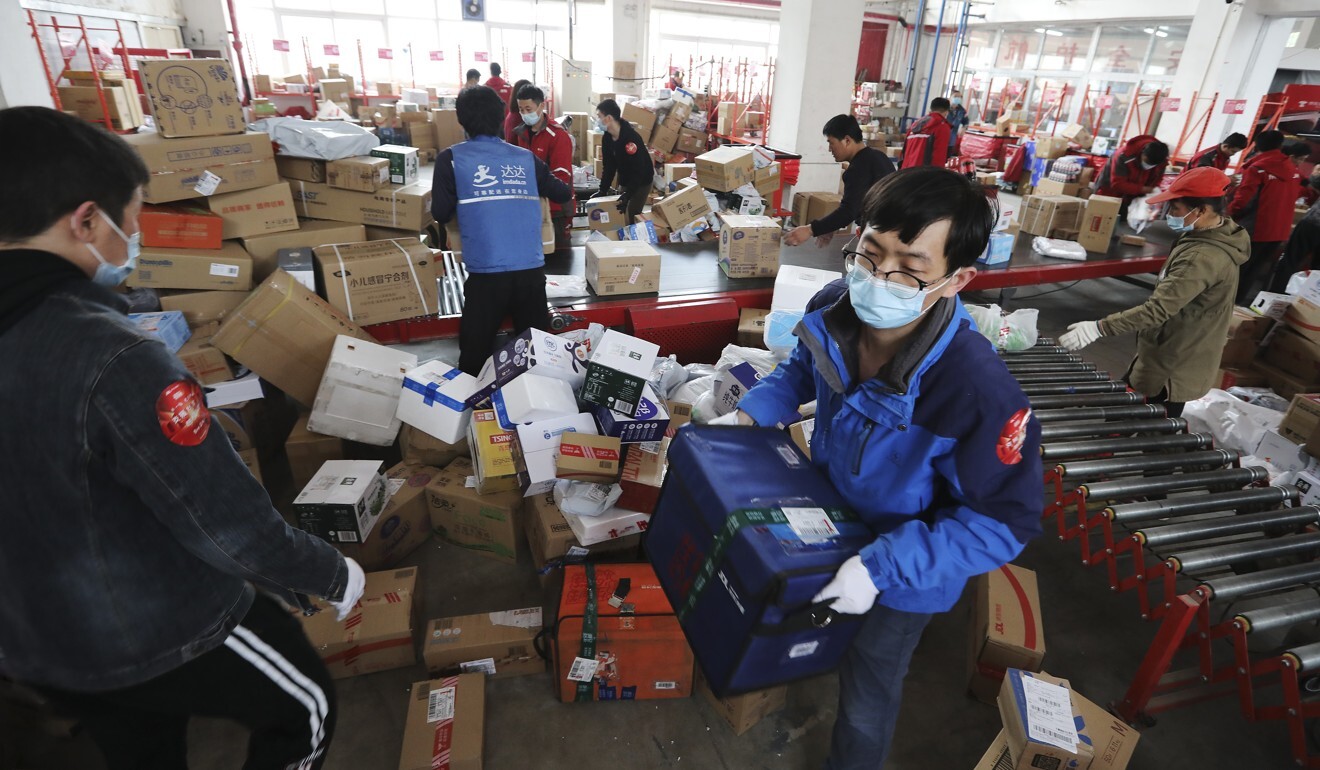 The high cost of maintaining a huge delivery crew prompted JD.com founder and chief executive Richard Liu Qiangdong to slash benefits for the company's delivery crew in April 2019.
In a letter addressed to "my courier brothers", Liu wrote that JD Logistics suffered a loss of 2.3 billion yuan in 2018 due to "high internal costs" and the company could only survive for two more years if it did not reduce spending. As a result, Liu cancelled the delivery team's base salary: from then on, every penny that a courier makes has to be earned from an actual delivery.
JD Logistics' gross profit margin improved from 2.9 per cent in 2018 to 6.9 per cent in 2019 and 8.6 per cent in 2020. While it still reported a net loss of 11.7 million yuan in the first nine months of 2020, it got closer than ever to breaking even.
JD Logistics attributed the narrowing net losses to its growing business empire. Still, questions remain about whether it can achieve sustainable profit as an independent company in a competitive industry.
One of JD Logistics' biggest challenges lies in striking the right balance between controlling spending to please its shareholders and offering its delivery workers a stable and decent income to silence critics.
According to JD Logistics, it is one of a few companies in the industry that provides insurance to all employees on top of 30 other kinds of benefits and subsidies, including transport stipends.
"Labour cost is indeed a big expenditure for JD Logistics, but the company directly manages its employees so the service quality can be better controlled. It also maintains tight communications between the management team and the frontline workers to avoid conflicts," said Chen from Analysys.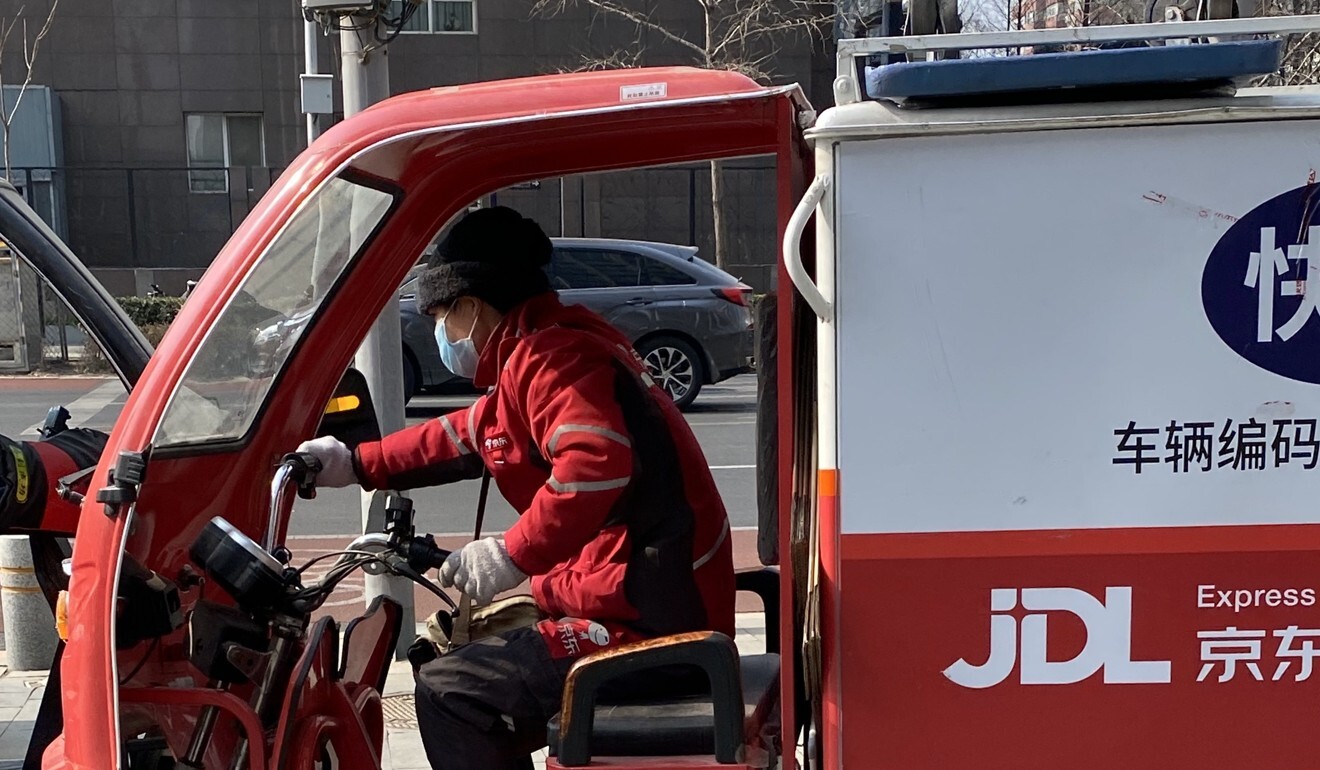 That has not stopped some JD Logistics drivers from leaving.
A driver surnamed Wang in his 20s, who joined JD Logistics in 2019, said he is now responsible for deliveries to two communities after six members of his team of 20 left last winter.
"I'm extremely busy and didn't even have time for lunch [today]," said Wang, who delivered close to 300 parcels from morning to afternoon on a recent day.
Wang lives around 3km away from the delivery station and gets up at 5:30am every day – half an hour before his shift starts. During the country's busiest shopping seasons, such as the midyear sales in June and Singles' Day in November, it is not uncommon for him to arrive home after 11pm.
Wang commutes on his own scooter, but he rents an electric van from JD Logistics at work. Since the company's delivery station has no charging facilities, he has to charge the van's battery at home. The costs of renting the van and charging the battery add up to about 400 yuan a month.
Still, Wang, a native of the northern province of Hebei, appreciates the stability offered by the job. He said the insurance benefits provided by JD Logistics, which include medical and unemployment compensation, are rare in the industry.
Most couriers delivering orders for China's on-demand service providers are gig workers hired through labour agencies. They are usually ineligible for the type of benefits enjoyed by full-time workers.
Wang said that even though he is delivering a lot more orders than three years ago, his salary has not increased much because he is making less money for each delivery. Moreover, Wang's original base salary of 1,000 yuan – about three day's earnings – was cut in the beginning of 2020.
As company executives and investors ready themselves for JD Logistics' upcoming public listing, the fanfare means little to Wang.
"There have been no words that the company would give us a raise for the IPO," Wang said. "I don't think [the listing] would affect my life because it's always the top leaders who get the benefits."
For Wang, quitting is only a matter of time.
"This is definitely only a temporary job for everyone, because it's a manual job and no one can do it for life," he said.
This article appeared in the South China Morning Post print edition as: jd logistics' foot soldiers deliver good reputation