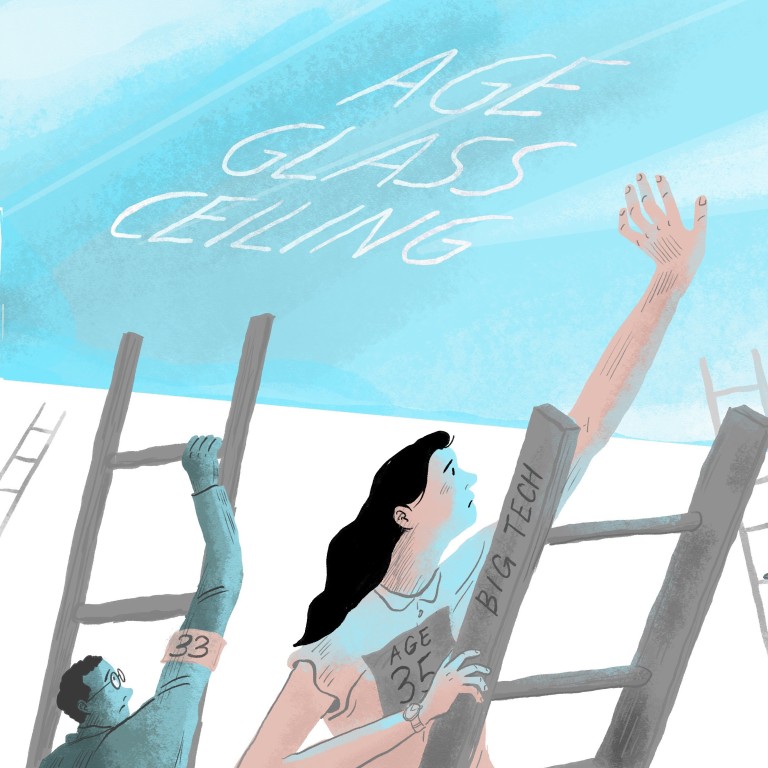 China's ageing workforce: As the country gets older, will Big Tech's ageist glass ceiling crack?
Age discrimination in the country's technology industry is particularly acute, with employees aged 35 and older at high risk of being laid off
With the country's median age creeping up and amid a limited supply of young talent, pressure is increasing for the age glass ceiling to crack
This is the 15th in a series of stories about China's once-a-decade census, which was conducted in 2020. The world's most populous nation released its national demographic data in May and the figures will have far-reaching social policy and economic implications.
As soon as Annie Li told the recruitment manager at a Chinese gaming company that she was 35 years old and married without children, she said the tone of her job interview shifted abruptly.
"Before I told her [the recruitment manager] my age and marriage status, the interview was going pretty well," said Li. "But once I mentioned these facts, her attitude suddenly changed and she wrapped things up saying your experience is more what foreign companies are looking for, you're not suitable for us, sorry."
Li suspects that she had hit the glass ceiling, not for being a woman, but for being too old. In China, many industry participants say that in fast-growing sectors of the economy, the competitiveness of applicants plummets as they approach 35 years old. Indeed, many employers openly put "under 35" as a condition for certain job opportunities, including the government.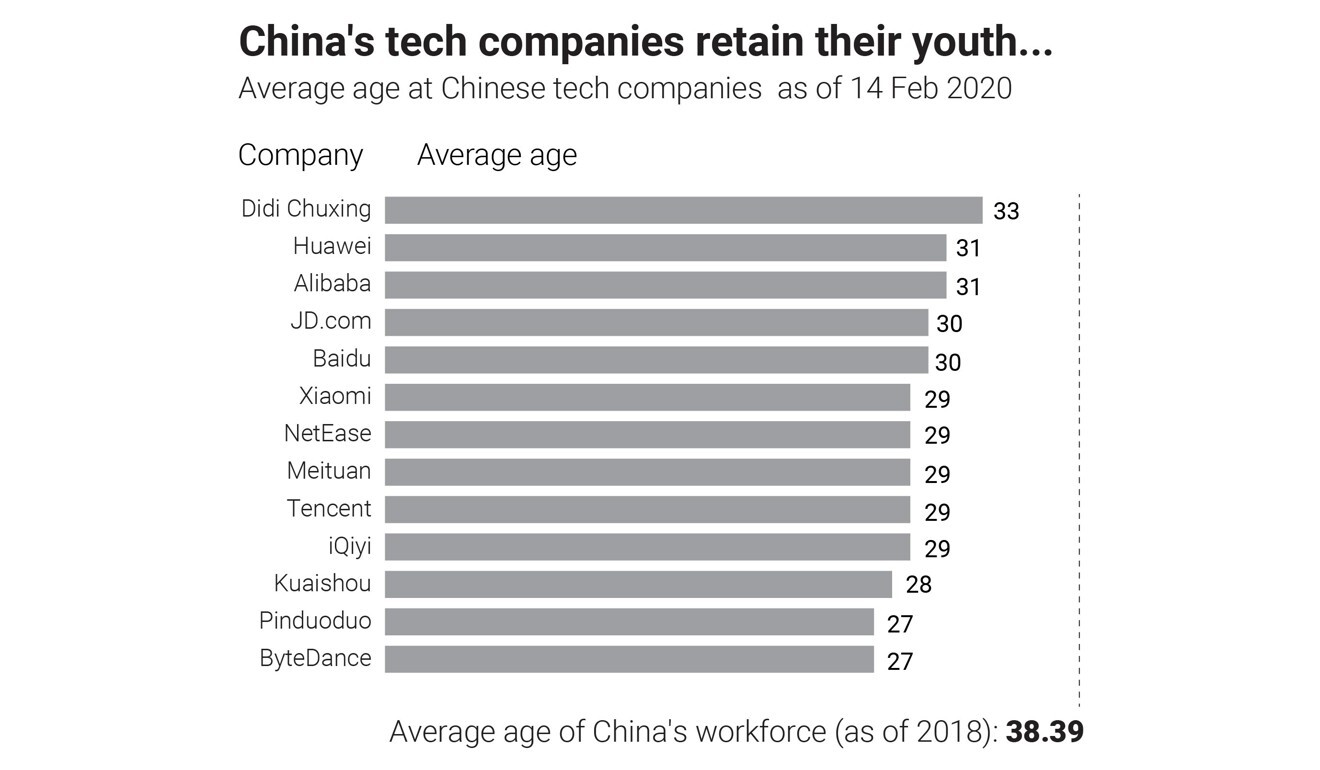 Age discrimination in the country's technology industry is particularly acute, with employees aged 35 and older who are not in a management or high-value position, at high risk of being laid off when cost-cutting rounds are announced.
Nearly two-thirds of people in China aged 35 and above who were laid off in March 2020 were still looking for jobs in September, according to a report released in January by the Development Research Centre of the State Council, which was based on data and a survey from Chinese job portal Zhaopin.
In China, where the median marriage age is 27.1 for men and 24.9 for women, 35 typically coincides with parental responsibilities. Women in this age bracket who choose to become mothers are also entitled to at least 14 weeks of paid maternity leave under Chinese law, stretching to 18 weeks in Beijing and Shanghai, considered an eternity in the fast-moving technology world.
Moreover, while age discrimination is illegal in many countries, it is not in China, a country that is also facing a rapidly ageing population and shrinking workforce after more than three decades of a one-child policy. And although China this week revised its two-child policy to allow couples to have three children – the country's median age is still expected to creep higher in the coming years.
According to China's latest census results released last month, while the country's overall population continued to grow in 2020, rising to 1.412 billion people from 1.4 billion a year earlier, the birth rate was at its lowest since 1961, when the country's Great Famine took place. The median age of China's population rose to over 38 years in 2020, up from 25 years in 1990, and is projected to rise to 48 years by 2050 and 49 years by the end of the century.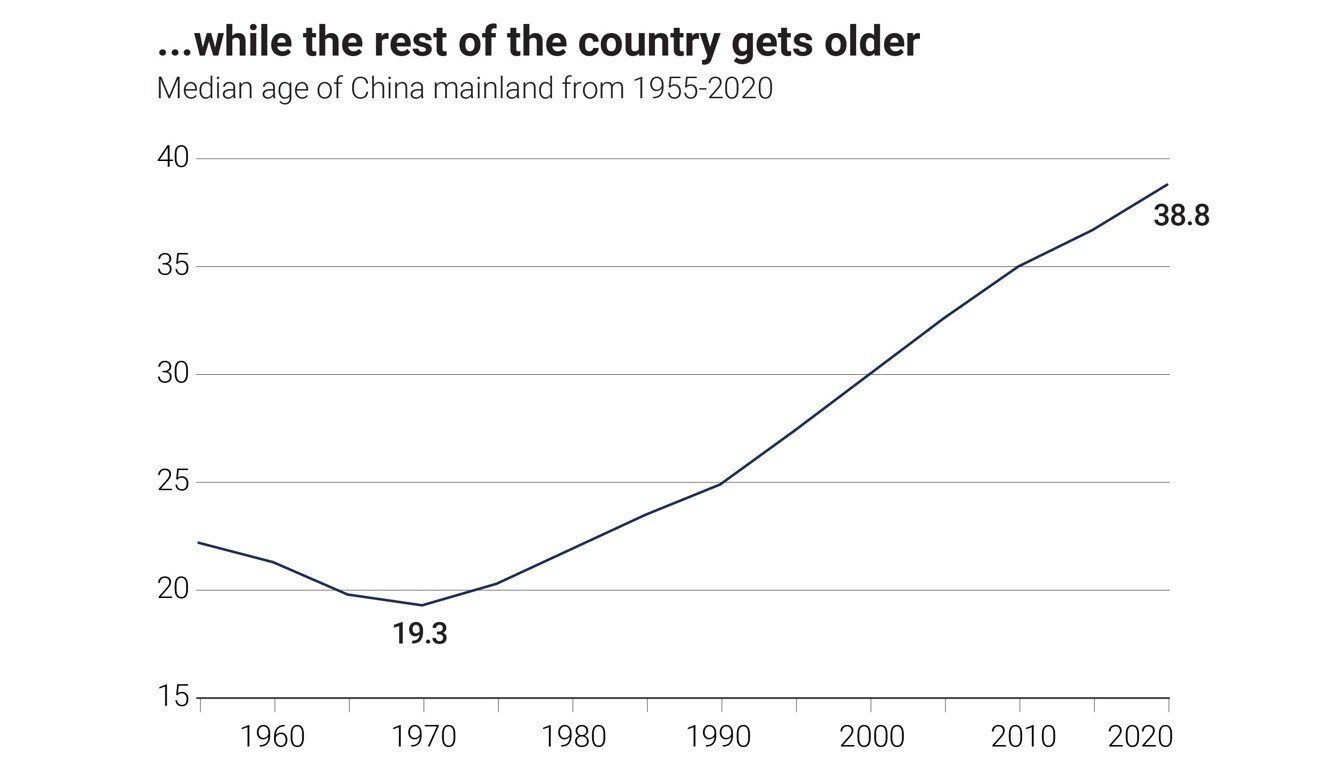 Huawei Technologies Co found itself mired in an age discrimination controversy in 2020 when the telecoms giant sacked about 7,000 employees, the majority of whom were aged around 35. Founder Ren Zhengfei, a 76-year-old, later clarified that Huawei does not judge its employees by their age.
According to a report released by online recruiter Maimai last March, the average age of workers among China's top 19 internet companies is 29.6 years' old. And TikTok maker ByteDance and e-commerce giant Pinduoduo, the two young superstars of China's big tech scene, tend to hire even younger talent, with the average age of employees sitting at just 27.
Didi Chuxing had the best score in terms of hiring people who are slightly older, with the average age of its employees coming in at 33.
But with the country's median age creeping up and amid a limited supply of young talent, many people are asking whether Big Tech's notorious glass ceiling will need to crack.
While Maimai's report shows that the average age of workers at Tencent Holdings sits at 29, Tencent's annual report last year paints a slightly better picture. The Shenzhen-based internet giant revealed it had hired 30,714 employees between the ages of 30 and 50 while hiring 20,548 employees under 30. However, it only has 88 employees who are aged 55 and above.
And not a single one of the top 13 executives running the world's biggest games publisher by revenue and the seventh most-valuable company in the world is older than 55, including founder and chief executive Pony Ma Huateng, who was born in October 1971.
But how and why has this happened, in a country and culture that traditionally embraces the wisdom of its elder generation?
"A lot of China's current tech [and] digital sector – for example, social media, gaming, e-commerce and streaming video – targets a tech savvy younger demographic, and so it makes sense to hire more of those closer to that similar age group who can better relate to the target consumer preferences and behaviour," said Brian Tang, founding executive director of the LITE Lab at University of Hong Kong Faculty of Law.
Tang added that things could change now that the tech sector is facing more regulation in China, which may necessitate the hiring of older and more experienced risk and compliance managers.
Matt Lin, a 40-year-old Chinese programmer, said that unlike doctors and some professions where the older you get, the more sought-after you become, the market value of programmers tends to depreciate with age.
"The good jobs for us have become jobs that are no longer about programming. Good jobs become about leading teams and other tasks that drift further and further away from coding," he said.
Joseph Zhu, a programmer from Nanjing in his 30s, said that age often works against those in the industry.
"If you want to switch jobs when you're older, you simply don't meet the basic requirements," said Zhu. "[This is because] technologies iterate at a faster rate in the internet sector. If you have what it takes to invent the wheel, you may never fall out of demand. But if you're just using the wheel, it becomes difficult for you when you reach middle age."
Others say that the preference for young people in Big Tech simply reflects the realities of work – it is simply too much to expect a middle-aged person with kids to commit to the notorious "996" culture, which means working 12 hours a day, from 9am to 9pm, six days a week.
Public awareness of 996 culture in the tech sector was reignited in January when a Pinduoduo employee, a 22-year-old woman surnamed Zhang, collapsed and died while walking home after work at 1.30am, sparking an investigation by Shanghai authorities and renewed discussion on social media about the dangers of working too much.
Mike Dai, a veteran games designer and programmer born in the 1980s, said that China's tech industry is "a labour-intensive industry with a lot of menial work, wrapped under a glamorous veneer." Perhaps this is why many Chinese programmers describe themselves as "code farmers'' in a reference to the laborious nature of their work. Coders in China also liken their jobs to ban zhuan, meaning "to move bricks".
For people like Li though, age discrimination is infuriating and humiliating.
She holds a masters degree from a top Hong Kong university and has a decade of experience in the gaming industry. Li lost her previous job as an account manager two months ago when her employer, a foreign gaming unicorn, decided to close its Guangzhou office. It took only two hours from the announcement of the office closure to being told she no longer had a job.
Since losing her job, Li said has never felt more lost. After submitting 30 job applications, she landed only five interviews.
"My resume [typically] fits 98 per cent of the job description but some stipulate explicitly that they only want people under 35," Li said. Li ultimately landed a job as an investment manager at a new video game fund in China's southern tech hub Shenzhen due to a friend's referral – not a bad outcome but a bitter taste still lingers.
"I frankly felt insulted when companies turned me down," Li said. "For example, they said things like you've been in the industry for 8 years, we only need those with two to three years of experience."
While age discrimination is not unique to China – IBM was sued in 2018 by former employees in the US for allegedly laying off older employees for a younger workforce – the existence of an age glass ceiling in China's technology industry has, until relatively recently, been more or less ignored.
Jimmy Zhao, a headhunter at HRPartners in Shenzhen, said that the ideal age for targets in the internet sector is under 40. "China's talent market [especially in the internet sector] is increasingly more sensitive to age … turnover is high," said Zhao, adding that after 35, many people in the industry find it hard to grow.
Shenzhen-based headhunter Kelly Sun said that anxiety among tech workers approaching 35 is increasing, both in terms of their perceived usefulness and promotion prospects. "[For many] moving up the ranks feels impossible," she said.
Dai says this "midlife crisis" at 35 actually shows how much of China's tech industry is still very "low-tech", with the industry unable to train its professionals for long-term career development and an unsustainable reliance on a conveyor belt of fresh graduates.
But Dai says he takes some hope from the experiences of the US and Japan. Japan, for example, has had to confront the economic challenges of dealing with a greying population for some time.
"When we visited Japanese gaming companies, there were so many older workers," he said. "All the popular producers like Hideo Kojima and Hidetaka Miyazaki are now in their 40s and 50s, and they have not slowed down a bit."
He believes that because Chinese companies will eventually have to rely on more middle-age workers as the population ages, 'the 35 midlife crisis' will become a false proposition in the long term.
But attitudes will need to change first.
Li says that when she was younger, she never worried about her salary expectations being met and felt confident about her experience levels and qualifications going into interviews with hiring managers.
"But today," she says, "I almost always feel on the defensive."
This article appeared in the South China Morning Post print edition as: Tech sector must grow up