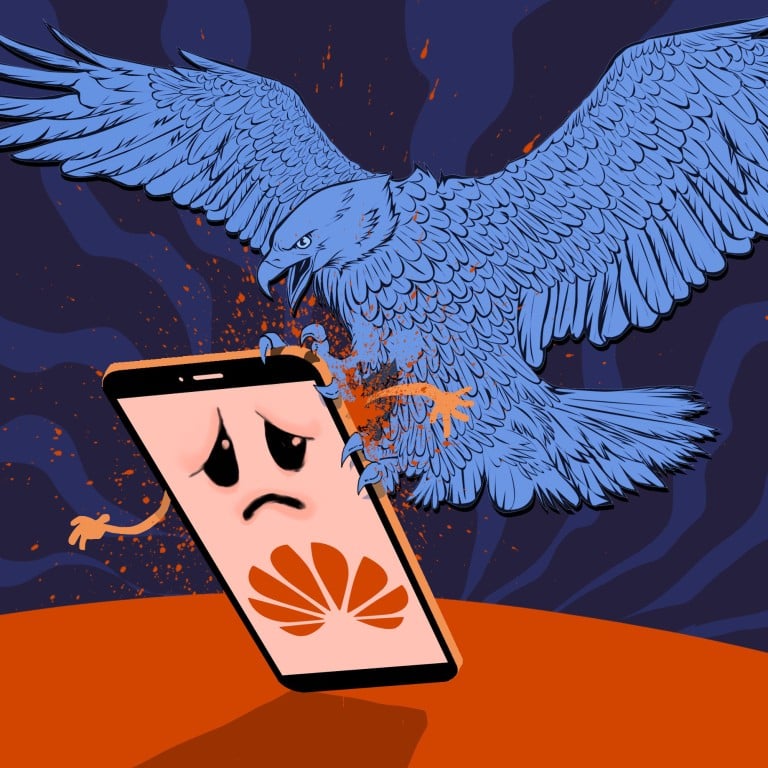 US-China tech war: Huawei is still on the hook as Joe Biden fine-tunes America's competitive strategy with Beijing
The US Innovation and Competition Act earmarked US$54.2 billion towards shoring up America's competence on a number of technological fronts, including chips production, and catch up on 5G technology
It also leaves Huawei on a list of restricted entities, banning it from gaining access to US hardware and software until it can prove that it no longer poses any threat to US national security
In the second of a five-part series on US-China technology policies under the Biden administration, Pan Che, Xue Yujie and Celia Chen take a look at how Huawei Technologies – the very first to come into the policy cross hairs of the former Trump administration – has fared nearly six months under the new regime, and what this says about the future of US-China relations over technology. The first part is here.
A crucial piece of legislation wound its way this week through the United States Senate, dashing any hope that the new administration of
Joe Biden
would offer a friendlier stance than his predecessor towards China, particularly over technology.
The
US Innovation and Competition Act
earmarked US$54.2 billion towards shoring up America's competence on a number of technological fronts, including semiconductor production, and catch up on
5G telecommunications technology
. More crucially, it leaves
Huawei Technologies
– the world's largest
5G
equipment maker and the first victim of the US-China tech war – on a list of restricted entities, banning it from gaining access to US hardware and software until it can prove that it no longer poses any threat to US national security.
The bill, which awaits passage in the House of Representatives before Biden signs it into law, dispels any illusion that the 46th American president would unwind the policies of his more hawkish predecessor. It's a reality that has not been lost on Huawei's septuagenarian founder Ren Zhengfei, whose eldest daughter
Meng Wanzhou
has been
awaiting extradition in Vancouver
to face trial in the US since 2018.
It would be "extremely difficult to remove Huawei from the entity list," Ren
acknowledged during a rare visit in February
to the Shanxi provincial capital of Taiyuan, the hub of China's coal-mining industry, adding candidly that the country's technology champion was in a fight for its very "survival." Huawei, a closely held company that has been reporting its financial results since 2000, posted
its weakest annual revenue growth in a decade
last year.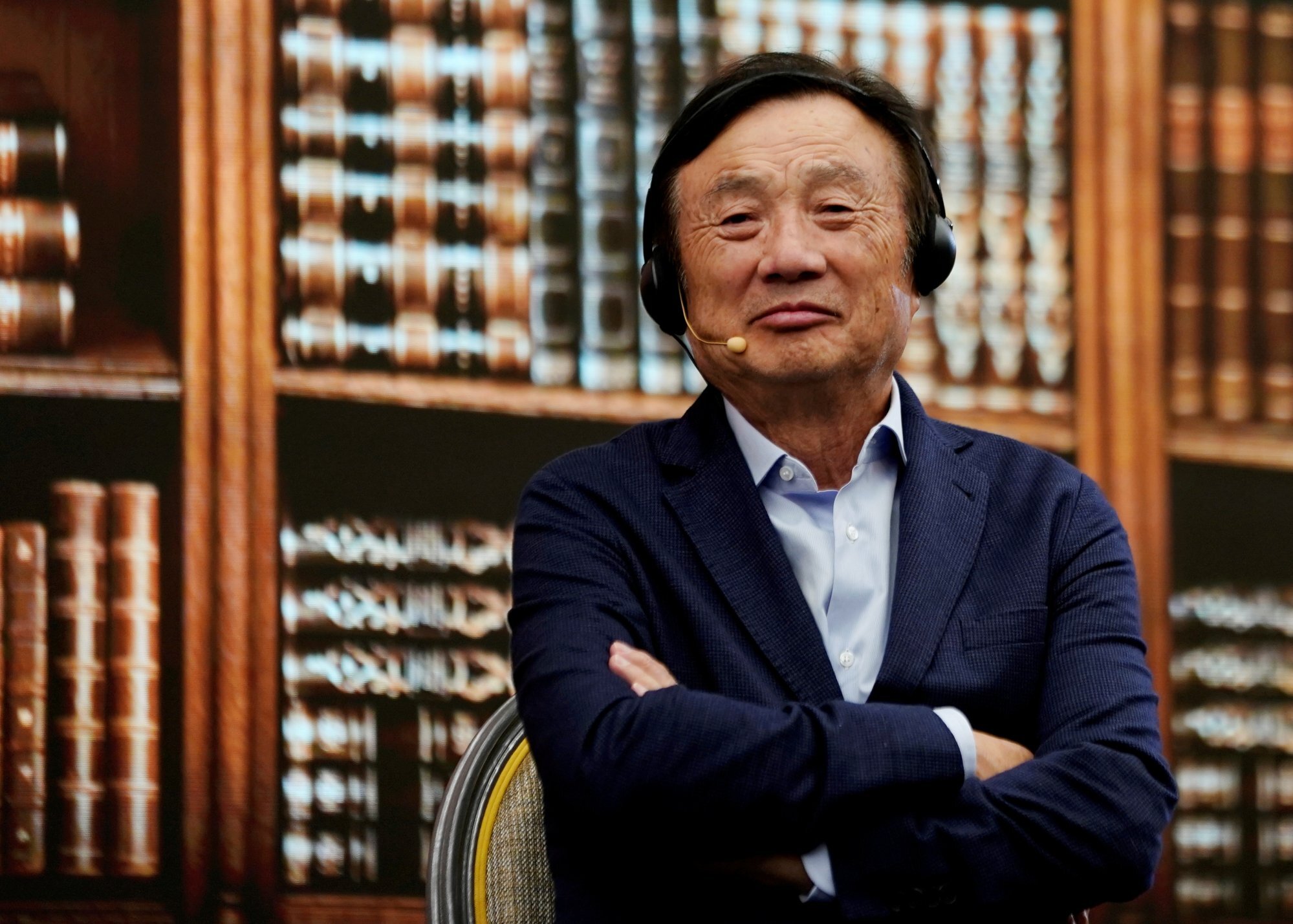 The company, which began as an importer and producer of private phone exchanges in the 1980s in southern
China's technopolis of Shenzhen
, has had to branch out into
recreating its own hardware
and software ecosystem to replace the technology that it can not buy from Qualcomm and US software vendors. That includes earmarking billions of dollars of research funding towards its
HiSilicon
unit to make semiconductor chips, and even writing its own operating system (OS)
called the HarmonyOS
to break the American duopoly of iOS and Android for smartphones.
"Given that the US intends to restrict Huawei's development in high-end areas such as
5G
… the probability of the US lifting its ban on smartphone chips for Huawei in the short term is scant," said Arisa Liu, a chip industry analyst with the Taiwan Institute of Economic Research.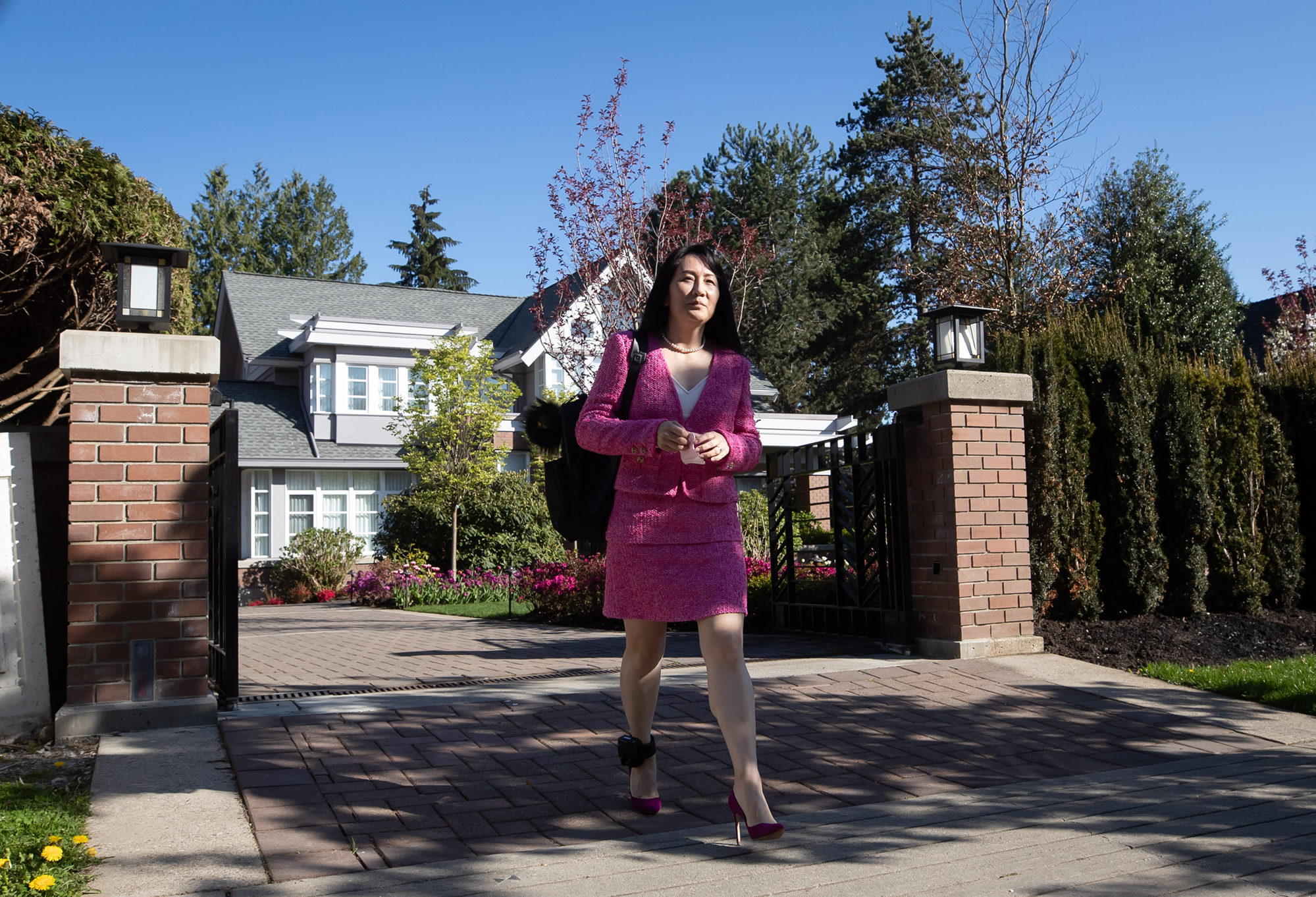 The pain and efficiency with which the US has cut down one of China's biggest tech companies down to size has only added to Beijing's urgency in seeking self-sufficiency in an array of strategic technologies, such as semiconductors. But
why is Huawei perceived as such a threat
to the US?
It sells network gear to 45 of the world's top 50 carriers, serving over a third of the world's population. The company also battled to become China's top mobile phone brand, beating out top foreign brands such as Apple and Samsung and an array of new domestic competitors such as
Xiaomi
and Oppo, before US sanctions toppled it from its perch.
For a moment, Huawei looked almost invincible, standing astride a research and development budget of around US$19 billion in 2019. Its revenue in 2015 was equal to the combined sales of China's big three internet firms – known as BAT – namely the
search engine Baidu
, social and gaming conglomerate
Tencent Holdings
and this newspaper's owner, the e-commerce giant
Alibaba Group Holding
.
Ren the founder
, a former military man with a passion for technology, once kept a low profile but has been forced out of the shadows by the US-China tech war to defend his company.
US officials have gradually upped the pressure on Huawei since as early as 2012, accusing the company of being a national security risk because of alleged ties with China's military and security agencies.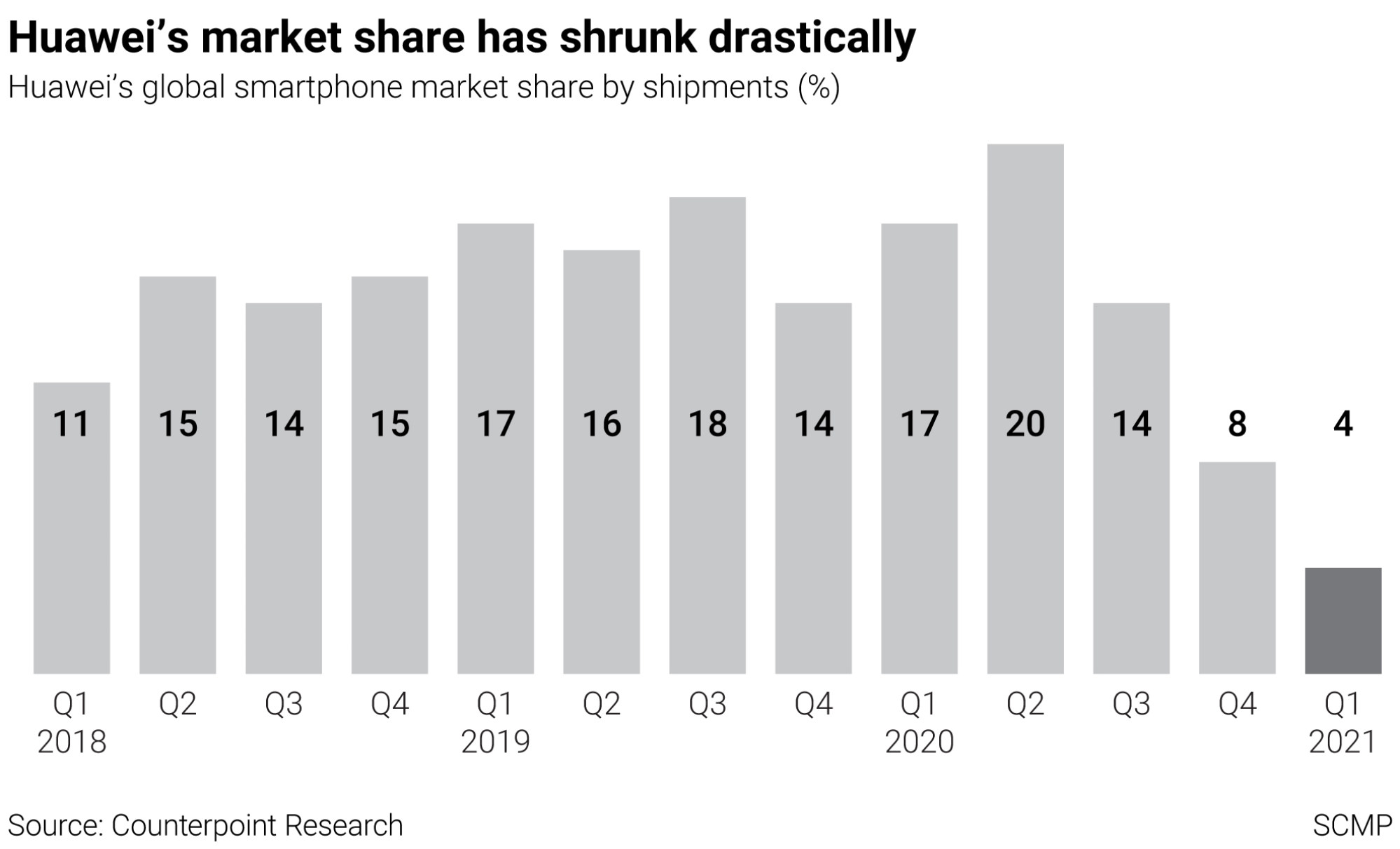 Trump made it clear in 2018 that the US could kill a Chinese company if it wanted to, by banning US companies from exporting to ZTE, a crosstown rival of Huawei that supplies telecommunications systems and
5G
infrastructure, after it was found to have violated the terms of an Iran trade sanctions settlement. ZTE paid a
US$1.2 billion penalty in exchange for suspending a seven-year denial of export
privileges, which could be reactivated if any aspect of the deal was not met.
Huawei has not been that lucky though. On December 1, 2018 Meng was arrested in Canada while transferring planes at the Vancouver airport, at the request of the US government. By May 2019, Huawei's fate was sealed when the Commerce Department added Huawei and 70 affiliates to its Entity List, banning the telecoms giant from buying parts and components from US companies without US government approval.
Then US Commerce Secretary Wilbur Ross said at the time that Trump backed a decision that would "prevent American technology from being used by foreign owned entities in ways that potentially undermine US national security or foreign policy interests".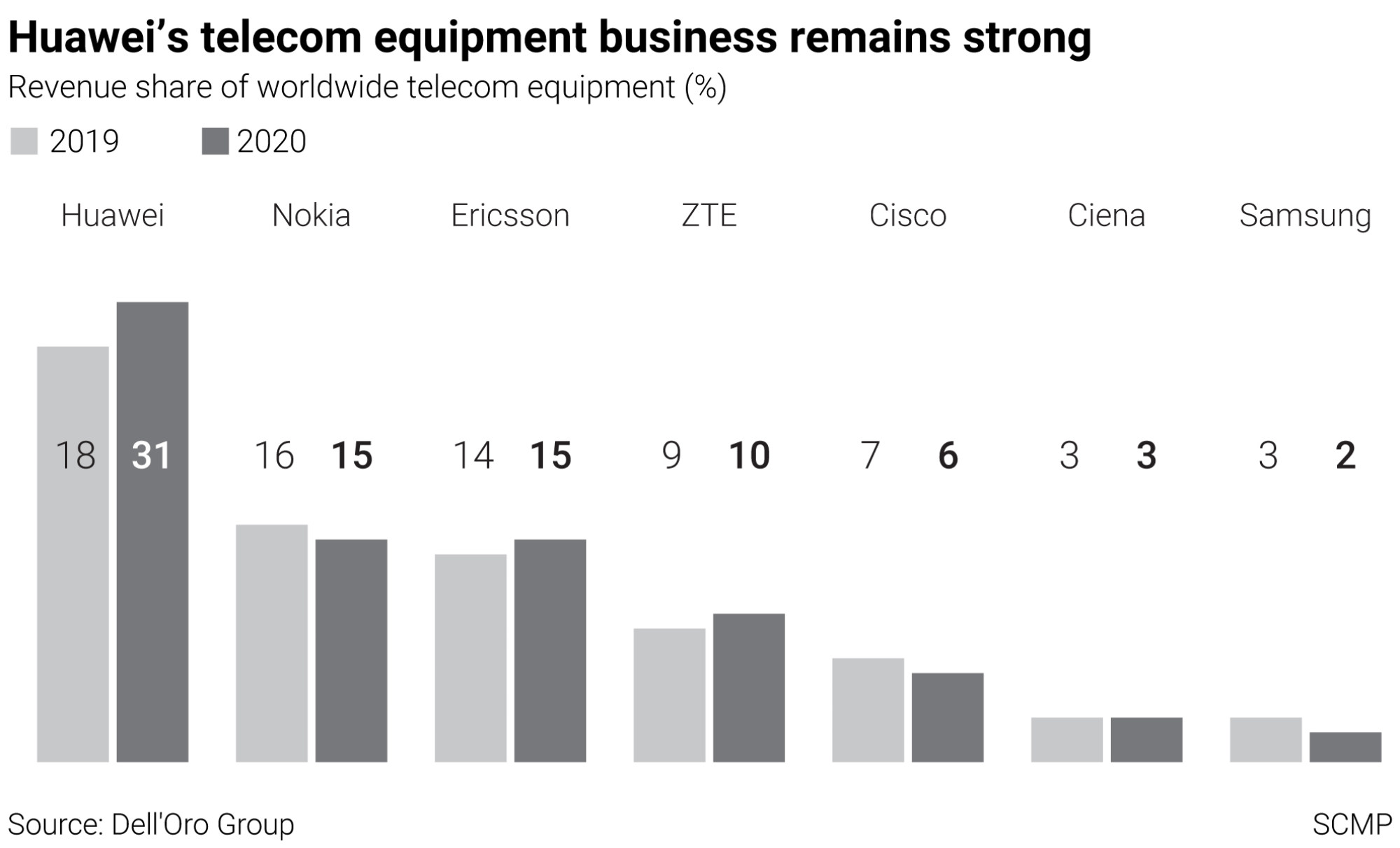 In the following months more pressure was added until a variety of loopholes were closed in August 2020, cutting Huawei off completely from buying any chips made with US equipment or software. This included chips from leading foundry Taiwan Semiconductor Manufacturing Company (TSMC) – which had been making chips for HiSilicon, Huawei's in-house chip design unit.
Eric Xu Zhijun, a rotating chairman at Huawei, said earlier this year that Huawei could no longer find any chip manufacturer to make chips for it. Meanwhile, as of June 2021, Meng's extradition case is still ongoing, a sign of the continued struggle of the firm as a whole.
For analysts, Huawei's future remains gloomy amid the US chip blockade and amid uncertainty as the company transforms from a pure hardware provider into a software services company, including cloud and its own Harmony operating system.
"The moves to electric vehicle systems and now major software development seem to be more of a response to government expectations rather than business demands or market necessities," said Brock Silvers, chief investment officer at Hong Kong-based Kaiyuan Capital. "Both efforts are far from Huawei's core, and any success is far from assured."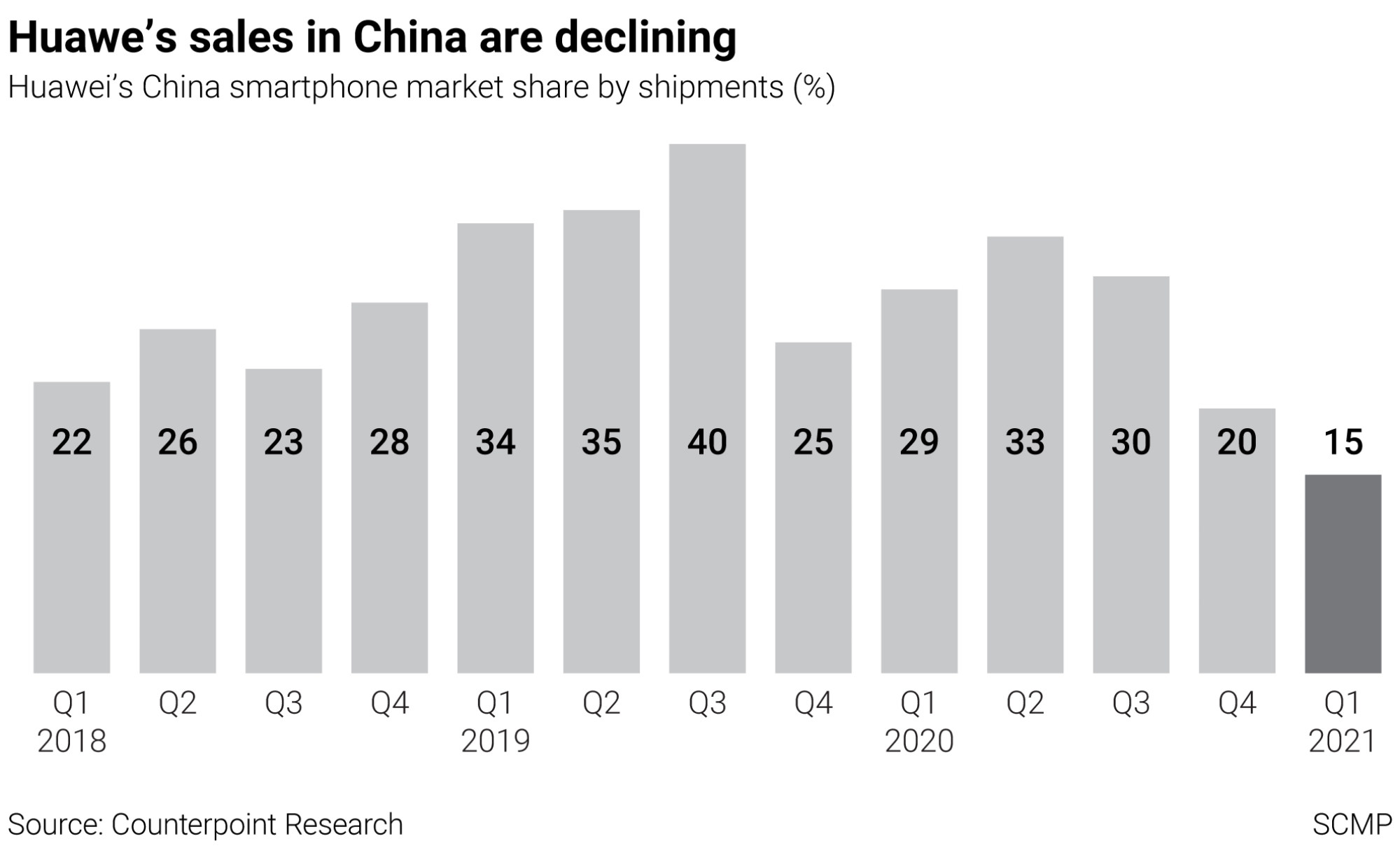 Huawei's handset business is in rapid decline because of its inability to produce phones in bulk, ceding market share to a group of domestic rivals led by Xiaomi and Oppo, both at home and abroad.
Huawei mobile phone stores across the country are closing
as of March when
South China Morning Post
visited.
Its core telecoms equipment market is also feeling the strain, as an increasing number of foreign governments and carriers follow strong advice from the US to exclude Huawei from their telecoms networks on security concerns.
Huawei, still a private company, has maintained revenue growth but growth has now slowed to the lowest rate on record.
This is in sharp contrast to five and half years ago when Richard Yu said Huawei would one day beat Samsung and Apple to become the world's biggest handset maker. Few at the time doubted the optimism of the then head of consumer electronics at the Chinese technology giant.
Huawei is now betting on businesses that do not need bulk amounts of chips. Huawei last week launched the latest update of HarmonyOS 2 for smartphone and mobile devices, describing it as an answer to Android, in the company's latest pivot towards becoming a software powerhouse. The home-made system was unveiled after
Ren called on the company to push into China's software
arena.
However, analysts said it will be a long shot for Huawei to make money from Harmony.
"Huawei may not find significant demand [outside China] for a China-controlled version of an android phone that lacks any Google services or apps. The appeal seems limited," said Silvers, adding that many tech giants from Microsoft to Samsung had tried to take on Android but failed, and Huawei "doesn't have much of a track record in terms of software development".
Huawei has to focus on building its HarmonyOS user base and partnerships with other electronics brands and carmakers "as it will help to establish its bargaining power and showcase its super device capability," said Will Wong, a Singapore-based analyst at tech research firm IDC.
But the initial list of partners for Harmony are more about home appliances manufacturers, such as Midea and Skyworth, with no Chinese smartphone makers on board yet.
Analysts say Huawei's struggles have exposed China's disadvantaged position in technology despite ownership of "the world's most comprehensive industrial production system", a predicament President Xi Jinping has likened to having one's neck at the mercy of an opponent's hand.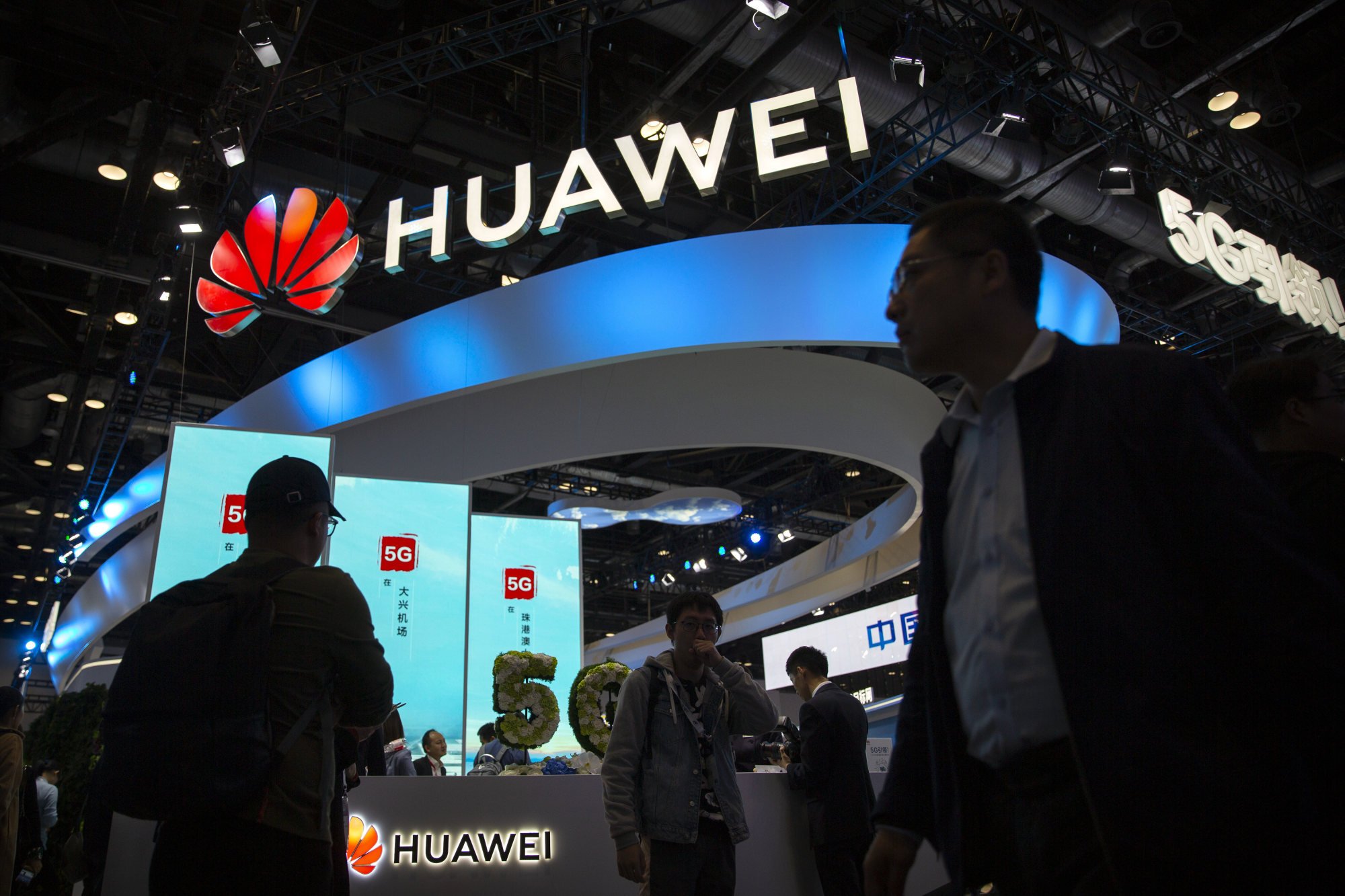 For China, Huawei's fate is more than a pure business or commercial issue. According to the book
The Room Where It Happened,
by former American national security adviser John Bolton,
Xi made personal appeals
in trade talks with Trump to remove sanctions on both Huawei and ZTE – but to no avail in the case of Huawei.
As things stand, American suppliers dominate the entire global semiconductor supply chain. US companies control more than 70 per cent of electronic design automation (EDA) software and core IP, while taking 41 per cent and 11 per cent global shares in semiconductor equipment and materials respectively, according to data from a joint report by Boston Consulting Group and Semiconductor Industry Association.
To survive, Huawei will have to ramp up investment in chip manufacturing and chip plant equipment, such as lithography, which some industry watchers have said would be akin to "Huawei deciding to open a restaurant, and then having to make its own kitchenware and tables."
A former engineer at NAURA Technology Group, a leading Chinese semiconductor equipment maker, said China is unlikely to catch up in areas such as lithography in the coming years. He requested anonymity due to the sensitive nature of the subject.
But the bottom line appears to be that unless and until the US and China can resolve their tech rivalry – and some analysts think this will never happen – Huawei will remain in Washington's cross hairs.
"Given that the US intends to restrict Huawei's development in high-end areas such as 5G … the probability of the US lifting its ban on smartphone chips for Huawei in the short term is scant," said Arisa Liu, a chip industry analyst with the Taiwan Institute of Economic Research.
Even Huawei's founder Ren said earlier this year that he thinks it would be "extremely difficult to remove Huawei from the entity list" and the goal for Huawei is simply "to survive" after it reported its lowest revenue growth in a decade.
For other big Chinese tech firms, one clear takeaway from the Huawei story is to avoid incurring the wrath of Washington if at all possible.
Xiaomi, also targeted by Washington for alleged ties to China's military, managed to file a lawsuit challenging the executive decision on technical legal grounds, and
got off the US trade blacklist
.
"In the long term, we are likely to see continuity in terms of Trump's efforts to reshore semiconductor manufacturing to the US, and hopefully intensify it," said Will Hunt, a research analyst at the Centre for Security and Emerging Technology, a think tank at Georgetown University.