Tencent
Get more with myNEWS
A personalised news feed of stories that matter to you
Learn more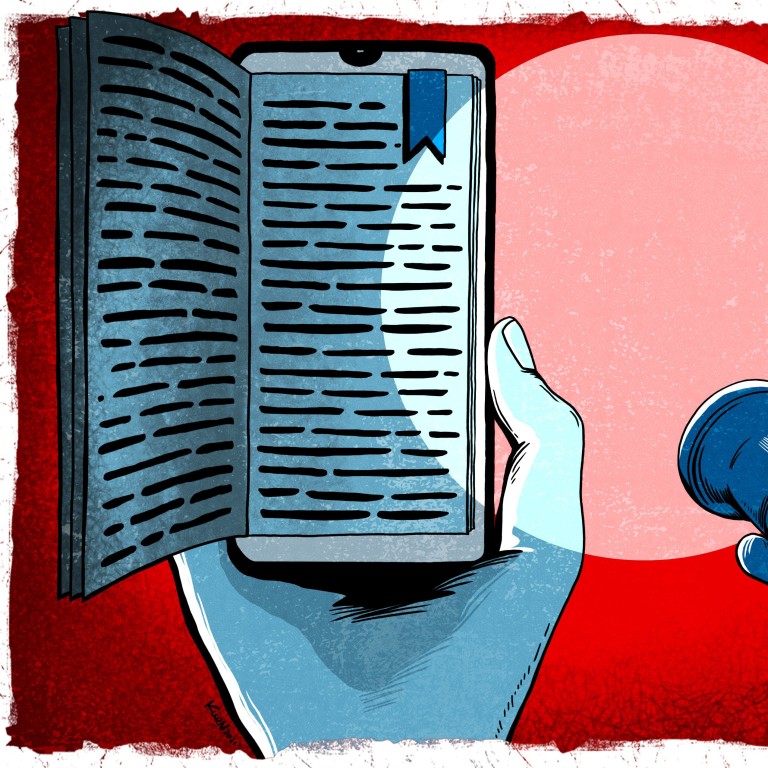 Dominance of Tencent's China Literature in online publishing opens antitrust questions amid China's Big Tech crackdown
China Literature's dominance of the booming web novel industry has become more conspicuous amid China's antitrust crackdown and disputes with writers
The Tencent-owned digital publisher has also been looking to control lucrative adaptations of its published works under its own film studio
In the final instalment of a four-part series on China's antitrust crackdown on technology companies, Iris Deng and Tracy Qu look at online literature and its dominant company China Literature. The first instalment on streaming music is here, the second instalment on games is here, and the third instalment on ride-hailing is here.
Since Ji Xuexin started publishing historical fiction and fantasy stories online in 2017, she has grown her readership to the point of being able to write full-time. She credits her success to an early decision that would be unfathomable to many of her peers: shunning platforms from China Literature, the industry giant owned by Tencent Holdings with 229 million monthly active users.
Instead, she opted to publish her web novels – mostly stories
with female protagonists
with titles like
Love You Like a Dream
and
The Goddess of Shang
– on a much smaller platform with less than half the users.
"The competition on China Literature is too intense," Ji said. "[Another platform] proved to be the right choice for me. My books quickly reached the recommendation page [and] I have three audiobooks in production."
Adaptations and other licensing deals are where writers like Ji see the biggest returns on their investment of time and creativity. With a big enough audience, these adaptations can be very lucrative. If she had signed with China Literature, though, Ji would not only have had lower prospects of getting her work adapted, she would also have been precluded from making money off those works elsewhere.
Amid a widespread antitrust crackdown in China aimed at Big Tech companies, China Literature's dominance of online literature, and its agreements with writers, has become more conspicuous.
This is what happened to China Literature in December, when the State Administration for Market Regulation
fined the company 500,000 yuan
for failing to disclose its 2018 acquisition of New Classic Media, a film and TV production company.
Regulators made it clear at the time that the acquisition did not "exclude or limit competition", but they were stern in raising concerns about how the online economy "has become increasingly concentrated by market share, with resources fast concentrating in leading platforms".
Hong Kong-listed China Literature dwarfs its rivals in online literature, with the most users, writers, works and intellectual property. In 2020, the company had 50 per cent more monthly active users than its closest competitor iReader's 160 million, according to the companies' financial filings.
China Literature prides itself on its ecosystem that turns online novels into successful games, comics, films and television shows. This is owed largely to Tencent's portfolio of production studios, distribution companies and video platforms, as well as ownership of WeChat, the ubiquitous super app that is found on nearly every smartphone in China and has 1.2 billion users.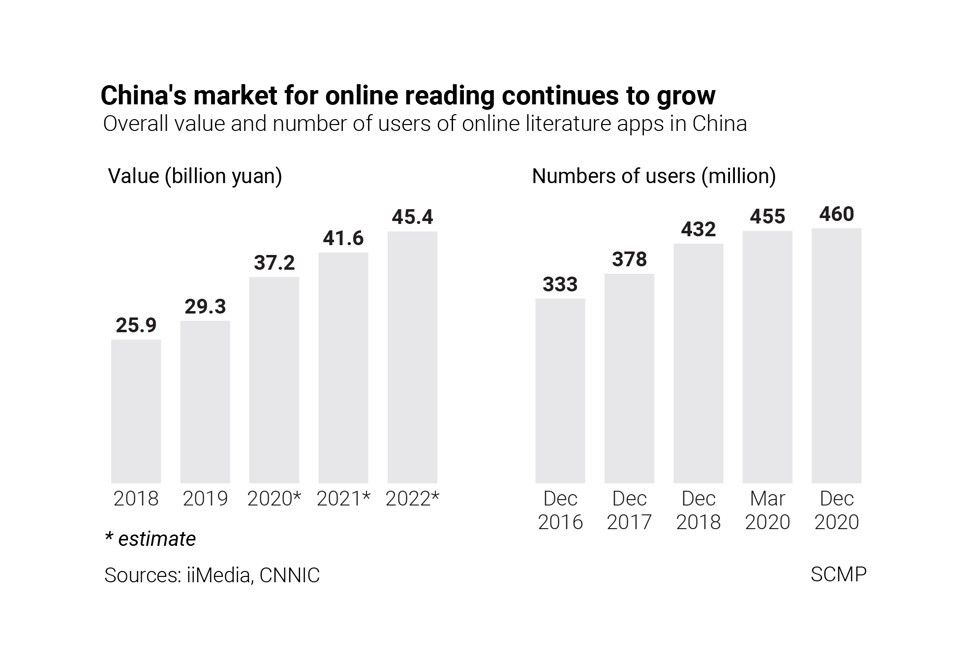 This ecosystem helped China Literature make up 25.2 per cent of online reading traffic in 2019, according to Beijing-based BigData Research. Rival iReader came in at 20.6 per cent, aided by the company's own e-reading devices and cooperation with smartphone companies.
"Tencent's influence on its social networks helps to promote its products," said Huang Yi, an analyst at research firm LeadLeo. "It can quickly help Tencent-backed brands grow."
Originally a way to circumvent China's slow and politically correct traditional publishing industry, online literature has quickly become one of the country's most popular forms of entertainment.
Web novels have been a democratising force in Chinese literature, allowing anyone to write and publish serialised novels online. The stories can span hundreds of chapters, with platforms like those from China Literature charging for each one as they are released. There is also an option to pay up front for the whole book.
Popular works come in many different genres. Works of fantasy, science fiction, urban romance, and history have loyal followings. Many Chinese web novels have also gained followers overseas, especially those in the wuxia and xianxia martial arts genres, which sometimes gain more exposure from
automated and amateur translations
.
"It is obvious that China Literature has a dominant market position," said Zhai Wei, executive director of the Competition Law Research Centre at East China University of Political Science and Law in Shanghai.
This dominance has already created friction with the people fuelling China Literature's growth.
Last year, the company became the
target of a boycott
from angry writers who accused China Literature of imposing unfair contracts, forcing them to hand over the copyright of their works.
At the time, China Literature denied the accusations, although it admitted that it "made mistakes and detours". It later rearranged its agreements with some writers to settle the dispute, offering different terms and conditions for writers to choose.
In 2017, China Literature sued author Chang Shuxin, who had an exclusive contract with the company until 2019, for moving to iReader and publishing new novels under a different name. Chang had been writing on China Literature's Qidian and Chuangshi platforms, rising to fame with his thriller Yu Zui. The e-book had sold 1 million copies by 2016 and was later adapted into a popular web TV series.
Chang decided to ditch his long-time partner for iReader after some friction with China Literature, but the court ultimately ruled in favour of the Shenzhen publisher. Chang was ordered to pay about 1.25 million yuan in liquidated damages, a smaller sum than China Literature originally sought.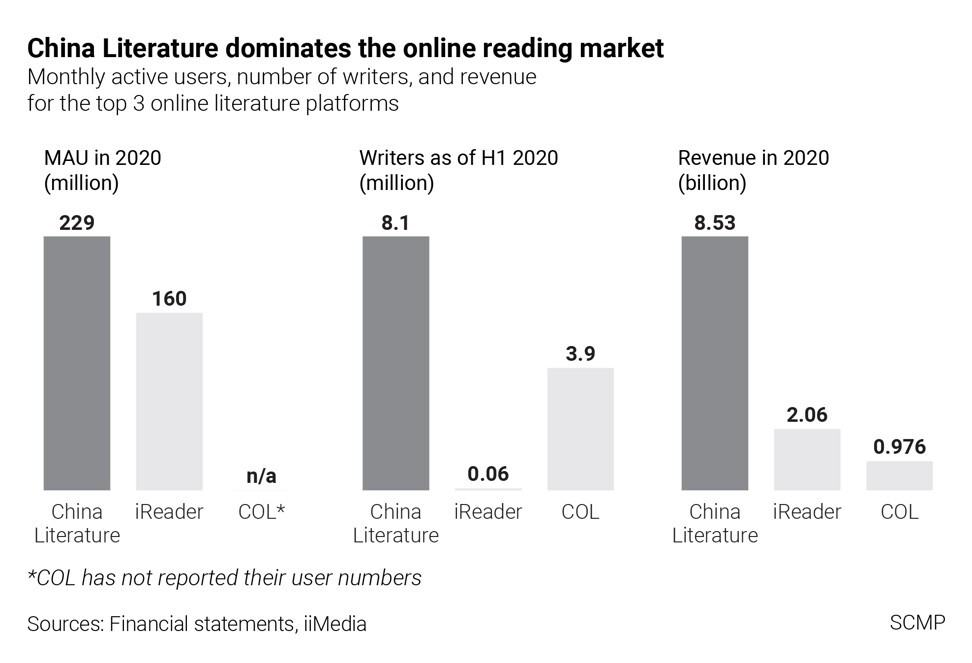 Despite resistance from some writers, China Literature's clout in the market has only grown. With New Classic Media, the company has also sought to keep adaptations in-house, which could present new antitrust challenges.
Some of the most popular Chinese shows in recent years, including Joy of Life and My Heroic Husband, were first serialised web novels on China Literature platforms and adapted by New Classic Media. The Rise of Phoenixes, adapted from the web novel Huang Quan published on Xiaoxiang Shuyuan, launched on Netflix in 2018 in more than a dozen languages.
This kind of arrangement could make China Literature vulnerable to accusations of vertical monopoly, which Competition Law Research Centre's Zhai said can result from exclusive contracts between upstream and downstream market players. In this case, China Literature is the upstream company, whose content feeds film studios in the downstream market.
"There is a big difference between user needs in the online literature industry and the film industry," Zhai said.
Holding a dominant market position does not make a company a monopoly, though, and China Literature is facing mounting competition from rivals running free platforms. The biggest challenge has come from TikTok owner ByteDance.
In 2019, ByteDance launched
Tomato Novel
, which has quickly become China's leading free web novel platform by leveraging video platforms like Douyin, the Chinese version of TikTok, and Kuaishou.
Unlike China Literature's multiple web novel platforms, each chapter on Tomato Novel is available for free and supported by ads. This can be disruptive, though, with reading being interrupted by full-page or pop-up advertisements between pages.
ByteDance and internet search giant Baidu also back iReader. ByteDance invested 1.1 billion yuan in the Shanghai-listed company last November.
The two social media giants have been increasingly encroaching on each others' territory in recent years. Beijing-based ByteDance signed deals with
three major Chinese mobile game developers
in the first half of this year, ratcheting up its rivalry with Tencent, the world's largest gaming company by revenue.
To fend off challengers, China Literature launched its own free reading app called Feidu in 2019. Earlier this year, it invested in a smaller rival COL to take a 5 per cent stake in the company, which also has backing from Tencent and Baidu.
"The market concentration of China's online literature industry is high, but major internet companies are also making their entrances following the explosive growth of the sector," said LeadLeo's Huang. "New players owned by Chinese tech giants also have great potential to grow big as they already have a nice flow of traffic."
However, proving abuse of market power could be difficult because of fierce competition in the space and the freedom for writers to easily jump between platforms, said You Yunting, a senior partner at Shanghai-based DeBund Law Offices.
"Attention … may focus more on the coordinated behaviour of the platforms if they work together to harm the rights of authors, but I don't see many cases in this regard," You said.
He also noted that low barriers to entry in the market and piracy have kept downward pressure on prices.
"In this case, I don't think it's necessary to trigger antitrust investigations," You said.
The market competition has so far worked out for Ji. While she cannot know how well the Love You Like a Dream audio drama will do once it finishes production, Ji said she did not think it would have happened at all if she had been working with China Literature.
"It wouldn't have been possible to adapt my novels if I was on China Literature platforms," she said. "I'm too small of a potato for them to care, and they have millions of writers."