Foxconn
Get more with myNEWS
A personalised news feed of stories that matter to you
Learn more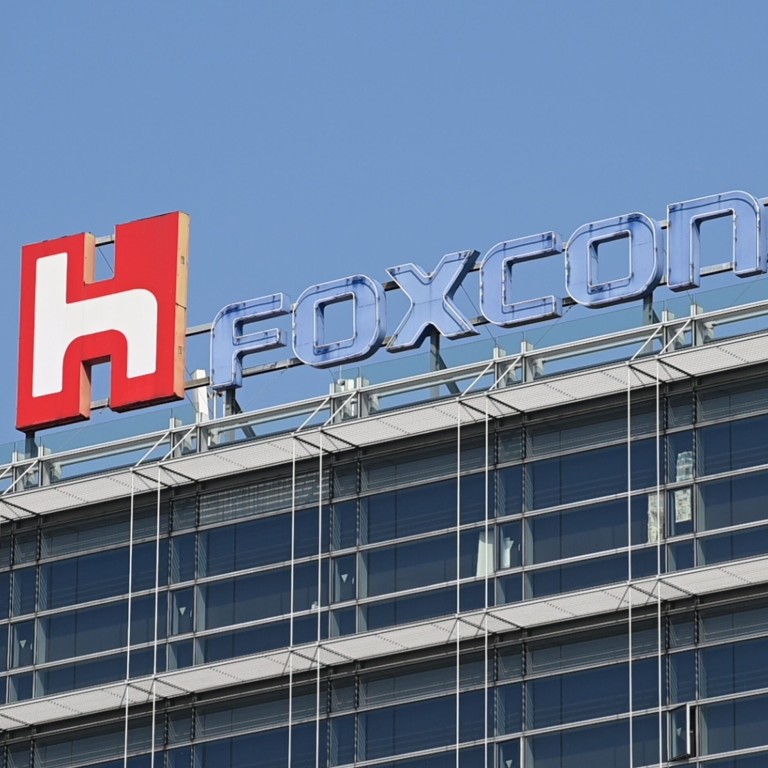 Apple supplier Foxconn puts Zhengzhou workers on leave amid worst flooding in Henan province in a century
Tens of thousands of workers at two Foxconn facilities in Zhengzhou were told not to show up to work, but largest plant remained open
Dubbed iPhone City, the Henan capital has already seen several deaths and catastrophic damage from flooding caused by record rainfall
Foxconn Technology Group
has given tens of thousands of workers a day off at two of its three major factories in Zhengzhou, as industries count the costs of disruptions from the catastrophic flooding in central Henan province.
Workers at Foxconn plants in Zhongmu county and the Zhengzhou Export Processing Zone said they have been given a day off after the provincial capital was hit by record rainfall. The worst flood to hit Henan in nearly a century has so far claimed at least 25 lives and displaced more than 100,000 people throughout the province.
The company is the world's largest contract manufacturer of electronic gadgets and best known for assembling Apple's iPhones, iPads and smartwatches. Zhengzhou, a city of 10 million people, is often dubbed iPhone City, because more than half of Apple's smartphones are assembled there at Foxconn facilities.
The company's biggest plant in the city, with the capacity to churn out 500,000 phones a day, is located near the city's airport, while the two affected plants are smaller assemblies. Its combined workforce of the Zhengzhou facilities surpasses 250,000, according to Chinese media, and has occasionally exceeded 300,000.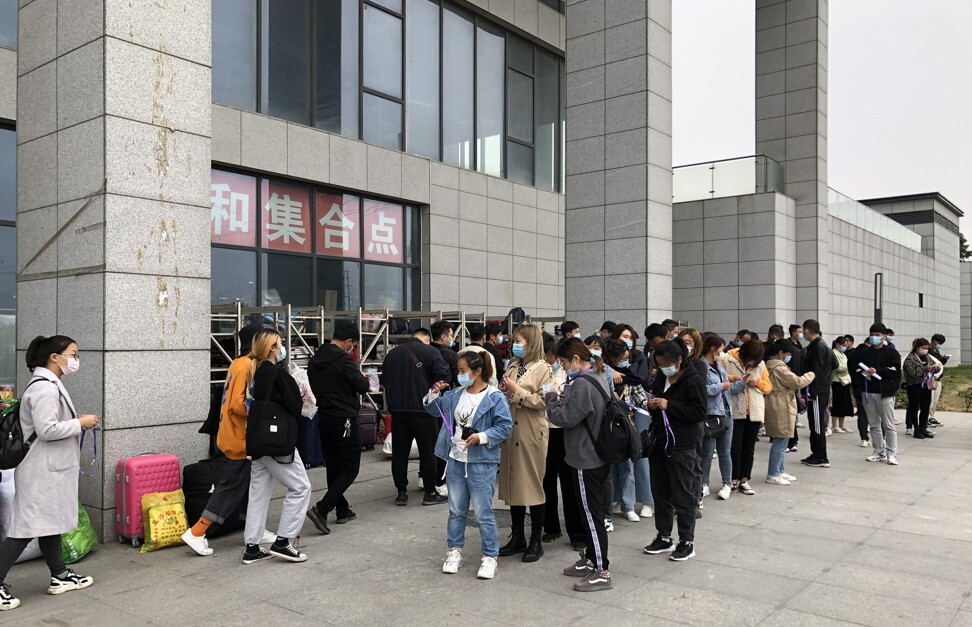 In a statement on Wednesday, Taipei-based Foxconn, formally known as Hon Hai Precision, said it was "closely monitoring the situation" and that its largest facility had seen "no direct impact". Employees at that plant still needed to show up to work. The company did not respond to questions about the Zhongmu and Export Processing Zone plants.
An unnamed manager at Foxconn in Zhengzhou told Chinese state media Time Weekly on Wednesday that "personnel within the campus in Zhengzhou remain safe from the flood and the company will make adjustments depending on circumstances surrounding the flood".
Apple CEO Tim Cook promised to donate to relief efforts in a post to microblogging platform Weibo on Wednesday, but he did not specify an amount. "Our thoughts are with everyone affected by the flooding across Henan province, and the first responders helping people to safety," he wrote.
Other manufacturers in the city have also been impacted. Nissan Motor, which makes the Qashqai SUV and the X-Trail pickup trucks in Zhengzhou, said production was temporarily halted due to the flood, but it declined to provide details of its production volume.
Electric carmaker Xpeng
, which has
contracted with Zhengzhou Haima Automobile Group
to produce its G3 SUV, said output was unaffected.
Zhongmu county authorities issued an emergency notice last night, ordering civilians to prepare for evacuation and banning them from leaving home. The upstream Changzhuang reservoir was in danger of overflowing, according to state media. More than 150 armed police officers equipped with rubber dinghies were dispatched last night to rescue trapped civilians across the county.
Floodwater has already inundated the interior of Foxconn's Zhongmu plant, with water spilling down the stairs from at least the third floor, according to online footage shared on Chinese social media. Workers were seen wading knee-deep through water while departing the plant.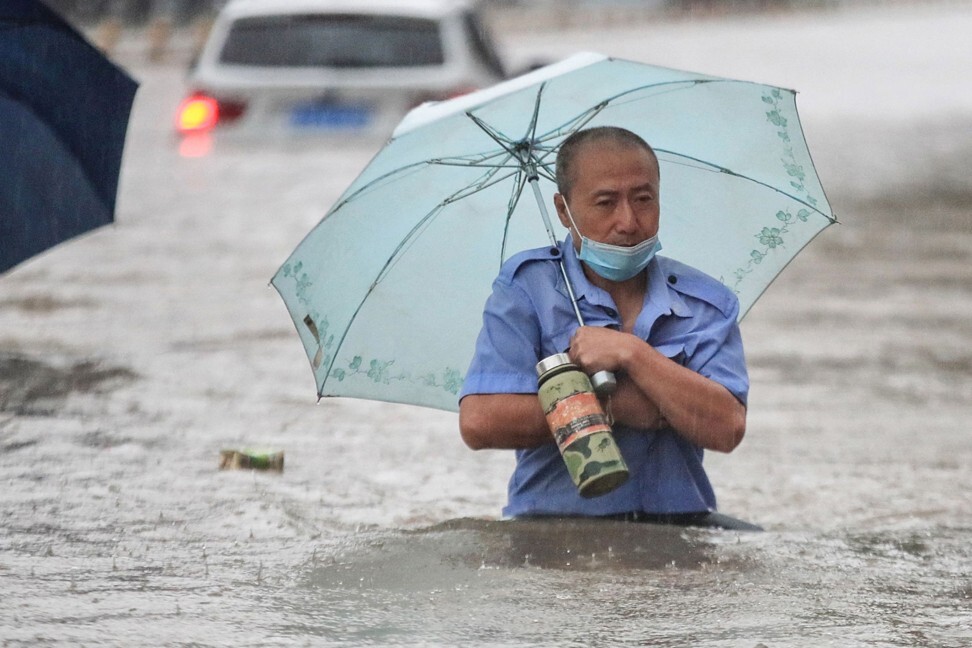 Chinese President Xi Jinping deployed the People's Liberation Army and paramilitary forces to aid relief efforts, and he also called on local authorities to be on alert for diseases after the flood. Henan has had a total of 1,326 confirmed cases of Covid-19, ranking sixth among all of the country's provinces and municipalities.
Floods also increase the risk of disease in animals, potentially threatening the pig population in the largest pork market in the world. About 8 per cent of China's hog population is reared in Henan province, according to market intelligence firm Myagric.com. Viruses for the deadly African swine fever can be found in pig's blood, faeces and tissue. Healthy hogs may be infected through contact with sick pigs or contaminated feed and water.
Another potential cause of disruption is power outages. A spokesman of Zhengzhou Coal Mining Machinery Group, a Hong Kong- and Shanghai-listed maker of coal mining machines and auto parts, said the company's production has been halted because its plant in the city lost power on Tuesday night. "While we can only resume production once the power supply is restored, we can adjust our maintenance schedule and add extra shifts to make up for lost production time," he said.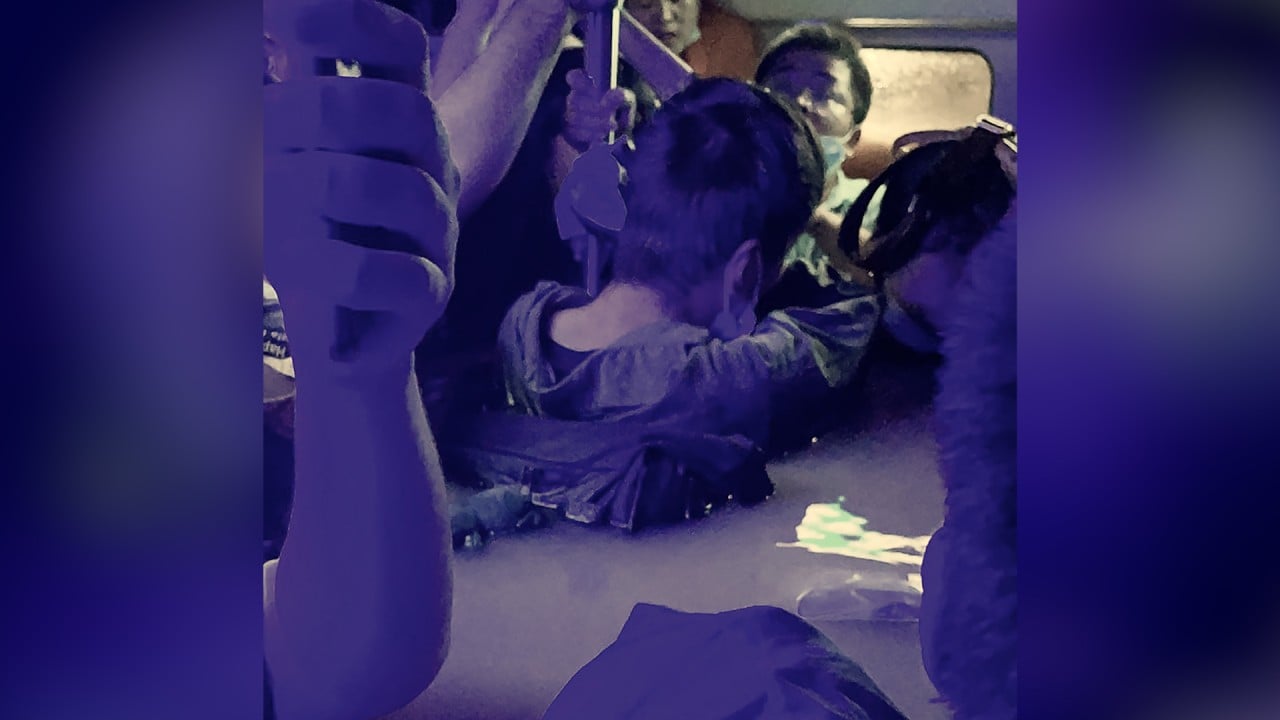 03:55
Heavy floods in central China kill at least 18 people, force 200,000 from their homes
Heavy floods in central China kill at least 18 people, force 200,000 from their homes
In response to the government's call for action, China's largest tech companies, including
Alibaba Group Holding
and
Tencent Holdings
, have rushed to announce donations amounting to a total of nearly 1 billion yuan (US$154 million) to flood relief efforts in Henan. Alibaba owns the
South China Morning Post
.
Foxconn Industrial Internet, the manufacturer's Shenzhen-based subsidiary, also donated 100 million yuan.
According to state media, seven Chinese provinces have sent 1,800 flood fighters, 250 boats, seven drainage pumps with vehicles, 11 sets of water supply systems, and 18,500 types of emergency equipment to help Zhengzhou contain the flood.
Additional reporting by Coco Feng.
This article appeared in the South China Morning Post print edition as: Apple supplier Foxconn halts work at factories as floods disrupt industries