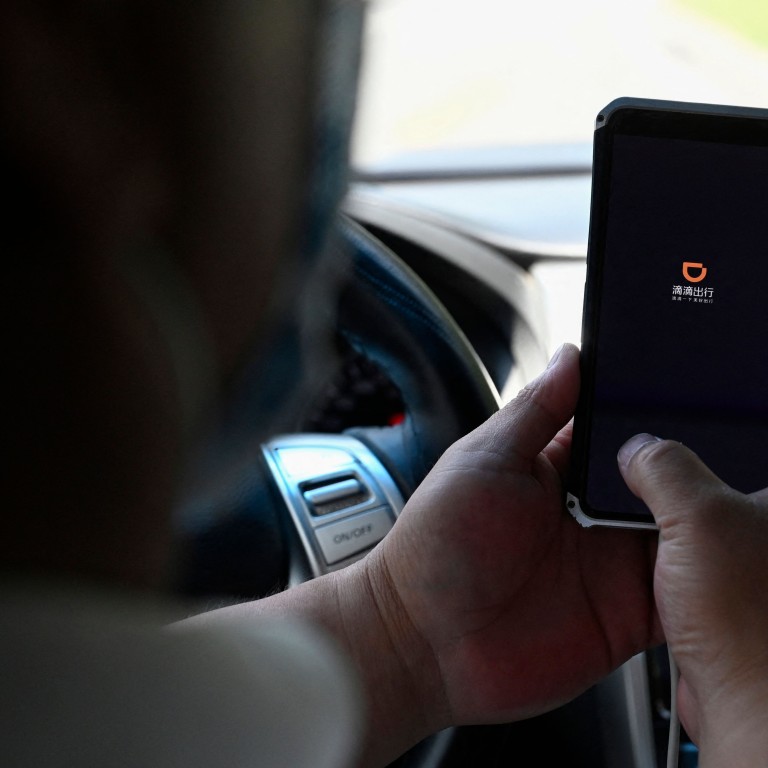 Why Didi's regulatory pain does not mean immediate gains for its smaller rivals in China's ride-hailing market
Regulatory restrictions placed on Didi, including correct licensing for vehicles and drivers as well as protection of passenger data, also apply to competitors
Didi remains the most stable source of orders and the app also allows drivers to set their direction and distance preferences, giving it an advantage
One and a half months after Didi Chuxing was banned from taking on new customers by Beijing, there is little sign that its dominant position in China's ride-hailing market is being undermined by rivals keen to take its crown, according to analysts and drivers.
Tough regulations for the ride-hailing market, including correct licensing for vehicles and drivers as well as watertight protection of passenger data, also apply to Didi's competitors such as Meituan and Autonavi, a service backed by Alibaba Group Holding, owner of the South China Morning Post.
And Didi's control of roughly 90 per cent of the market, with 493 million uses and 13 million drivers, makes it hard for any company to mount a serious challenge.
An opinion piece in the official Economic Daily on Wednesday argued that frenzied attempts by other players to expand their presence in the ride-hailing market amid Didi's troubles would be unhealthy. "All companies should remember that while the industry can be reshuffled, the rules can't bend," stated the article.
The subtle warning to Didi's rivals also comes amid several industry scandals.
Meituan, for instance, suspended ride-hailing services in a district in Nanjing. China's state radio, citing local traffic authority, said the online services giant had failed to follow local pandemic control requirements. Meituan rejected the allegations, saying it had decided to suspend its service in the district to comply with pandemic control requirements and there were no violations.
Meanwhile ride-hailing start-up Dida Chuxing, not to be confused with Didi Chuxing, is mired in controversy after a female passenger in Qingdao complained of being beaten by one of its drivers. The driver was detained by local police for "threatening the safety of others" while Dida Chuxing said it had suspended the driver's account.
Didi, which was ordered by the Cyberspace Administration of China (CAC) to stop taking any new clients from July 2 after it was deemed by Beijing to have forced its way to an initial public offering in New York, this week improved billing transparency for drivers and trumpeted how its fleet has supported efforts to combat Covid-19 in different cities. However, the company is still awaiting the outcome of an unprecedented cybersecurity review by Beijing.
"Didi's market position is difficult to be shaken in the short-term," said Chen Liteng, an analyst from consulting firm 100ec.cn. "But its compliance will be further improved [after going through the cybersecurity review] and this will increase pressure on other platforms."
China's local authorities and industry regulators are imposing similar requirements on all ride-hailing platforms, and this will favour those players with deep pockets, scaled-up operations and relatively sophisticated data management.
"It is unlikely that other platforms can shake the current market structure, because Didi is leading in the industry in terms of technology and market strength," said Jiang Xinwei, senior analyst with Analysys. "After all, the Didi app can still be used normally for [existing] drivers and passengers."
The traffic authority of Shijiazhuang, the capital city of Hebei province, said on Tuesday it had summoned several ride-hailing providers with operations in the city, including Didi, Meituan and Caocao, to rectify non-compliant behaviour such as price wars and market order distortions. It also urged the companies to stop giving orders to non-compliant vehicles and drivers. Caocao is backed by Chinese carmaker Zhejiang Geely.
The Chinese government has been weighing different potential punishments for Didi, including a record fine, the introduction of a state investor, or even a forced delisting from the New York Stock Exchange, Bloomberg reported in July. Didi has also been in talks with a state-owned company to handle its data management and monitoring, Reuters reported this month.
Didi has denied reports that it will be taken private, transfer data to a third party or introduce large new shareholders. The company also denied that it is facing a management reshuffle, which the Post said last week was one possible consequence of the company going public in the face of warnings from the CAC.
Didi, meanwhile, is standing by its drivers.
A taxi driver in Beijing surnamed Liang, told the Post that Autonavi rewards drivers with at least 30 yuan per day to encourage them to use its app, and it also provides newly-joined drivers with other incentives, such as long-distance drive orders to attract new members.
However, Didi remains the most stable source of orders and the app also allows drivers to set their direction and distance preferences, giving the company an advantage.
"It's like an old couple's relationship. Divorce would be painful," Liang said.