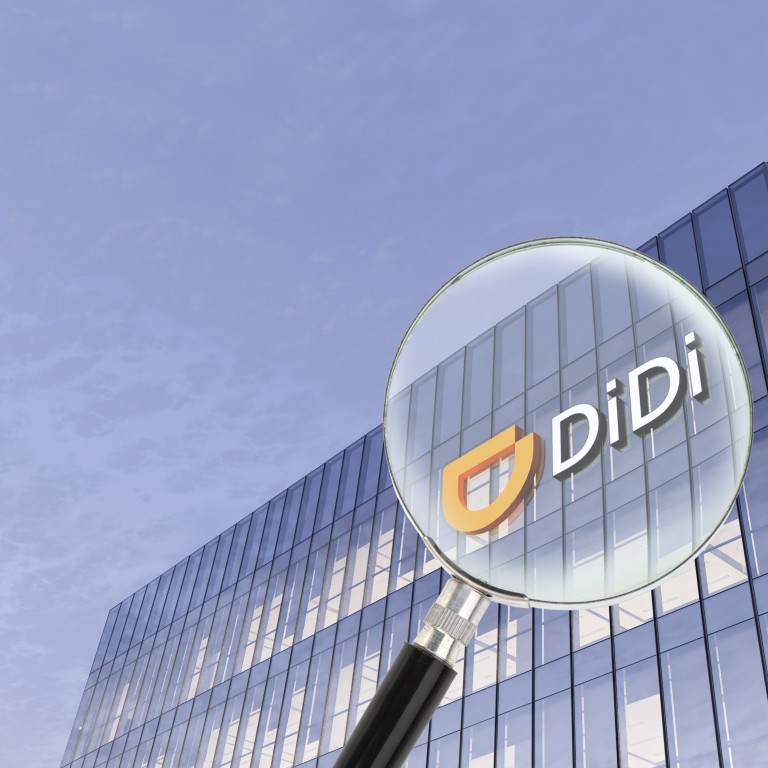 Didi will weather current storm but clouds remain as Beijing works to cap platform's share of taxi fares
A recent Securities Times commentary said 'it's time for ride-hailing platforms to give up the fantasy of making high profits'
Didi announced some changes to its app this week, allowing drivers in seven cities to see clearly how much the platform has taken from each ride
The sky will be limited for Didi Chuxing even if the ride-hailing giant can survive the current cybersecurity investigation, as Beijing is now working to cap how much the platform will be able to take from each ride, according to analysts and state media reports.
According to a commentary published by the Securities Times, which is run by the Chinese Communist Party's mouthpiece the People's Daily, "it's time for ride-hailing platforms to give up the fantasy of making high profits" and that their function of linking passengers with drivers should be a "quasi public service".
"Service prices on these platforms should be managed in such a way that the priority is never to make a fat profit," the commentary stated. The piece did not name Didi Chuxing specifically, but Didi is the dominant player with a market share of about 90 per cent.
The commentary came two days after China's Ministry of Transport demanded that ride-hailing platforms set an upper limit on their commission rates. The ministry said platforms like Didi must not charge "excessively high" commission rates and should let passengers and drivers know the ceiling.
"After some online ride-hailing platforms gained a dominant position in the market, this has arbitrarily changed their business strategies, such as pricing rules, which has infringed the rights of drivers," the ministry said, without naming specific companies.
Didi did not immediately reply to a request for comment on Friday.
"The majority of Didi's revenue comes from China and increasing its take rate is a key driver of future profits," said Cherry Leung, senior equity research analyst at AllianceBernstein. "With penetration of ride-hailing in top-tier cities already very high … there is not much room to grow the user base … leaving take rate an important lever."
The average commission rate in China's ride-hailing industry is about 25 per cent and a reasonable upper limit should be about 21 per cent, according to Analysys, a research firm.
"Didi has been adjusting its commission rate since June," said Jiang Xinwei, an analyst at Analysys. "If the upper limit set for the industry is about 20 per cent, there won't be a lot of impact on Didi."
Didi announced some changes to its app this week, allowing drivers in seven cities to see clearly how much the platform has taken from each ride.
Didi, and competitors such as Meituan and Autonavi, a service backed by Alibaba Group Holding, owner of the South China Morning Post, have come under increasing pressure from authorities for charging too much.
Didi disclosed in May its average commission rate was 20.9 per cent, with drivers on the platform receiving the remaining 79.1 per cent share of fares. Of the fees received by Didi, 10.9 percentage points goes toward passenger subsidies, with 6.9 percentage points for operating costs and 3.1 percentage points taken as a net profit, according to the company.
Didi has been loss-making for three consecutive years beginning 2018, partly because it has not found it easy to raise prices. The company's revenue fell 8.4 per cent to 141.7 billion yuan (US$21.9 billion) in 2020 amid pandemic-related social distancing measures and lockdowns.
It turned a profit of 196 million yuan in the first quarter, right before its US$4.4 billion initial public offering in New York on June 30. However, this move into the black may prove short-lived as app stores in China were ordered to remove Didi's primary app on "national security" grounds just days after the cybersecurity investigation was launched on July 2. The service remains available to existing users.
Didi's stock price plunged 9.1 per cent on Thursday to US$7.2 per share, or about half of its IPO price of US$14.
This article appeared in the South China Morning Post print edition as: Didi faces limits on its commission from fares