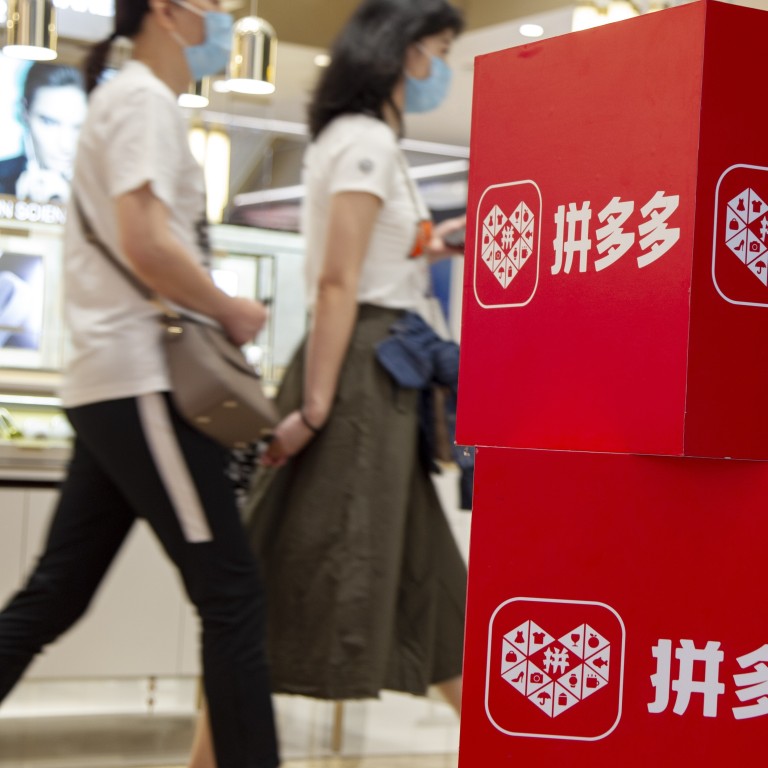 Pinduoduo pledges US$1.5 billion of profits to Chinese farmers as it reports 89 per cent jump in sales
China's largest online retailer by consumers reported that sales jumped a less-than-expected 89 per cent to 23 billion yuan in the June quarter
Pinduoduo's performance comes after rivals like Alibaba Group Holding and JD.com reported slowing growth in the face of regulatory curbs
Pinduoduo posted its first-ever quarterly net profit as a public company and pledged on Tuesday to donate those and future earnings toward the development of agriculture until it has given away a total of 10 billion yuan (US$1.5 billion).
China's largest online retailer by consumers reported that sales jumped a less-than-expected 89 per cent to 23 billion yuan in the June quarter, compared with the 26.7 billion yuan average of analyst estimates. Net income was 2.4 billion yuan, compared with a net loss of 899 million yuan a year earlier. The company said the philanthropic initiative – already approved by the board of directors – will be used to address critical needs in the agricultural and rural areas.
"This is an important and challenging task, which we will invest in patiently," Chief Executive Officer Chen Lei said in a statement. "All profits from the second quarter and any potential profits in future quarters will first be allocated towards this initiative until the total 10 billion yuan commitment is fulfilled."
Pinduoduo's performance comes after rivals like Alibaba Group Holding and JD.com reported slowing growth in the face of regulatory curbs. Since kicking off a crackdown on the internet industry 10 months ago, President Xi Jinping's government has rolled out new rules to eradicate monopolistic practices and unfair competition while stepping up oversight of areas from data security to online content. In response, online retailers have embarked on a spending spree to seek new avenues for growth – though most of the initiatives have yet to pay dividends.
At Pinduoduo, the company has been splashing out on areas such as community group buying – a crowded field that also includes Alibaba and Meituan – as well as in agriculture and infrastructure.
Active buyers climbed to 849.9 million in the 12 months to June, Pinduoduo said Tuesday. That compares with the 828 million active consumers at rival Alibaba's China retail marketplaces. Both Alibaba and JD.com have in recent years pushed new businesses to capture less-affluent users in lower-tier cities and villages, areas that have traditionally been strongholds for Pinduoduo.
Alibaba owns the South China Morning Post.