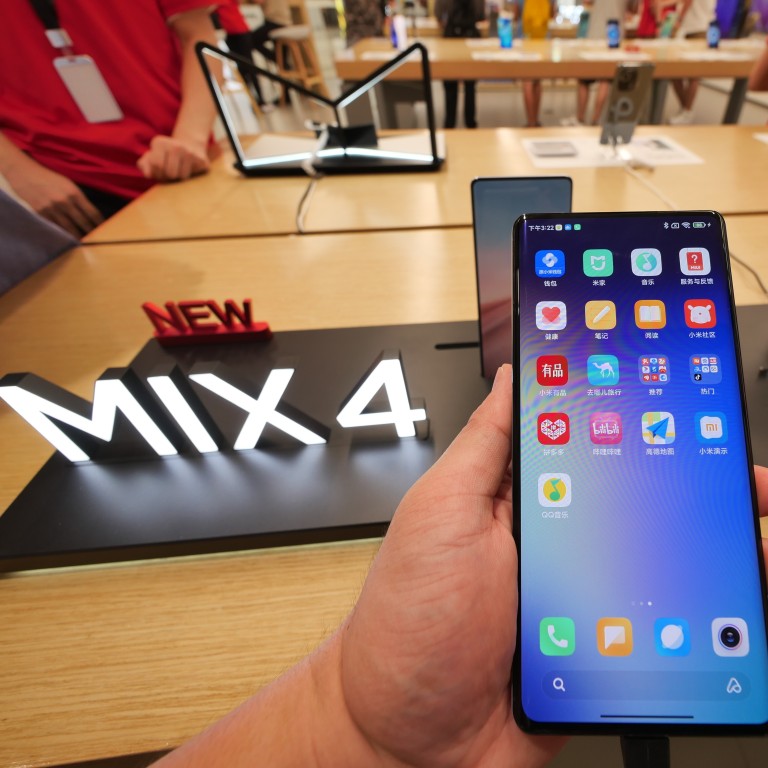 Xiaomi posts 64 pc rise in revenue as it snaps up DeepMotion to fast track its autonomous driving plans
The Beijing-based company has announced an ambitious goal to become the world's largest smartphone maker in three years
Xiaomi's profit lifted by gains in smartphone market share and sales of internet services
Chinese smartphone giant Xiaomi Corp posted a 64 per cent increase in second-quarter revenue, just weeks after the Beijing-based company announced an ambitious goal to become the world's largest smartphone maker in three years.
Hong Kong-listed Xiaomi on Wednesday posted slightly better-than-expected revenue of 87.8 billion yuan (US$13.56 billion) for the quarter ended June 30, up from 53.5 billion yuan a year ago. The robust performance was helped by gains in smartphone market share at home and abroad.
Net income jumped 84 per cent to 8.3 billion yuan in the same quarter, beating the 6 billion yuan consensus from analysts compiled by Bloomberg.
"In the high end 4,000 to 5,000 yuan segment, our handset shipments reached 12 million units in the first half … this compared with 10 million for the whole of last year," said Xiaomi president Wang Xiang in a conference call after the results were released on Wednesday. "We are continuing to promote premium phone development and we have achieved very good results."
Wang said Xiaomi is buying autonomous driving technology firm DeepMotion for US$77.4 million to fast track development of its smart EV business. He said the company is still in the process of hiring talent for its smart car unit, without saying where it would build its car-making factory or who its potential partners might be.
"We will expedite the development of Level 4 autonomous driving technology … and we want to hire the best talent," said Wang Xiang on the conference call. "We want to shorten the launch lead time for our smart EV products."
Xiaomi has joined other Chinese tech firms such as Huawei and Baidu in making smart cars. It has been stepping up its investment in autonomous driving technology since March when the Beijing-based smartphone company unveiled a US$10 billion investment plan for its smart EV project over the next 10 years.
Xiaomi Ventures led US$374 million in Series D venture funding for Hesai in June, a developer of laser radars designed to facilitate autonomous driving. Xiaomi also invested in autonomous driving technology and products provider ZongmuTech in June.
Meanwhile, Xiaomi said its smartphone revenue grew 86.8 per cent to 59.1 billion yuan, while its smartphone shipments rose 86.8 per cent to 52.9 million units in the June quarter. Xiaomi has been able to overtake domestic rival Huawei Technologies Co after the Shenzhen-based giant has struggled under the weight of US trade sanctions that have cut off its access to US-origin technology.
In the second quarter, the 11-year-old company topped Apple to become the world's second-largest smartphone vendor with 17 per cent market share, according to research firm Canalys. The company also became the No 1 vendor in Europe for the first time in the same period, shipping nearly 13 million units to reach 25 per cent market share, according to a recent report from Strategy Analytics.
Revenue from Xiaomi's Internet of Things and lifestyle products segment grew 36 per cent to 20.7 billion yuan during the same period, while its internet services segment increased sales by 19.1 per cent to 7 billion yuan – a record high.
The company's share price has dropped 28 per cent since the start of the year, closing at HK$25.35 on Wednesday before the results were announced, in line with a tech sector sell-off in China after Beijing launched a regulatory crackdown on multiple fronts.
This article appeared in the South China Morning Post print edition as: Xiaomi sees profits surge amid strong smartphone sales