Alibaba
Get more with myNEWS
A personalised news feed of stories that matter to you
Learn more
Alibaba leads roll-out of Greater Bay Area shopping festival as Mainland-Hong Kong border opening remains remote
Alibaba is promoting the new regional shopping festival in southern China with US$3.9 million in digital coupons on Taobao and Tmall
The festival could help revive retail in Hong Kong, where closed borders with the mainland have taken a heavy economic toll
A three-week online shopping festival designed for merchants in the
Greater Bay Area
started on Thursday on
Alibaba Group Holding
's
e-commerce
platforms as China seeks to boost economic links in the region, while travel between the mainland and Hong Kong remains restricted.
The region's inaugural shopping festival is backed by China's Ministry of Commerce, the Guangdong provincial government and two central government liaison offices in Hong Kong and Macau with the purpose of promoting the "integrated development" of the economic bloc, the state-owned
Xinhua News Agency
reported.
Hangzhou-based Alibaba, the owner of the
South China Morning Post
, will support the festival, which runs from September 2 to 22, by offering 25 million yuan (US$3.9 million) worth of digital coupons to consumers through its Chinese online retail platforms
Taobao
and Tmall.
About 300,000 brands in the
Greater Bay Area
, offering more than 13 million different products, will take part in the shopping festival, Alibaba said in a statement. Hong Kong brands participating in the festival include
Maxim's
,
DayDayCook
and jewellery chain
Chow Tai Fook
, offering discounts to mainland consumers who cannot travel to the city to shop.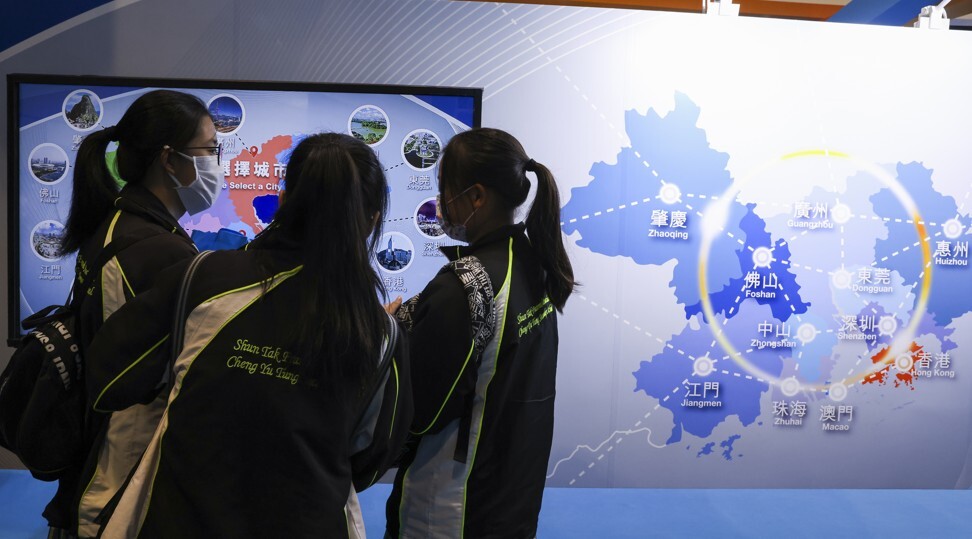 Kent Wong Siu-Kee, Chow Tai Fook's managing director for Hong Kong, Macau & Overseas, said retailers could cash in on the shopping festival by offering consumers a borderless shopping experience. "I believe the event not only promotes cross-border trade and cultural exchange within the region, but also brings consumers a borderless shopping experience and retailers more business opportunities," he said.
He added that increasingly close ties among GBA residents is helping goods more easily and quickly cross borders. "It is expected that more consumers in the Bay Area will shop online to enjoy the convenience and a wider selection of products," Wong said.
Allen Shi Lop-tak, president of the Chinese Manufacturers' Association of Hong Kong, expects Hong Kong products to be well-received because mainland consumers have confidence in their quality.
"Hong Kong products have a competitive edge over their mainland counterparts, as they have enjoyed a good reputation for their quality, especially luxury goods such as jewellery, medicine and festive food," he said.
He envisioned this kind of online shopping being a future industry trend in Hong Kong because it offers retailers a way to help revive business.
The event also offers incentives for Hong Kong consumers to buy goods from the mainland. Hong Kong consumers who buy more than 199 yuan worth of goods from a Taobao shop will receive free cross-border shipping. Macau consumers will only need to buy 49 yuan worth of goods on Taobao for the same perk.
According to Alibaba, Foshan alone has more than 10,000 furniture stores on Taobao and Tmall, and Guangzhou has become a base for make-up and skincare products, the online sales of which have grown rapidly in recent years.
"These kinds of events are a good thing, as they enable consumers to shop around without taking the risk of crossing the border. They help Hong Kong businesses tap the mainland market by extending their customer base and sales network," Shi said.
He added that even once the economy returns to normal, online shopping could continue as the "new normal", especially for young consumers.
As China's largest e-commerce company, Alibaba is known for its ability to entice people to buy more goods online. Its November 11
Singles' Day
shopping festival is now the largest in the world.
This new event comes as Hong Kong's heavily hit retail industry continues to gradually recover from the pandemic. The city's retail sales rose 8.4 per cent year on year in the first half of 2021, with the government's HK$36 billion consumption voucher scheme expected to boost spending in the coming months.
The event is co-hosted by Guangdong local newspaper Southern Metropolis Daily, Hong Kong-based Phoenix TV and the website of China Central Television's film channel 1905.com.
Other sponsors of the event include Bauhinia Culture Holdings, the state-owned publishing and media conglomerate in Hong Kong, the propaganda arms of the two liaison offices in Hong Kong and Macau, and the state-owned China Media Group.