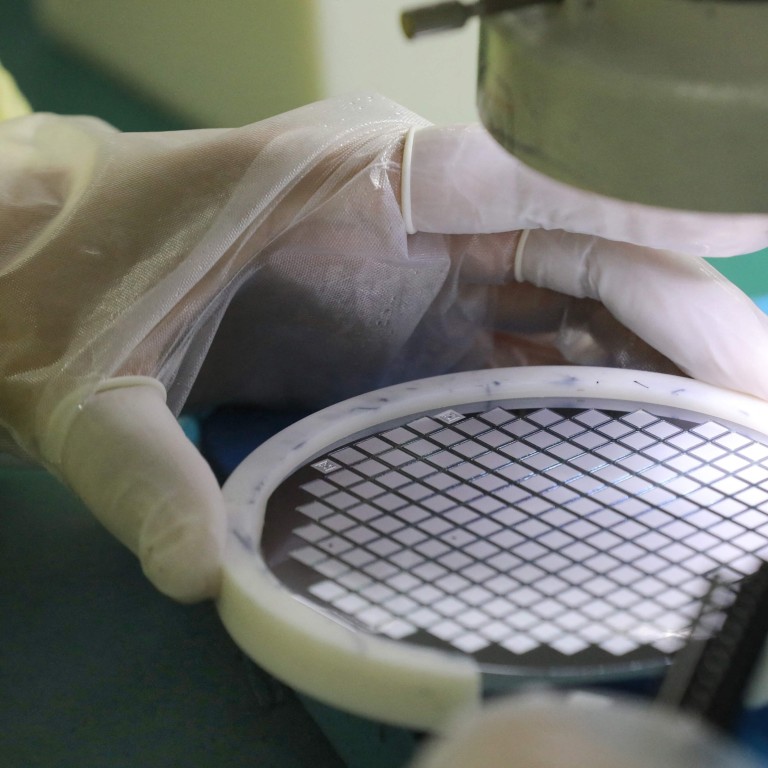 China phone makers could be squeezed by TSMC and Samsung chip price hikes amid weak consumer demand
Xiaomi and Oppo may find it difficult to pass rising production costs on to consumers due to weaker global demand for smartphones
China is the world's largest semiconductor importer, buying in two thirds of its chip consumption needs
Smartphone makers in China, most of whom currently rely on imported chips, are expected to see rising costs as major chip foundries, including Taiwan Semiconductor Manufacturing Company (TSMC) and Samsung Electronics rush to raise wafer prices amid a semiconductor supply crunch, analysts said.
Furthermore, leading Chinese smartphone brands such as Huawei Technologies Co, Xiaomi and Oppo may find it difficult to pass these rising production costs on to consumers due to weaker demand in global smartphone markets, analysts added.
The planned hike in chip prices comes amid an ongoing semiconductor shortage that began with the supply chain impact of Covid-19, and which has been exacerbated by uneven global economic growth and the inability of firms to forecast demand accurately across a range of sectors, such as PCs, phones, consumer electronics and autos.
"Global smartphone market demand rebounded less than expected due to Covid-19, chip shortages and rising logistics costs," said Chiu Shih-fang, a tech and supply chain analyst at the Taiwan Institute of Economic Research. "To avoid further hammering the willingness of consumers to pay, [we] believe it will be hard for smartphone makers to reflect rising production costs for wafers and logistics by raising product prices."
As a result, Nicole Peng, vice-president of mobility at Canalys, said companies are expected to suspend products with lower profit margins and focus on higher-priced new models to curb the impact of higher production costs.
Consumer electronics products, such as smartphones and personal computers, both stuttered in the second quarter, with total second-quarter smartphone shipments in mainland China down by 17 per cent year-on-year and total PC shipments falling by 3 per cent in the same period, data from research company Canalys showed.
Consumer electronics makers buy their semiconductor materials from chip designers. As such, higher wafer prices trickle down from fabs to chip designers, to these electronics makers and their channel distributors, and in theory, eventually to consumers. The cost of semiconductor content per device varies for different models though.
China is the world's largest semiconductor importer, buying in two thirds of its chip consumption needs, with smartphone brands still heavily-reliant on imported CPUs, GPUs and chipsets to power its devices. The country's electronics manufacturers are therefore bearing the brunt of increased semiconductor prices.
For example, Xiaomi's high-end
5G
flagship smartphone the Xiaomi 11 Pro, is powered by a Qualcomm Snapdragon 888 chipset, reportedly made by Samsung on a 5nm node. A visit by a
South China Morning Post
reporter to a Xiaomi store in Beijing's business area found that most smartphone offerings, including the 11 Pro and budget Xiami phones, were stable with no signs of a sudden price surge.
Oppo and Vivo have developed their popular smartphone models on chipsets designed by Qualcomm and Taiwanese MediaTek. For instance, the popular Oppo 5G-enabled Reno6 Pro and Reno6 Pro+ use Dimensity 1200 and Qualcomm Snapdragon 870 chipsets respectively.
TSMC, the world's largest contract chip maker by market share, is set to increase average wafer selling prices by as much as 20 per cent on mature nodes in the next quarter on the back of strong demand for chips, according to Taiwan media reports and Isaiah Research, a research agency on the island.
A research note from Isaiah, citing industry sources, claimed that Realtek, NXP, Bitmain, MediaTek, Broadcom, Qualcomm and Apple have all been notified that fab price rises are on the way.
TSMC told the Post it does not comment on pricing questions or market rumours
Korean chip giant Samsung and Key Foundry have recently notified customers that they plan to increase wafer prices by around 15 to 20 per cent during the second half of the year, according to a report this week from The ElEC, a Korean electronics industry media outlet.
Research company TrendForce predicted that semiconductor price rises are set to continue as foundries try to maximise profits.
This article appeared in the South China Morning Post print edition as: Smartphone firms face rising costs amid chip squeeze