Alibaba
Get more with myNEWS
A personalised news feed of stories that matter to you
Learn more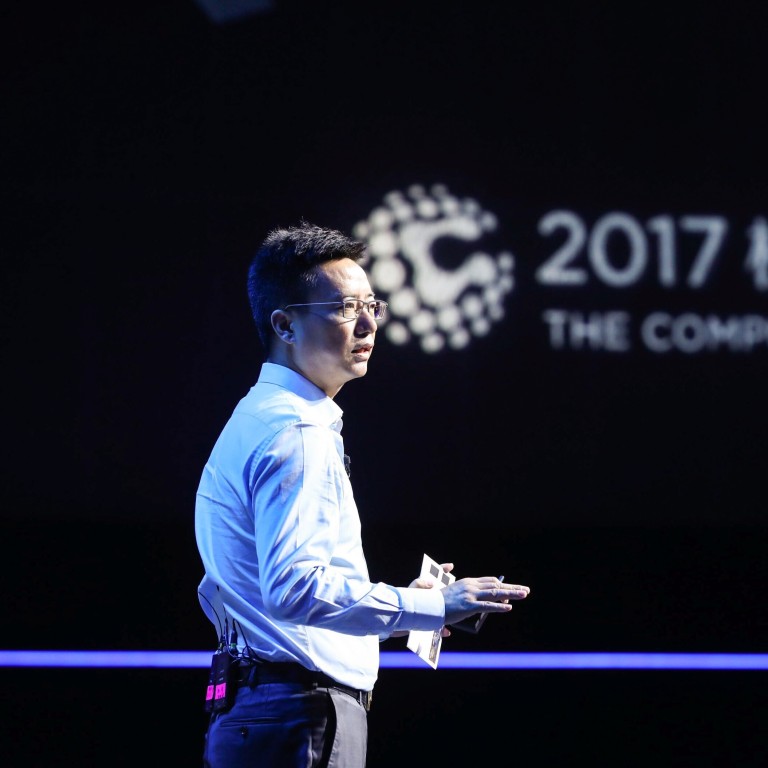 Alibaba elaborates on how it will use its 100 billion yuan 'common prosperity' fund – pointing to 'high quality growth' for all
Alibaba wants to build a 'common prosperity model' in Zhejiang by 2025, said Simon Hu, head of Alibaba's public welfare group
The plan consists of 10 initiatives including promoting investments in technology, supporting small businesses and fostering development in rural areas
Chinese e-commerce giant Alibaba Group Holding's pledge of 100 billion yuan (US$15.5 billion) to help narrow the country's wealth gap is not just about giving away money – it is aimed at building programmes that can help to "make the cake bigger", the head of Alibaba's charity said.
Aside from 20 billion yuan earmarked for Alibaba's home province of Zhejiang, most of the remaining 80 billion yuan will be open for programmes that can leverage Alibaba's advantages as a big platform, Simon Hu Xiaoming, the president of Alibaba's public welfare group, told Chinese media Caixin this week. Alibaba owns the South China Morning Post.
Alibaba had an internal debate and concluded that common prosperity must be achieved via "high quality growth", in which the e-commerce company can use its functions to help instead of simply writing a blank check. E-commerce platforms Taobao and Tmall can help to sell agricultural products, its health care unit Alibaba Health can help to improve services in rural areas, while online travel agency service Fliggy can help to boost tourism, Hu said.
Alibaba wants to build a "common prosperity model" in Zhejiang by 2025, said Hu. The initiative will first focus on 26 rural counties in the province to explore export business opportunities and promote high-quality local employment.
Hu's remarks provided more details about the "common prosperity" plan, which consists of 10 initiatives including promoting investments in technology, supporting small businesses, fostering development in rural areas, helping small business expand overseas and improving the welfare of gig-economy workers.
Annual revenue at Hangzhou-based Alibaba was 717.3 billion yuan for the financial year ended March 31, 2021 and net income was 150.3 billion yuan during the same period, meaning that the 100 billion investment represents two-thirds of the company's net profit in the last financial year.
Hu, who used to be CEO of Alibaba's online payment arm Ant Group, told Caixin that in the past internet companies tended to count resources, such as [user] traffic, as real investments. However, he said traffic costs should not be included in this 100 billion expenditure and the management team would talk about the financial impact of this plan when the September quarter results are released.
Hu added that last Friday Alibaba set up a common prosperity work group, led by Daniel Zhang Yong, chief executive of Alibaba, and Shao Xiaofeng, the company's Communist Party secretary. Wen Jia, president of Alibaba's public affairs, will also serve as a deputy team leader.
Hu also had a meeting with Yu Yongfu, the leader of Alibaba's life service division, Jiang Fan, the head of Taobao and Tmall marketplaces as well as Hou Yi, president of Alibaba's grocery retail chain Freshippo, with the aim of ensuring that the firm's different businesses can come up with specific plans and set relevant goals with regard to producing high quality growth.
Alibaba's move follows a call last month by Chinese President Xi Jinping for companies to "adjust" high income levels, prodding wealthy individuals and companies to "give back to society".
Tencent Holdings, the world's largest games publisher and Asia's most valuable company by market capitalisation, earmarked US$7.7 billion last month following a similar pledge in March towards its common prosperity fund. The fund will be used to help lift low-income groups, improve health care coverage, contribute to rural economic development and support grass roots education.
Chen Lei, the chairman and chief executive of e-commerce giant Pinduoduo, said during his company's second-quarter earnings call that the firm had launched a 10 billion yuan agriculture initiative to help rural residents, whose average income remains about a third of that earned by urban residents.
Wang Xing, founder of food delivery giant Meituan who has a net worth of US$20 billion, said during the company's second-quarter earnings call on Monday that common prosperity is "built into Meituan's genes". The evidence, Wang explained, is in the company's name, which means "better together" in Chinese.
This article appeared in the South China Morning Post print edition as: High-quality growth for all is Alibaba's mantra for welfare