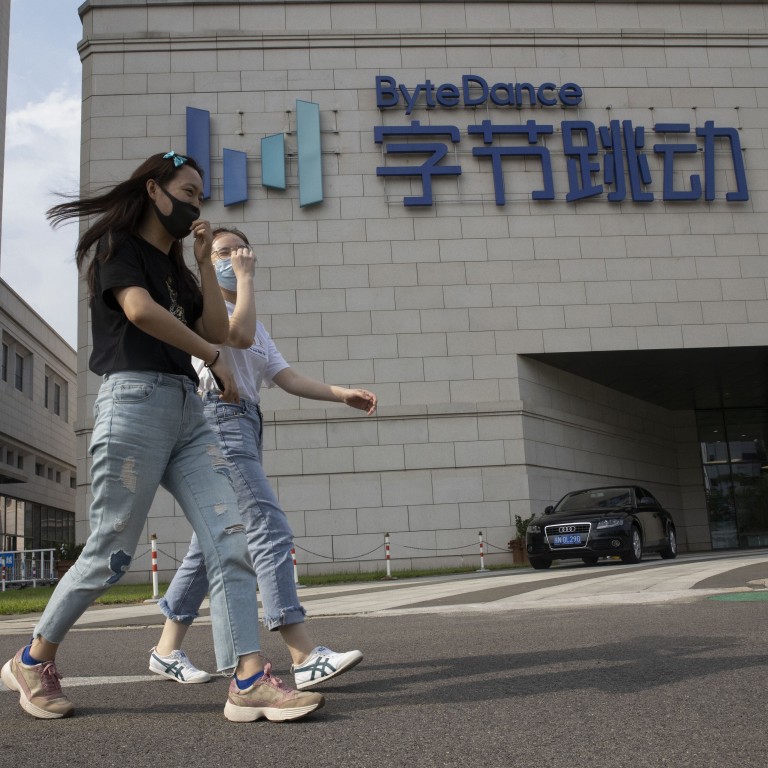 TikTok owner ByteDance's valuation reaches US$400 billion in anonymous trades posted online as IPO remains elusive
Anonymous trades published and facilitated by 36Kr show ByteDance's valuation has fluctuated between US$325 billion and US$450 billion in recent months
Online sellers say they expect ByteDance's value to climb even higher, but the company's internal buy-back scheme values it at US$200 billion
Despite the
threat of a ban
in the US under the administration of former president
Donald Trump
, TikTok has continued to see strong overseas expansion, with more than 1 billion monthly active users as of September. As a result, Beijing-based ByteDance has remained one of China's most valuable unicorns since ruling out any immediate listing plans in April.
New estimates of ByteDance's valuation come from Chinese tech media platform 36Kr, which publishes buy and sell requests from anonymous investors and facilitates the trades. Equity stakes in ByteDance have been the most active targets on the platform.
In the latest post on Wednesday, two unnamed shareholders said they intended to sell up to US$1.1 billion worth of ByteDance shares, valuing the company at US$400 billion, a US$40 billion premium over a valuation from the same sellers last month. The investors said the valuation is valid until Friday, and "the price is expected to be even higher in the future".
Since the sources are anonymous, without any contact information listed on the platform, the South China Morning Post was unable to confirm the authenticity of the information. 36Kr did not respond to a request for comment.
Other published ByteDance trades from multiple investors show a relatively active private market for stakes in the company, and it has been going on for months. Differences in valuations with each trade can vary by tens of billions of dollars. One seller valued the company at US$450 billion in July, and the lowest asking price valued it at US$325 billion in early September. It is not clear whether any of the listed sales have actually been realised.
The tech giant has also recently initiated a new round of internal buy-backs for shares owned by employees, at US$132 per share, according to three sources familiar with the matter. It marks a 5 per cent gain over its previous buy-back round in May, but it values the company at just US$200 billion, much lower than the private trades listed on 36Kr.
Back in April, just weeks before the company said it had
no immediate plans to go public
, sources confirmed to the
Post
that ByteDance was approaching a US$400 billion valuation for external investors.
ByteDance's IPO plans remain up in the air after China made significant changes to regulations concerning overseas listings. Following a
cybersecurity probe
into ride-hailing firm
Didi Chuxing
, launched days after the company
went public in New York
, Beijing introduced a
draft regulation
that would require any platform operator with at least 1 million users to apply for such a review before listing overseas.
ByteDance's short video app Douyin, the Chinese version of TikTok, alone had 600 million daily active users as of August last year, the latest official numbers available. Before denying it had IPO plans, ByteDance explored options for
listing Douyin in New York
, a move that looks even more unlikely under the current regulatory environment.
Following an August report by the Financial Times that the company was looking to list in Hong Kong by early next year, ByteDance again denied that it had plans for an IPO.
This article appeared in the South China Morning Post print edition as: ByteDance valuation hits US$400b in anonymous online private trades