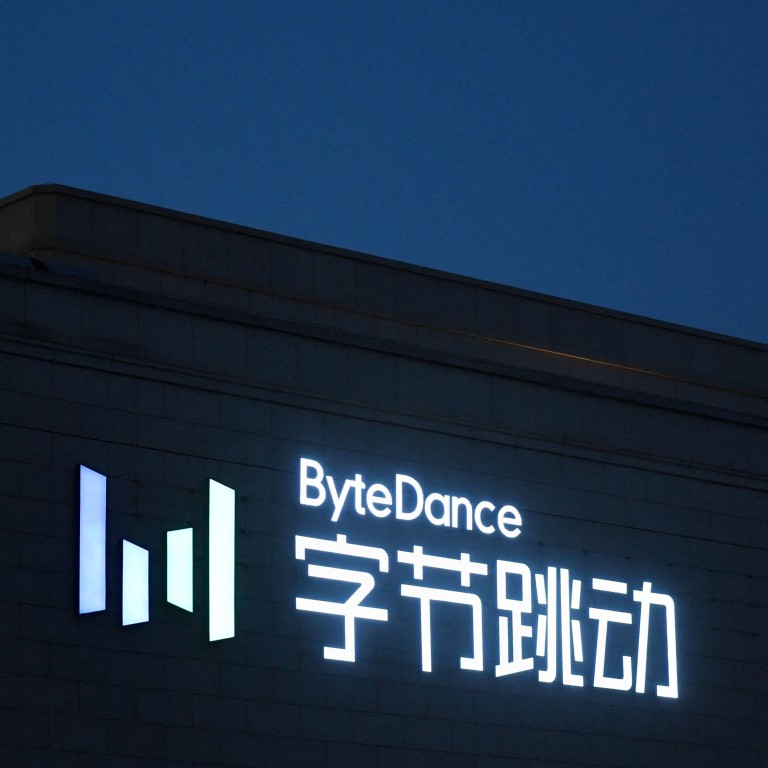 Exclusive

|
ByteDance IPO likely delayed to late 2022 and beyond amid regulatory uncertainties in China, sources say
The Chinese owner of TikTok faces roadblocks in its plan to go public as Beijing revises its data regulatory framework, sources told the Post
With the company's IPO plan on the back-burner, some private investors have tried to divest their stakes
ByteDance, owner of the popular short video app TikTok, may see its plan to go public postponed until late 2022, after regulatory hurdles in China are resolved, according to three people briefed on the matter.
One source told the
South China Morning Post
that the start-up, the world's largest unicorn with
some private investors valuing it at US$400 billion,
is unlikely to receive the go-ahead from Chinese authorities to float the company before the Communist Party's 20th congress, which is expected to take place next autumn.
With government efforts to formulate new data regulations still under way, there is little possibility that the Beijing-based firm, founded by Chinese entrepreneur Zhang Yiming nearly a decade ago, could win quick approval for an initial public offering, a second source with close ties to ByteDance investors said.
That came after the internet watchdog announced a cybersecurity probe into ride-hailing giant Didi Chuxing, citing national security grounds. The result of that review has yet to be announced, and public canvassing for the updated IPO rule only concluded recently.
It is yet unclear how future cybersecurity reviews would be implemented and whether they would apply to listings in Hong Kong, a city usually not considered a "foreign" market under Chinese regulations.
The sources declined to be identified as the matter is private.
With the company's IPO now on the back-burner, some existing shareholders have tried to cash out.
Bloomberg News reported on Thursday that the US-based options trading firm Susquehanna International Group, one of ByteDance's earliest and largest investors, is looking to sell about US$500 million of its shares, citing unidentified sources. Another shareholder recently sold its equity stakes valuing the company between US$360 billion and US$370 billion, according to the report.
The question of when ByteDance will go public has been a guessing game among investors for a while. Last year, the company generated more than 236 billion yuan (US$36.8 billion) in revenue – an increase of 11 per cent from a year ago, according to public financial information. Its main video sharing app in China, Douyin, has over 600 million daily active users.
Plans for ByteDance to expand its business in China this year, however, have run into several road bumps.
In contrast, TikTok has thrived abroad after former US president Donald Trump failed in his attempt to ban the app in the country. The company announced last month that the app's monthly global users reached 1 billion.
Despite TikTok's growth, 38-year-old Zhang announced in May that he would step down as chief executive of the company that he founded. He has been out of the public eye for months, apart from appearing in a photo taken in his hometown in the southeastern Fujian province in June, when he donated 500 million yuan to support local education.
Zhang recently overtook Tencent Holdings founder Pony Ma as the richest person in China's internet industry with a net worth of US$59.4 billion, according to Forbes' real-time billionaire ranking.
This article appeared in the South China Morning Post print edition as: ByteDance share sale faces delays amid review of rules