Tencent
Get more with myNEWS
A personalised news feed of stories that matter to you
Learn more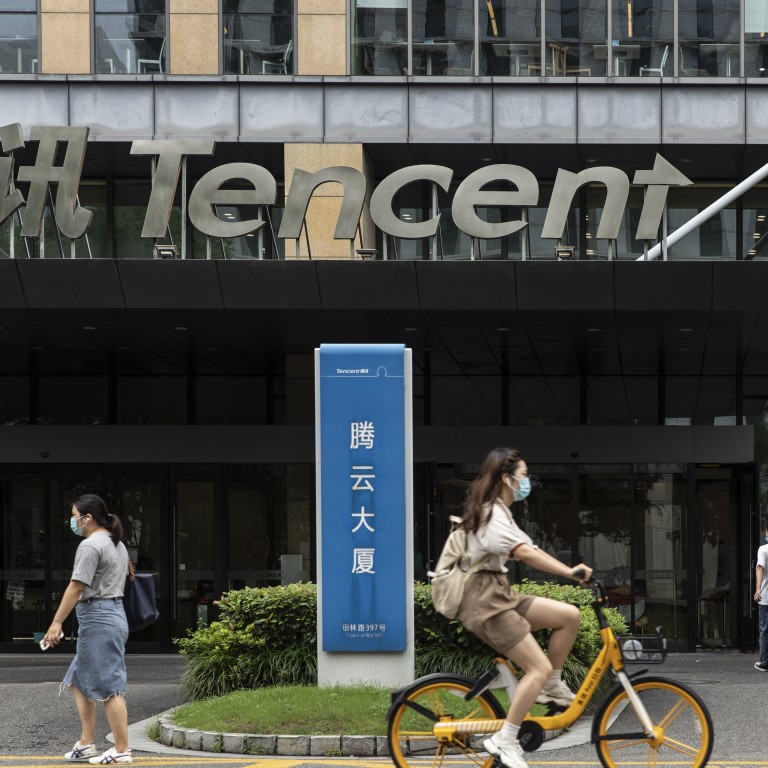 Tencent's Q3 profit up 3 per cent, its slowest growth in two years amid regulatory crackdown, gaming licence freeze
The Hong Kong-listed Chinese internet giant reported net profit of 39.5 billion yuan in the quarter ended September
The results come as China's gaming industry comes under tightened scrutiny from Beijing
Tencent Holdings reported a 3 per cent increase in profits in the third quarter of 2021, its slowest growth in two years, as China's biggest social media and video gaming business faces regulatory uncertainty amid tighter government scrutiny of the industry.
The Hong Kong-listed company on Wednesday posted a net profit of 39.5 billion yuan (US$6.18 billion) in the quarter ended September, up from 38.54 billion yuan in the same period last year, beating estimates of 32.6 billion yuan.
Revenue increased 13 per cent to 142.37 billion yuan, up from 125.4 billion yuan a year ago, but below the 145.41 billion yuan consensus estimate by 28 analysts. The last time Tencent missed revenue estimates was also two years ago.
The results came amid a regulatory crackdown on Chinese Big Tech, with tighter scrutiny over a wide range of activities from how they can compete with rivals to the way they handle user data.
"We are proactively embracing the new regulatory environment which we believe should contribute to a more sustainable development path for the industry," said Tencent founder and CEO Pony Ma on Wednesday.
"The government is trying to drive higher quality and sustainable growth for the entire industry with a focus on consumer rights and privacy protection", said Tencent president Martin Lau on an earnings call with analysts. "Regulatory changes in future... might be smaller in percentage terms as the industry adapts further [to the new environment]."
Amid the crackdown, Tencent lost US$127 billion of market value this year. Its shares jumped 4.2 per cent to HK$483.6 at the close of trade on Wednesday, ahead of the earnings announcement.
For the first time, Tencent said it would break out revenue numbers for its domestic and international gaming businesses to reflect "the increasing scale of our international games business".
Amid moves by Beijing to break down the "walled gardens" between different online platforms, Lau said he felt "greater interoperability and more openness in terms of the different platforms could be good for our business, particularly with respect to payments and the ad business." However, he added that user protection and content compliance would be key considerations.
Domestic games revenues grew by 5 per cent to 33.6 billion yuan, driven by games including Honour of Kings, Call of Duty Mobile, and Moonlight Blade Mobile. International games revenues grew by 20 per cent to 11.3 billion yuan, or 28 per cent in constant currency terms, due to the strong performance of games including Valorant and Clash of Clans.
The government's tighter control over gaming - Tencent's biggest revenue generator - to fight addiction among minors, has added to the uncertainty. In September, Beijing limited gaming time for minors to three hours a week, between 8pm and 9pm on Fridays, Saturdays, Sundays and statutory holidays,
On the earnings call, chief strategy officer James Mitchell said he did not expect gaming restrictions to be extended to adults and that Tencent had a games backlog to keep it "busy for many quarters to come", adding the current regulatory environment is "temporary".
Regulators have not approved any new game titles since the end of July, the longest freeze in processing new game licences since a nine-month hiatus in 2018.
On the much-hyped potential of the metaverse - a shared 3D virtual space seen by many as the future of the internet - Lau said on the earnings call that Tencent had the capabilities but the concept was in its early days, before laughing and saying he had "spoken enough" on this topic for now.
Meanwhile, amid Beijing's clampdown on the education sector, traditionally a major advertiser, the growth of Tencent's advertising revenues slowed to 5 per cent to 22.5 billion yuan. The company said it expects business growth in the sector to remain soft for the next several quarters.
In the past quarter, Tencent was ordered to end exclusive music licensing deals with copyright holders. Its flagship all-purpose app WeChat, which had 1.26 billion monthly active users by September, was also targeted in Beijing's campaign starting in July that ordered internet platforms to open up to each other, with Tencent vowing to follow the guidance of authorities.
Despite the challenges, Tencent's fintech and business services revenue rose 30 per cent to 43.3 billion yuan, bolstered by increased transactions and the expansion of its cloud business. However, Tencent noted that travel controls during the Covid-19 pandemic had affected the growth of offline transactions.
This article appeared in the South China Morning Post print edition as: Tencent reports slowest profit growth in two years amid crackdown