Meituan
Get more with myNEWS
A personalised news feed of stories that matter to you
Learn more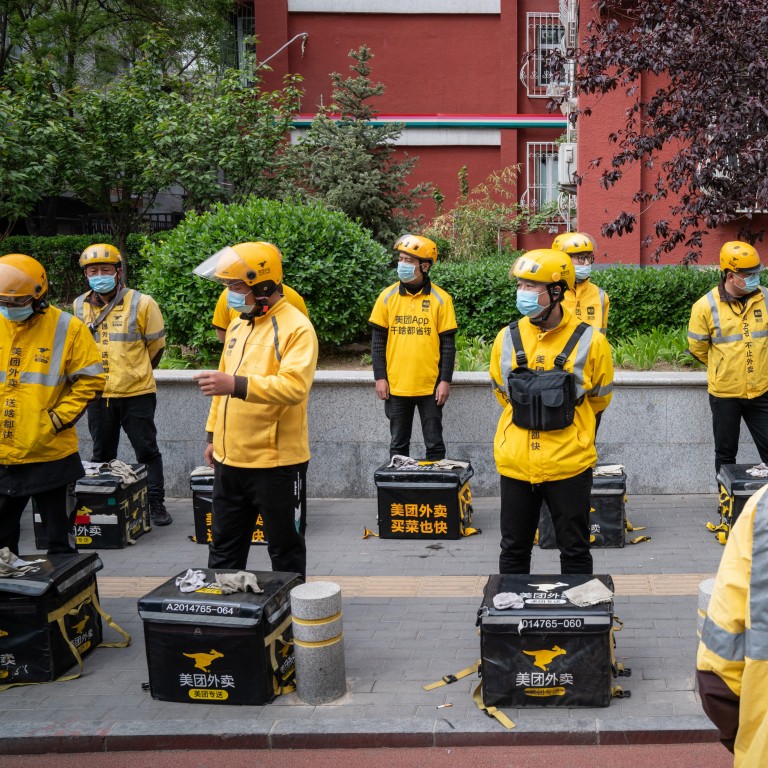 China food delivery giant Meituan reports 10bn yuan loss after paying antitrust fine
China's biggest on demand food delivery provider Meituan reported a 10 billion yuan loss in Q3 after getting hit with an antitrust fine
Chinese regulators are taking a much tougher stance on the country's increasingly powerful tech giants
Meituan
, operator of China's largest food delivery and on-demand local services platform, reported a worse than expected loss in the third quarter, after swallowing a fine by China's antitrust regulators, while its revenue of 48.8 billion yuan was in line with forecasts.
The Beijing-based company incurred a net loss of 10 billion yuan (US$1.565 billion), missing analysts' estimates for a 7 billion yuan loss. That compared with a 6.3 billion yuan profit in the period a year earlier. Revenue rose 37.9 per cent to 48.8 billion yuan in the quarter ended September.
Besides the antitrust fine imposed by the Chinese government, a business segment called 'new initiatives and others', which includes group buying, recorded a wider operating loss of 10.9 billion yuan, compared with a 2 billion yuan loss for the same period of 2020.
"The operating loss from the new initiatives and others segment expanded, as we continued to invest in areas that would bring long-term value to the company," Meituan said in its earnings release.
Chinese regulators are taking a much tougher stance on the country's increasingly powerful tech giants.
In October, the State Administration for Market Regulation (SAMR) levied a 3.4 billion yuan (US$533 million) fine on Meituan for abusing its dominant market position, ending a months-long probe.
The fine was equivalent to about 3 per cent of Meituan's total domestic revenue of 114.7 billion yuan last year, according to SAMR. The penalty was also smaller than previous estimates and reports.
Meituan's chief executive Wang Xing said in a conference call with analysts after the market close that the company had "prohibited the use of exclusive partnerships" and founded "six special teams" to oversee areas including antitrust compliance, courier rights, data compliance and platform governance.
"The company has conducted antitrust risk checks on all areas of [its] business … and all new business decisions must pass an antitrust assessment," said Wang. "The regulatory environment has evolved … and we treat compliance as a top priority."
Earlier in the year, Meituan was urged to improve working conditions, which have long been criticised. In July, SAMR and six other government agencies ordered the company to pay its delivery riders more than the country's minimum wage, and to free them from unreasonable demands made by algorithms that predetermined the number and timing of their deliveries.
On the analyst call, Wang said the company was "focused on providing more support and care for our couriers" and had prioritised a system to "ensure that they are not tasked with orders that they cannot handle."
Analysts noted that Meituan's market share was unlikely to be affected by the antitrust crackdown.
"After Meituan was investigated for alleged monopoly behaviour in April, Ele.me was deemed able to get back 10 per cent market share," said Jamie Chen, an analyst at research firm Third Bridge. "However, with the anti-monopoly policy enforced thoroughly, Meituan's market share has not dropped as a result."
Ele.me is owned by Alibaba Group Holding, owner of the South China Morning Post.
"In the industry, market share is determined largely by supply. When supply is curbed, if competitors still fail to catch up, they are unlikely to do so afterwards," Chen added.
Meituan's shares fell 3.9 per cent to HK$263.6 on Friday before the results were announced, down from a peak of HK$460 in mid-February amid a broader decline in the stock market.
Meanwhile, social e-commerce giant Pinduoduo on Friday posted 21.5 billion yuan in revenue for the three months ended September 30, an increase of 51 per cent from the same period last year. The number of active buyers in the 12-month period rose to 867.3 million, a 19 per cent year-on-year increase.
Net income for China's largest agricultural platform came in at 1.64 billion yuan, up from a net loss of 784.7 million in the same period last year.
"We are placing more focus on investments in R&D, away from the previous emphasis on sales and marketing in our first five years," said Chen Lei, Pinduoduo's chairman and chief executive officer, in a statement.

The Shanghai-based online marketplace said it aims to leverage its strength in technology to deepen digital inclusion in agriculture, and will allocate all profits from the third quarter to its so-called "10 Billion Agriculture Initiative" to help China's rural revitalisation.
Additional reporting by Yujie Xue