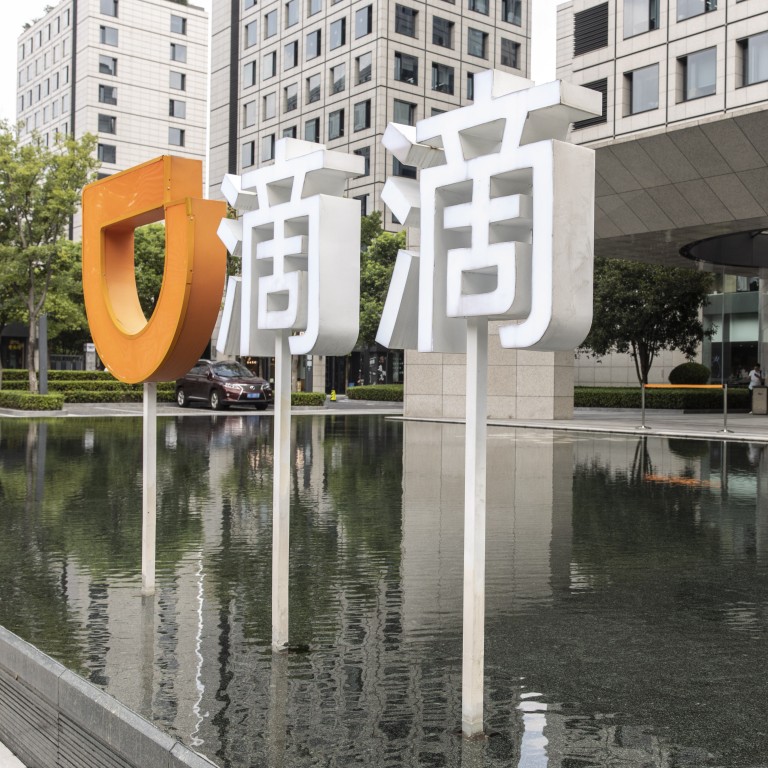 Didi starts to delist from New York and aims for Hong Kong amid Beijing scrutiny
Didi announced Friday that it would delist in New York after 'careful study' and prepare for a Hong Kong listing, with a shareholder vote to be organised later
Beijing launched a cybersecurity review into the company days after its blockbuster IPO on June 30
Didi Global said it would commence the process of removing its stock from the New York Stock Exchange for a listing in Hong Kong, as China's dominant ride-hailing service operator makes an unprecedented exit from the world's largest capital market five months after Chinese regulators opened a probe into the company.
"After careful study, the company will start the work of delisting from NYSE and initiate preparation for listing in Hong Kong with immediate effect,"
Didi Chuxing
said in a one-line Chinese statement on its official Weibo account on Friday.
In a separate corporate statement in English, Didi said the plan includes converting the American depositary shares (ADSs) from the NYSE "into freely tradeable shares" on another exchange. The company added that it will organise a meeting for shareholders to vote on the issue "at an appropriate time in the future". Meanwhile, Didi is "pursuing a listing of its class A ordinary shares on the Main Board of the Hong Kong stock exchange."
"The most sensible route for Didi should be to seek a Hong Kong listing first and then offer the conversion from ADSs to Hong Kong tradeable shares to US shareholders in the US privatisation and delisting process," said Chen Weiheng, partner and head of China practice at Wilson Sonsini. "This would avoid the sensitive pricing issue and also reduce cash requirement in the privatisation."
Soon after the probe was announced, Didi's main app was barred from taking new customers, and dozens of its apps were eventually removed from app stores. A joint government consortium, which included the Ministry of State Security, later started conducting the investigation on company premises.
Didi's shares opened on Friday 2 per cent lower at US$7.65 in New York, giving all of their 13 per cent pre-market gains, and more. The stock recently changed hands at US$6.92, 11.3 per cent down.
Chen said that Didi "can initiate the HK listing process any time, but presumably they will need the year-end financials before they can make the application next year".
"Also, in addition to the HKEX and SFC (Securities and Futures Commission) review process, the review and clearance process with Cyberspace Administration of China will also be an important factor on the timetable for this case," he added.
Didi's delisting is one of the more severe consequences of Beijing's tightened control over the country's technology sector, and it could have significant implications for Chinese tech firms seeking to list in the US, a popular market for such companies.
China's crackdown on internet platforms has created a "climate of uncertainty and fear" because the process "has been non-transparent", said Arthur Kroeber, the head of research at Gavekal. "Over time, this is going to have a negative effect on dynamism in the Chinese private sector."
Listing in Hong Kong might also require Didi to restructure the company, according to Luo Zhiyu, a partner at DeHeng Law Offices, who specialises in cross-border IPOs, mergers and acquisitions. "Hong Kong is more strict for IPOs in terms of regulation," he said.
Under the Hong Kong exchange's "narrowly tailored" principle, Didi's variable interest entity structure, which allows an investor to have a controlling interest without equity holding, may be deemed unnecessary, according to Luo.
Beijing's regulations for tech firms to pursue offshore IPOs have become much stricter since the CAC, China's top internet watchdog, proposed an amendment in July to the "Measures for Cybersecurity Review". The changes would require technology platform operators handling the data of more than 1 million users to apply for a review from the Cybersecurity Review Office, under the CAC, if they plan to list in a foreign market.
Last month, the CAC drafted another document asking for a cybersecurity review into mainland companies seeking Hong Kong IPOs.
Multiple mainland tech firms have cancelled or postponed IPO plans in the way of rising cybersecurity scrutiny. The
South China Morning Post
reported earlier that Didi became the subject of a cybersecurity review because it had
"forced its way" to a US listing
in the face of government concerns.
Didi's decision to delist also came as the Securities and Exchange Commission (SEC) adopted final amendments to its rules for implementing the Holding Foreign Companies Accountable Act of 2020 on Thursday.
The act requires foreign companies listed in the US to declare they are not owned or controlled by a foreign government and to have been available for inspection by the Public Company Accounting Oversight Board within the last three years.
"Under the final rules adopted by the SEC yesterday, Didi will not be mandatorily delisted from US until it fails to meet the PCAOB audit requirements for three consecutive years," Chen said. "So it will have enough time to do the Hong Kong listing first."