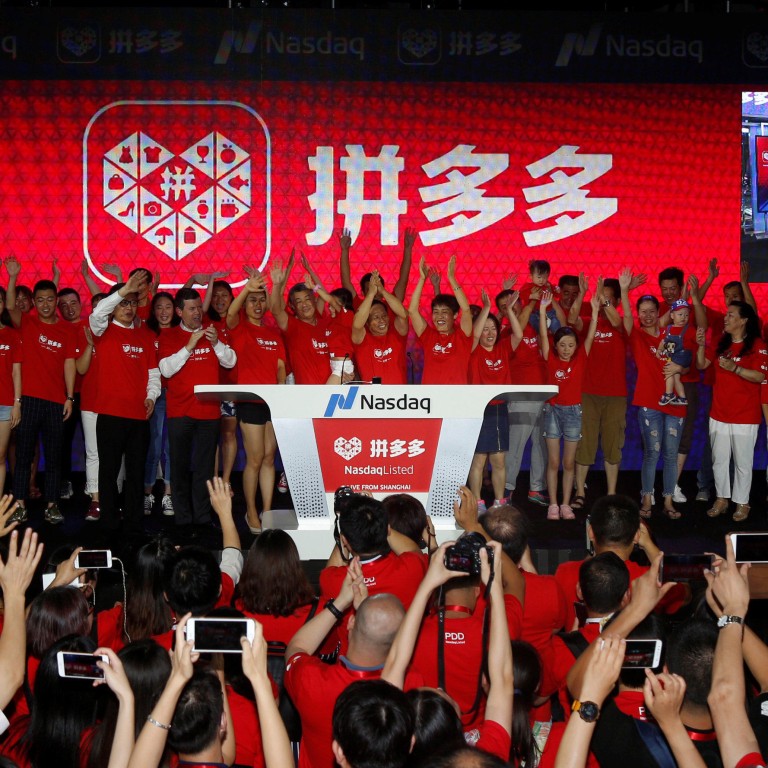 As China's lower-tier markets slow down, Pinduoduo's e-commerce growth hits record low
The firm's fate is sometimes seen as an economic bellwether of China's price-sensitive 'sinking markets'
The surge that Pinduoduo and rivals received at the onset of the pandemic has run its course, said one analyst
Pinduoduo, which last year briefly dethroned Alibaba Group Holding as China's largest e-commerce platform by number of active buyers, reported just a 2.6 per cent revenue growth in fourth quarter last year, in a sign that consumer spending in the world's second-largest economy is waning amid a broad economic slowdown and rigid Covid-19 control measures.
The Shanghai-based company, which leverages the social network of its consumers to promote online sales, is known for its competitive pricing, making it especially popular among China's low-income groups. The seven-year-old firm's quick rise has often been seen as a sign of the untapped potential of China's "sinking markets" – small towns and rural areas where residents are more price-sensitive than those in tier-one cities such as Beijing and Shanghai.
Pinduoduo's sluggish revenue growth came as China's small business owners and gig economy workers, many belonging to China's 200 million workers engaged in flexible work, bear the brunt of economic losses caused by extensive lockdowns.
The company, whose 42-year-old billionaire founder Colin Huang Zheng stepped down as chief executive in 2020, posted revenue of 27.2 billion yuan (US$4.26 billion) in the fourth quarter last year, its lowest ever year-on-year growth. In the same quarter, rival Alibaba, owner of the South China Morning Post, also registered its slowest ever revenue growth – a 10 per cent increase to 242.6 billion yuan.
"The surge that Pinduoduo and other e-commerce platforms received at the onset of the pandemic has run its course, with online shopping more normalised now," said Mark Tanner, managing director of Shanghai-based marketing and research firm China Skinny.
Some analysts noted that Pinduoduo's weaker growth was mainly caused by a drop in merchandise sales, which were introduced as "a temporary solution" to provide users with products that sellers on the platform could not provide. Total revenue in the fourth quarter, excluding that from merchandise sales, was 27.1 billion yuan, representing a year-on-year increase of 28 per cent.
Monthly active users of Pinduoduo rose 2 per cent to 733.4 million in the quarter ended December 31. Alibaba, by comparison, said it had 1.28 billion users by the end of last year, including 979 million in China.
The days of "70 per cent or 50 per cent revenue growth" are over for Pinduoduo, said Tam Tsz Wang, a Hong Kong-based analyst at DBS Bank. "But in the last few quarters, it achieved a net profit that we didn't expect. Investors are also changing what they want to look at."
Pinduoduo reached a net income of 6.6 billion yuan in the fourth quarter, compared with a loss of nearly 1.4 billion yuan in the same quarter of 2020, thanks to a sharp reduction in costs and a one-off rebate from an unidentified service provider.
Pinduoduo, which debuted on the Nasdaq stock market in 2018, once promoted its business model as Disney meets supermarket giant Costco, combining entertainment with shopping. Its unique "mass bargain campaigns" let friends join together in bigger purchases to unlock special discounts. The more people click on a shared link, the lower the price gets. And when the number of clicks reach a certain level, an extremely tempting price will show up, such as 12.8 yuan for six glass mugs.
Some users, however, have questioned the algorithms behind these campaigns.
Online influencer Super Xiaojie complained last week that Pinduoduo's promotions are akin to scams, because he failed to get a bargain price even after asking at least a few thousand people to participate in a Pinduoduo campaign to win a 2,099 yuan Vivo smartphone for free. According to Super Xiaojie, Pinduoduo's system showed that he was just 0.02 per cent shy of reaching the goal, but he remained stuck at that level no matter how hard he tried.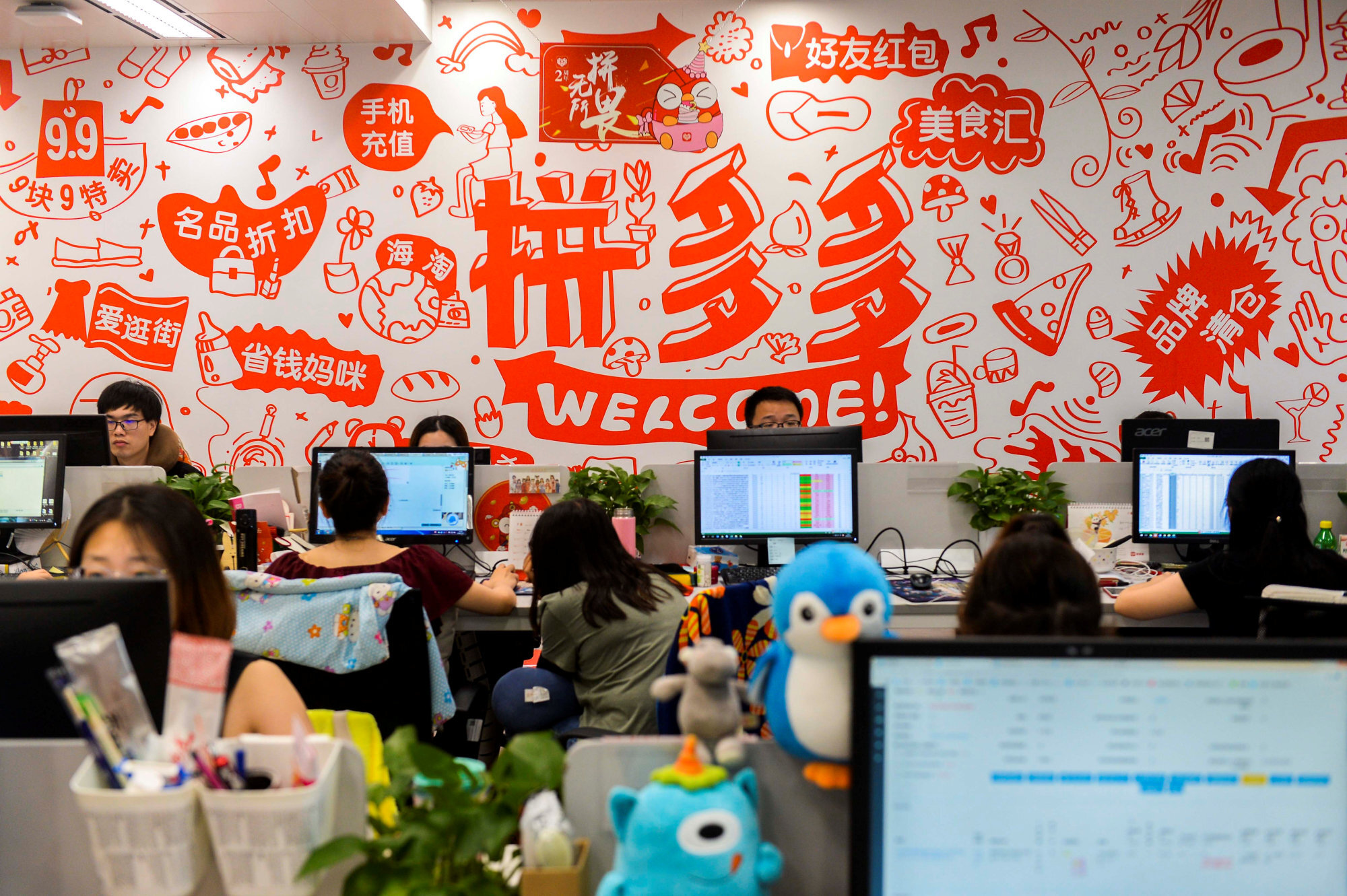 Pinduoduo denied the allegations and said the handset was eventually delivered to the influencer. Still, the story went viral on the internet, where many users said they had similar experiences. A lawyer in Shanghai even took Pinduoduo to court, accusing the firm of fraud after discovering that he was always 0.9 per cent away from inviting enough friends to help him get free goods. A regional court has yet to make a ruling.
Despite the controversies, Pinduoduo's offers remain tempting to many consumers. On the platform's homepage, a bottle of bed sanitisation spray was selling for only 0.55 yuan, attracting more than 100,000 orders. A 5-kilogram box of fresh oranges selling for a little more than 19 yuan drew more than 20,000 buyers.
Yang Zhikun, a 25-year-old user from southwestern Sichuan province, said when it comes to daily necessities, such as tissue paper and slippers, Pinduoduo provides much lower prices than JD.com and Alibaba's Taobao. "As long as it is cheaper but still of quality, it is a good choice," he said.
As for Cindy Zhou, a Shanghai resident of the same age, the novelty of Pinduoduo's bargain campaigns quickly wore off.
"I think the more people you invite, the lower weight each of them will get in the algorithm system," she said. "After I found that I was always a few percentage points away from reaching the goal, I turned off the app and never opened it again."