Huawei
Get more with myNEWS
A personalised news feed of stories that matter to you
Learn more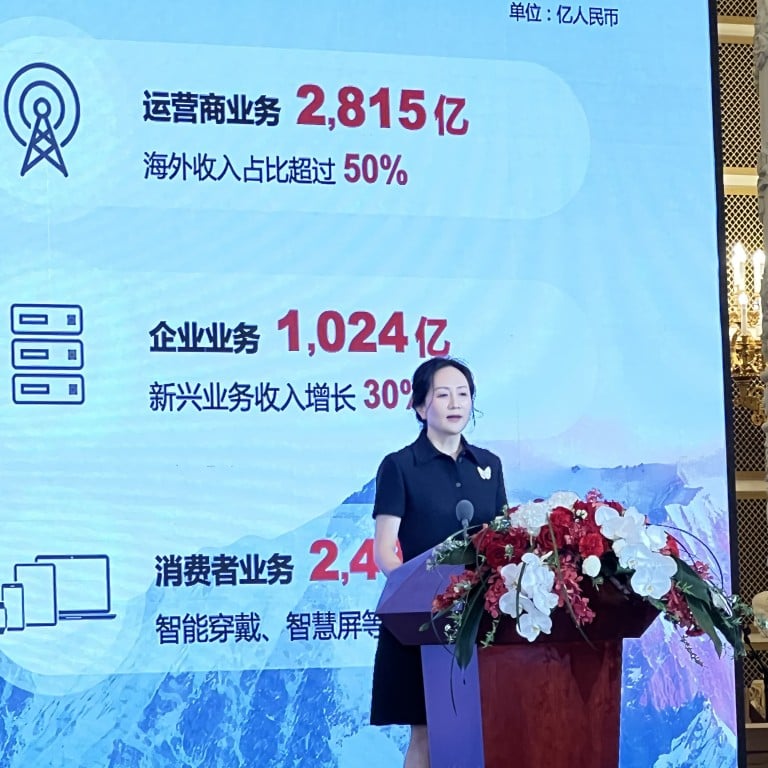 Huawei CFO Meng Wanzhou returns to embattled Chinese telecoms giant as 2021 revenue plunges under US sanctions
The Huawei chief financial officer assured that the firm is 'more capable of dealing with uncertainty', after posting its worst annual revenue performance
Privately-held Huawei posted total 2021 revenue of US$100 billion, down 29 per cent from a year earlier
Privately-held Huawei posted total 2021 revenue of 636.8 billion yuan (US$100 billion), down 29 per cent from a year earlier and its worst annual sales performance on record. Net profit reached 113.7 billion yuan, a 76 per cent jump from a year ago.
"We expect Huawei's smartphone shipments to drop to a range of 20 to 25 million units this year, compared with about 30 million to 35 million units last year," said Eddie Han, senior analyst at Isaiah Research.
Meng entered the press conference wearing a black dress, prompting attendees to put up their smartphones and take pictures of her from a distance. She sat on the front-row dais, seemingly unaffected by all the attention.
"The multiple rounds of sanctions imposed by the US have significantly affected our business, especially smartphones and PCs," she said. Although the company was also under pressure from Covid-19 pandemic disruptions, she said "5G [network] construction in July was basically completed in 2020".
Meng also reiterated Huawei's commitment to research and development, despite existing challenges. "We will continue to invest heavily in talent and R&D to ensure long-term innovation," she said. "We believe that this type of investment will enable us to supply high-quality products and services to our customers."
Huawei, according to Guo, plans to recruit more than 10,000 fresh graduates in 2022. The firm hired about 26,000 fresh graduates in the past two years.
Meng's assurance that Huawei was now better equipped to handle adversity reflects her father Ren's own approach to pushing forward in battle, as a means to motivate the company's employees amid recent difficulties.
"We must go through hard work and brave sacrifices to fight for a peaceful environment for the next three decades so that no one dares to bully us," 77-year-old Ren said in a two-and-half minute video published by Huawei last November. "We are fighting for ourselves as well as our country."
From a low-key Huawei executive, Meng turned into the central figure in a widely-watched diplomatic struggle between Beijing, Washington and Ottawa. That turned her into a household name in China. Meng's speech at the tarmac of Shenzhen Baoan International Airport was broadcast nationwide.