Tencent
Get more with myNEWS
A personalised news feed of stories that matter to you
Learn more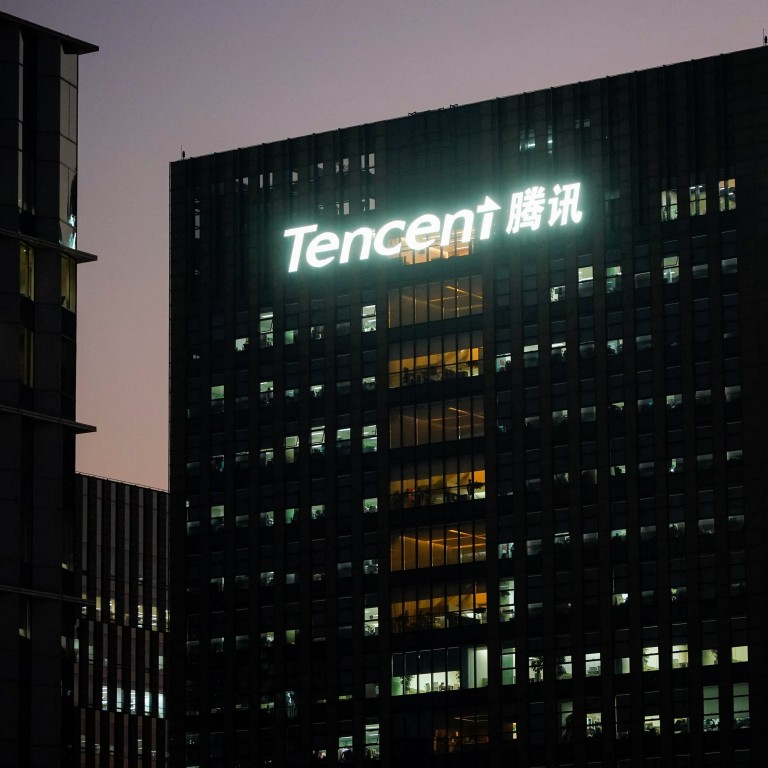 Tencent reports no revenue growth in first quarter amid regulatory uncertainty and economic headwinds under Covid-19 challenges
The Hong Kong-listed internet giant posted revenue of US$20 billion for the three months ended March 31, barely up from a year ago
Quarterly profit fell by more than half, missing analysts' estimates, as strict Covid control measures batter China's economy
Tencent Holdings
reported almost no revenue growth for the first quarter, as regulatory uncertainty surrounding China's Big Tech industry and macroeconomic headwinds caused by the country's strict pandemic control measures weighed on its business.
The Hong Kong-listed internet giant, which runs the world's largest video gaming business by revenue and China's largest social media platform, posted revenue of 135.5 billion yuan (US$20 billion) in the quarter, barely up from 135.3 billion yuan a year ago.
That was worse than the consensus estimates of 141 billion yuan, according to 24 analysts polled by Bloomberg. It also marked the slowest quarterly sales growth since Tencent went public in 2004.
Profit reached 23.4 billion yuan (US$3.47 billion) for the three months ended March 31, down 51 per cent from 47.8 billion yuan a year ago. It missed the consensus estimates of 29.3 billion yuan by 17 analysts surveyed by Bloomberg.
"During the challenging first quarter of 2022, we implemented cost-control initiatives and rationalised certain noncore businesses, which would enable us to achieve a more optimised cost structure going forward," Pony Ma Huateng, founder and chief executive of Tencent, said in a statement.
Tencent's shares fell 0.8 per cent to close at HK$365.60 (US$46.57) in Hong Kong on Wednesday, clawing back some of the losses from their intraday plunge of as much as 2.8 per cent before the results were announced.
"We anticipated flat revenue growth this quarter, but the profit is lower than our expectation, mainly due to the company's earlier promise to lower costs and improve efficacy," said Shawn Yang, Shenzhen-based managing director of Blue Lotus Capital Advisors, who recently upgraded his rating for Tencent from sell to hold.
Yang said prospects for the next quarter remain grim and a recovery will face uncertainties amid the tough macro environment. "Gaming and advertising is unlikely to improve in the second quarter … they may pick up in the second half of this year, but there are lots of uncertainties relating to the Covid situation."
The results come one day after Beijing's strongest signal yet that it might be easing its scrutiny of the Chinese tech sector after about 18 months of regulatory crackdowns, as strict Covid control measures disrupt the country's economy.
However, on the earnings call on Wednesday evening, Tencent president Martin Lau said it would take a while for these signals "to translate into a real impact" on the company's business.
"It will take some time for the corrective measures to be turned into normalised regulation, and then the specific supportive measures will be introduced," Lau said. "We would be working closely with regulators in the hope of seeing this transition happen."
To recover from months of regulatory clampdown, Tencent and its peers would "need an easing in the government's anti-monopoly scrutiny of proposed mergers and acquisitions in the sector", according to Catherine Lim, an analyst at Bloomberg Intelligence.
James Mitchell, Tencent's chief strategy officer, said on a conference call Wednesday night that the resumption of game licenses showed that regulators are "now much happier with where the industry is".
Mitchell said the freeze mainly hurt start-ups because bigger companies like Tencent already had games that "could ride out that period more comfortably".
As Beijing pushes forward with its common prosperity drive, Tencent has responded to the call by pouring 100 billion yuan into solving social problems.
Revenue from Tencent's online gaming business, traditionally a strong revenue driver for the company, remained largely unchanged at 43.6 billion yuan. Domestic business accounted for 33 billion yuan of total revenue, down 1 per cent from a year ago "as direct and indirect effects of the minor protection measures impacted active users and paying user counts", said Tencent. Overseas gaming revenue grew by 4 per cent to 10.6 billion yuan.
The implementation of strict anti-addiction measures targeting young players was one factor that drove the decline in domestic gaming revenue, compared with the high growth seen in the same period last year, according to a research note by China International Capital Corporation this week.
The Covid-hit economy has also brought down advertising demand from e-commerce and other internet companies, the report said. "It is still unclear what the lowest point [of advertising demand] will be," analysts wrote.
Tencent reported 18 billion yuan in revenue for ads in the first quarter, down by 18 per cent. Revenue from the company's fintech and business services, including cloud computing, grew 10 per cent to 42.8 billion yuan.
"The negative impact [from Covid lockdowns] is particularly notable on advertising, partly because of the overall pressure on GDP, partly because many companies, especially multinationals, run their marketing budgets out of Shanghai," Mitchell said.
Commercial payment activities have been weak since mid-March due to the Covid-19 resurgence in several Chinese cities, Tencent said.
The company has lowered the transaction fees for small businesses on its platforms and pledged tens of billions of yuan in March to support those businesses.
During the first quarter, Mitchell said the capital the company raised from divestments and distribution was about four times bigger than the capital the company put to work in other companies.
"Looking forward, we continue to be active in divestment and we will recognise multiple macro risks out there, particularly the fact that central banks in the developed world increasing interest rate at very rapid rates," he said. "This is something that hasn't been seen for decades."
In the first quarter, monthly active users of WeChat and Weixin reached 1.288 billion, while daily active users of mini-programs exceeded 500 million.