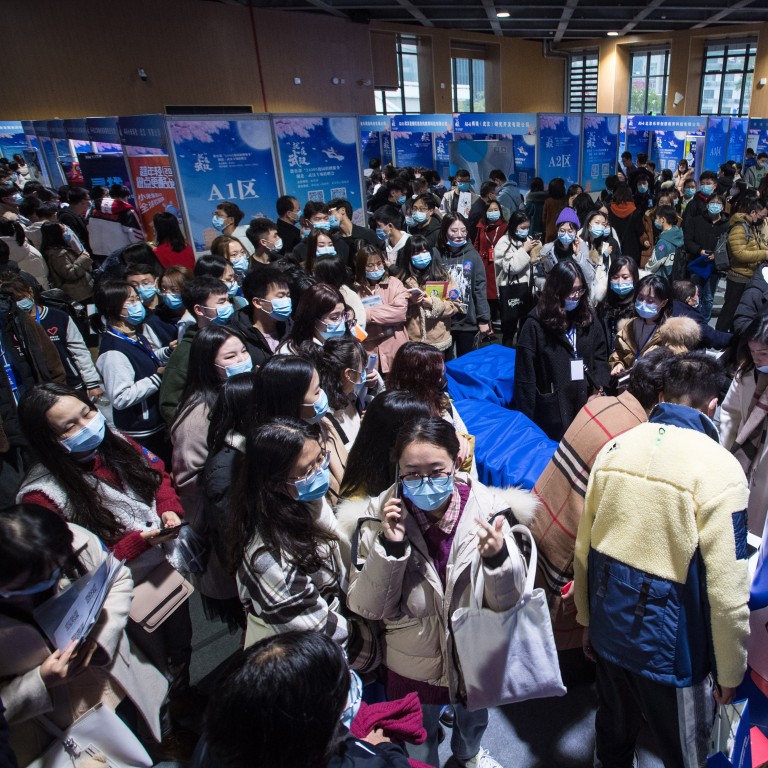 Job crisis looms for Chinese graduates as tech, new energy vehicle firms stop hiring amid Covid-19 lockdowns
Such a rapid increase in the number of graduate job offers being withdrawn is only seen when there is a sudden and significant worsening of economic fundamentals
For the first time in more than two decades, the number of graduates without job offers could significantly outnumber those who have offers
A job crisis is looming for China's youth as entry-level positions are disappearing across industries from tech to new energy vehicles amid the country's rigid zero Covid-19 policy.
Anecdotal evidence, local media reports and official statistics point to a rapid increase in the number of offers being withdrawn, a phenomenon only seen when there is a sudden and significant worsening of economic fundamentals.
Jade Jiang, a native of south-central Hunan province and algorithm engineer who will graduate next month, said she had a clear career path in mind in January after signing a tri-party contract with her school and Beijing-based Zhuanzhuan, an e-commerce app for buying used goods. The company claimed to be a "unicorn", a start-up with a valuation of more than US$1 billion, so Jiang had no reason to doubt its credibility.
That changed in early May when she received a phone call telling her that the position was no longer available. The company offered her 8,000 yuan (US$1,197) in compensation, but Jiang's actual losses would be much higher because the campus recruitment season was over. "I felt flustered when I got the news," she said. "I became desperate and would apply for anything on job recruitment apps."
Jiang's story is not uncommon. Chinese media outlets have reported on graduates having their job offers withdrawn, particularly in the new energy vehicle industry. On the open source coding platform Github, a document titled "
records of tainted campus recruiters
" lists at least 36 fresh graduates who recently had job offers, letters of intent or tri-party contracts cancelled.
The practice is becoming widespread despite the existence of a strict employment contract system designed to protect graduates, whereby a potential employer usually has to sign a tri-party contract with the school and the graduate after an offer is made. If an offer is withdrawn, the company has to pay a fine and bear reputational damage.
Gao Wangnan, a lawyer at Jiangsu Liudian Law Firm, said such tri-party contracts come under China's Civil Code instead of the country's stricter labour laws, the latter of which potential employers are extremely reluctant to violate.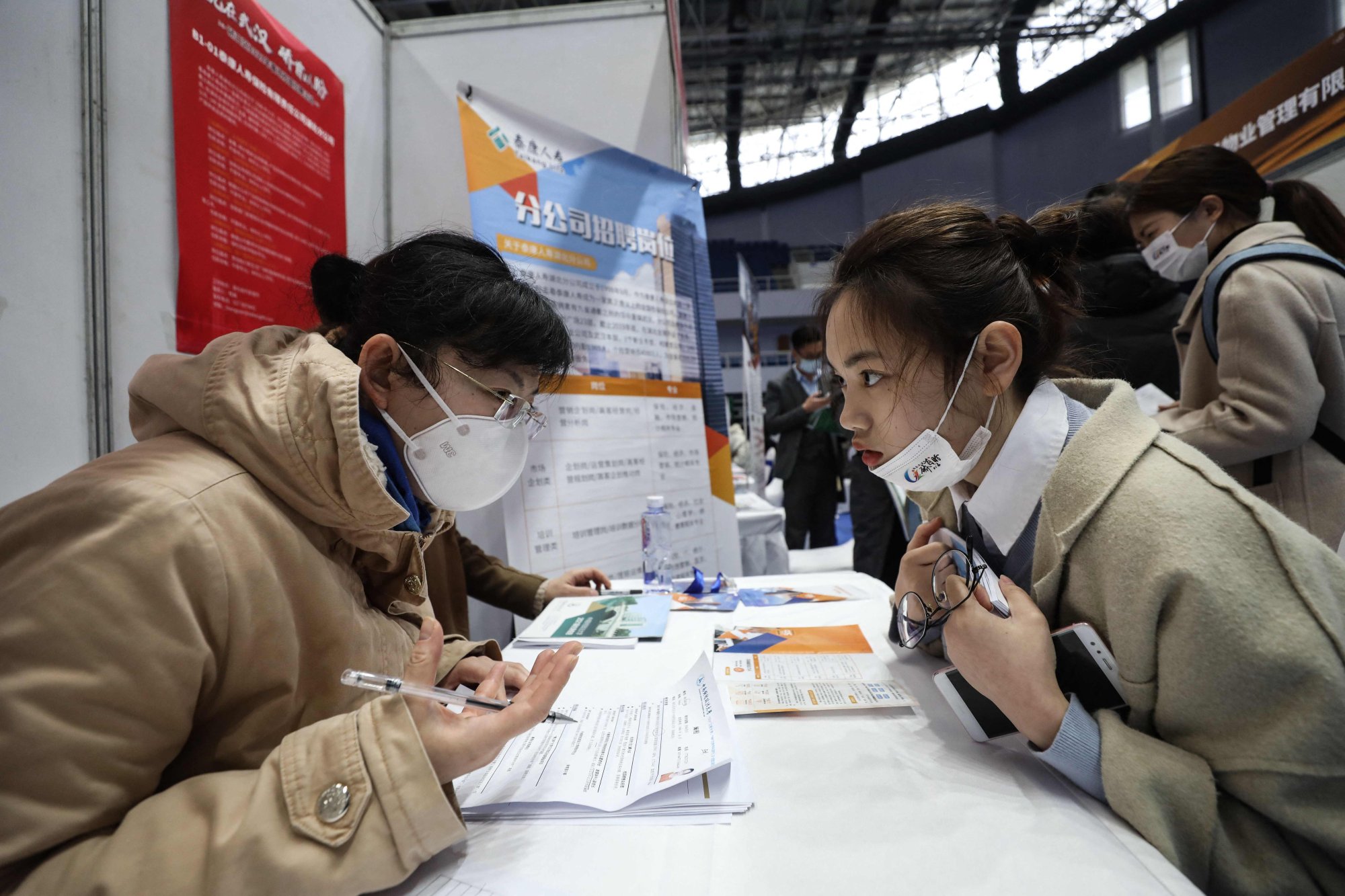 The abrupt reversal in China's economic fortunes this year, driven in part by the draconian lockdown in Shanghai starting late March, has disrupted boardroom plans and shattered business confidence across a wide range of industries, from consumer goods to electric cars. For example, not a single new car was sold in Shanghai in April, while nationwide new energy vehicle sales plunged 38.3 per cent in April from a month earlier.
Potential employers have scrambled to control costs as logistics were disrupted and sales plunged, hurting prospects for fresh graduates. One new graduate, who declined to be named, said he signed a tri-party contract in December to join Li Auto, an emerging Chinese new energy vehicle maker, as a machine learning algorithm engineer. In late April, he was told the original position was no longer available, and that he had to be "reinterviewed" for a different role. He did not pass the new interview, which allowed Li Auto to terminate the contract by paying one month's salary as compensation.
The money was not enough to cover the impact of the termination, according to the graduate. "It's almost impossible to find a job before graduation," he said. "I need to wait until the fall recruiting period, which means I will remain unemployed for several months."
Li Auto did not immediately reply to a request for comment.
The cancelled job offers are pointing to a bleak summer for many of China's 10.76 million university graduates this year. For the first time in more than two decades, the number of graduates without job offers could significantly outnumber those who have offers. Although the job situation for college graduates has become increasingly challenging in recent years, 2022 is shaping up to be the worst year in a long time.
According to a leaked document from the East China University of Political Science and Law, a top law school in Shanghai, only one in five graduates had found a job as of early May. The school told China's official media that the leaked data did not represent the real picture, but did not provide any other figures.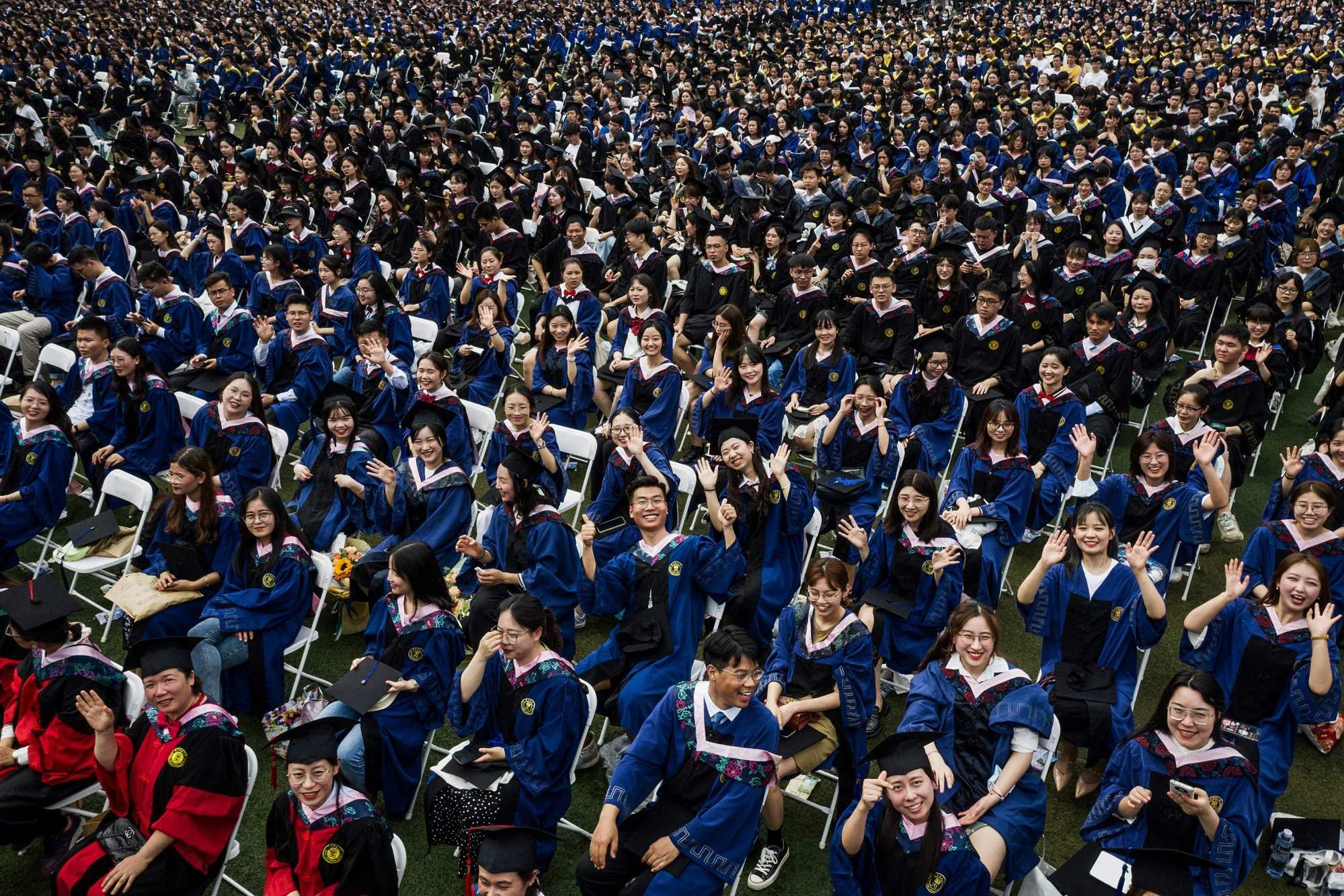 The country's youth unemployment rate for those aged between 16 and 24 had reached 18.2 per cent in April. Lu Feng, a Peking University professor, said the jobless rate for Chinese youth is already higher than the US and EU. The country's official urban jobless rate was 6.1 per cent in April, a rise of 0.3 percentage points from March.
China's tech sector, a major contributor to job creation over the past decade, has been trimming staff, with giants from Alibaba Group Holding to Tencent Holdings limiting new hires amid the softer economy. Alibaba owns the South China Morning Post.
The problem of youth unemployment is getting the attention of Beijing. China's State Council
issued supporting measures in May
to help young Chinese start their own businesses, and for small and mid-sized enterprises to absorb new graduates.
Jiang, the algorithm engineer, used to only interview with tech firms, but recently began to look further afield, and this week received an offer from a state-owned enterprise in her home province of Hunan.
"It doesn't stack up against tech companies, but it's a good option from where I stand."