Alibaba
Get more with myNEWS
A personalised news feed of stories that matter to you
Learn more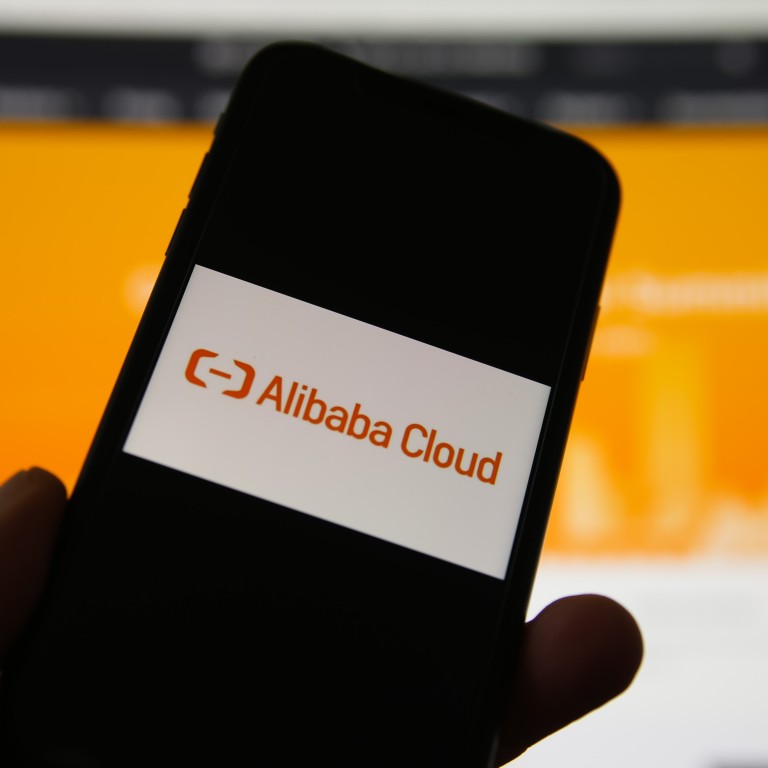 Alibaba's Cloud profit provides a shard of light as slowing economic growth challenges broader e-commerce outlook
Alibaba's revenue from the cloud business increased 21 per cent for the year to 100.2 billion yuan
CEO Daniel Zhang said Alibaba's cloud business has abundant potential as the country's total cloud market could reach one trillion yuan by 2025
Amid the thunder clouds of an economy hindered by pandemic lockdowns and months of increased regulatory scrutiny of Big Tech, there was a bright spot in e-commerce giant Alibaba Group Holding's earnings announcement – its cloud services unit turned in a full year profit for the first time in thirteen years.
The Hangzhou-based company, which owns the South China Morning Post, on Thursday reported a profit of 1.1 billion yuan (US$164 million) for its cloud business for the 12 months to March 31, the first profit since 2009 and bolstering hopes the business will add a new growth driver for Alibaba just as Amazon Web Services has helped lift performance at the US tech giant.
Alibaba's shares gained 15 per cent on Thursday in New York and were up 12 per cent on Friday in Hong Kong.
Livia Li, senior analyst at Frost & Sullivan, said the turnaround marks a significant milestone for the entire domestic cloud business sector.
"I think other domestic cloud providers will mark this as a symbolic moment," said Li. "Building cloud infrastructure needs a lot of investment in the early stages."
Li expects Alibaba Cloud to be the "driving force of the company's future growth" although competition will also be fierce. "For other businesses such as e-commerce, growth will be limited as it is facing competitors including JD.com, Pinduoduo and ByteDance. This means other businesses built around the e-commerce business will also be affected," said Li.
Alibaba's revenue from the cloud business increased 21 per cent for the year to 100.2 billion yuan, or about 12 per cent of its total revenue. At Amazon, revenue at AWS accounted for about 16 per cent of total revenue in the last quarter.
Alibaba chairman and chief executive Daniel Zhang said on an earnings call on Thursday that Alibaba's cloud business has abundant potential to grow in China as the country's total cloud market is expected to reach one trillion yuan by 2025. Zhang said Alibaba's cloud revenues could double or even triple if it maintains market leadership in coming years.
Alibaba Cloud led the cloud infrastructure services market in China in 2021, accounting for 37 per cent of total spend, according to a report by research firm Canalys. Huawei Cloud held an 18 per cent share in 2021, with Tencent Cloud the third largest provider, accounting for about 16 per cent of the market, according to the report.
The strong performance of cloud services came as total revenue growth slowed to 9 per cent in the March quarter, the slowest revenue growth since Alibaba went public in 2014. Its traditional e-commerce business on Taobao and Tmall reported a "low single-digit decline" in gross merchandise value (GMV) for the March quarter.
Given that China's retail sales, a barometer of overall consumer spending, have plunged 11 per cent amid the country's rigid Covid-19 lockdown measures, Alibaba's e-commerce business is expected to remain weak.
Cheng Yu, an analyst at research institute Kandong, said that the cloud business is "a large fixed asset investment" that can bring long-term returns and resist cyclical fluctuations. "As long as you apply it more and use it more, the amortised cost will be lower and the profit margin will be greater," said Cheng.
At the same time, Alibaba's cloud service revenue rose only 12 per cent in the fourth quarter from a year ago, compared with a 20 per cent increase in the previous quarter, according to Alibaba data.
However, Zhang Chengyu, an analyst at research firm Analysys, said it was normal for cloud business growth to slow amid a broad economic downturn.
"The [Covid-19] outbreak and economic slowdown have been a blow to market confidence in the short and medium term. Many corporate customers will give priority to ensuring the operation of core business sectors," said Zhang.
"But we expect enterprises to more actively explore their cloud abilities in the second half, when the pandemic is more under control," added Zhang.
Additional reporting by Ann Cao