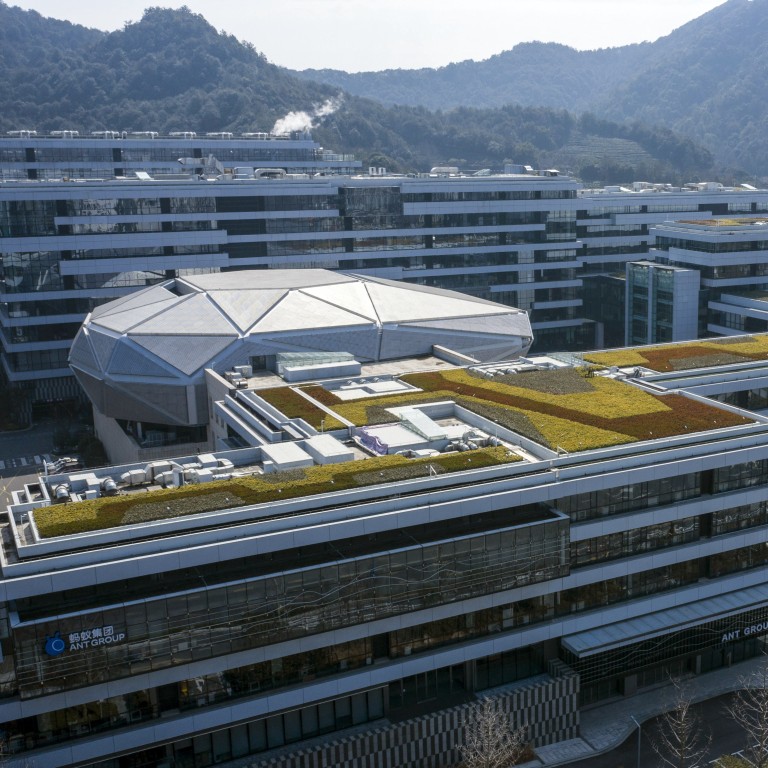 Ant Group emerges as 'less finance and more tech' two years after mega IPO was called off, analysts say in wake of ESG report
Ant has been under a state-guided restructuring process since its IPO in Shanghai and Hong Kong was called off in 2020
Fintech firm will focus on four pillars: digital inclusion, low carbon, technological innovation and an open ecosystem
Chinese fintech giant Ant Group has morphed into a different company from the one painted in its 2020 initial public offering prospectus, with a heavy tilt towards tech and away from finance, according to analysts and information contained in the firm's latest social and governance report.
Ant, which has been under a state-guided restructuring process since its IPO in Shanghai and Hong Kong was called off in 2020 amid regulatory uncertainty, last week published an environmental, social and governance report which indicated a clear pivot towards technology.
Ant, an affiliate of Alibaba Group Holding which also owns the Post, will now focus on the following "four pillars": digital inclusion, low carbon, technological innovation and an open ecosystem.
While not containing an update on Ant's financial status, the report does shed fresh insights on the company's strategy and priorities after a lengthy rejig, said analysts and industry researchers.
Han Hongling, a professor at Zhejiang University, wrote in an article that the Ant report is a "very important strong signal" about the group's strategic reorientation, which may have implications for China's business community. Han's article was published on the website of China's national radio station.
Lyu Peng, a digital economy researcher with the Chinese Academy of Social Sciences, was quoted by official news portal China.com.cn as saying that Ant's pivot towards technology was "in line with expectations" as the government wants Big Tech to do more to bolster the country's overall economic development.
Ant said its research spending grew at an annual rate of 39 per cent for three consecutive years from 2018 to 2021, with research investment in 2021 exceeding 18.8 billion yuan (US$2.82 billion).
Although uncertainties remain over Ant's valuation and the timetable for a relaunched IPO process, there are increasing signs that the company is nearing the end of a long process to placate regulators.
Ant was forced to pull its IPO in November 2020 just
48 hours before trading
was due to start, citing changes in the regulatory environment that could cause the fintech giant to be in breach of market disclosure rules.
The new rules were part of regulators' attempts to suddenly redefine and rethink fintech, amid concerns that technology was undermining the fundamentals of China's financial sector and creating systemic risks in the world's second-largest economy.
Ant's market value was estimated at around US$300 billion on the eve of its planned 2020 IPO, but many analysts say this is set for a steep fall after its lucrative consumer credit and micro credit businesses were brought under a regulatory framework similar to that used for Chinese banks.
It has also launched its digital bank in Singapore, marking its biggest overseas expansion since the aborted IPO. ANEXT Bank will provide digital financial services to small businesses with cross-border operations, and Ant could allow these businesses to open an account from the third quarter of this year, the company said.
Ant also granted billions of yuan in cash dividends to its shareholders for the first time since it brought in investors in 2015, according to Alibaba's quarterly financial report published last month.
However, some questions remain.
Guo Shuqing, chairman of the China Banking and Insurance Regulatory Commission and a deputy central bank governor, said in early March that Ant had basically completed its "self examination" but its overall rectification was not fully done.
Wang Pengbo, an analyst at consultancy BoTong Analysys, said Ant is trying to project an image as a company with tech abilities. "But it's too early to draw a conclusion about [whether the company will go public soon] as the rectification hasn't come to an end officially."