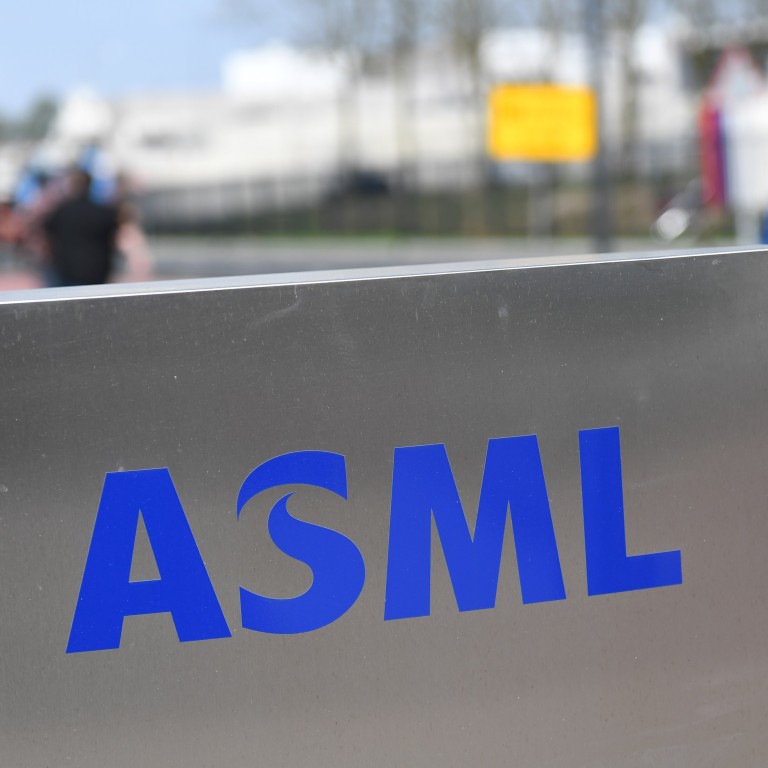 Chip-making tools firm ASML to hire 200 staff in China as Covid restrictions ease, including sanctions compliance role
ASML, known for its critical chip-making tools that use on Extreme Ultraviolet Lithography, is expanding its China workforce 14 per cent this year
Sanctions from Washington could limit the Dutch firm's trading partners in the country, but it does business with China's largest chip maker, SMIC
ASML Holding NV is hiring more than 200 staff in China this year to keep up with growth in the country, where its chip-making tools are seen as crucial in a long-term contest with Washington for tech supremacy.
The Dutch firm, whose machines are indispensable to making advanced semiconductors, is expanding its workforce 14 per cent from about 1,400 currently. It recorded sales of 2.7 billion euros (US$2.9 billion) in the 2021 financial year, accounting for 14.5 per cent of global sales, the firm said in a statement Tuesday.
ASML is enlarging its presence in China just as the world's biggest semiconductor market starts to emerge from a series of Covid-19 lockdowns that have hampered production, disrupted shipments of components and dampened electronics demand. The company is the world's No 1 supplier of Extreme Ultraviolet Lithography (EUV) machines, which are used by leading chip makers
Taiwan Semiconductor Manufacturing Co
and
Samsung Electronics Co
to produce the most advanced chips for clients such as
Apple Inc
.
US trade sanctions imposed on leading Chinese tech firms such as
Huawei Technologies Co
could limit ASML's potential trading partners in the country. Still, ASML does business with major Chinese chip makers like Shanghai-based
Semiconductor Manufacturing International Corp
and has many more customers operating plants within Chinese borders. Its engineers have made a practice of visiting and working with clients on-site to accelerate production and catch up on time lost to pandemic-related shutdowns.
Among the jobs listed by ASML is a post looking for a Head of Export Control & Sanctions Compliance China, whose job it will be to figure out how the business should balance its legal responsibilities to local and international authorities. The company has also accused Chinese firms of stealing its intellectual property.
ASML occupies a pivotal role in the global chip supply chain, which is grappling with a systemic shortage of semiconductors that arose during the pandemic. Beside its EUV systems, it also supplies more mature technologies to help fabricate the ubiquitous chips enabling things like wireless connectivity, driving automation and smart homes.