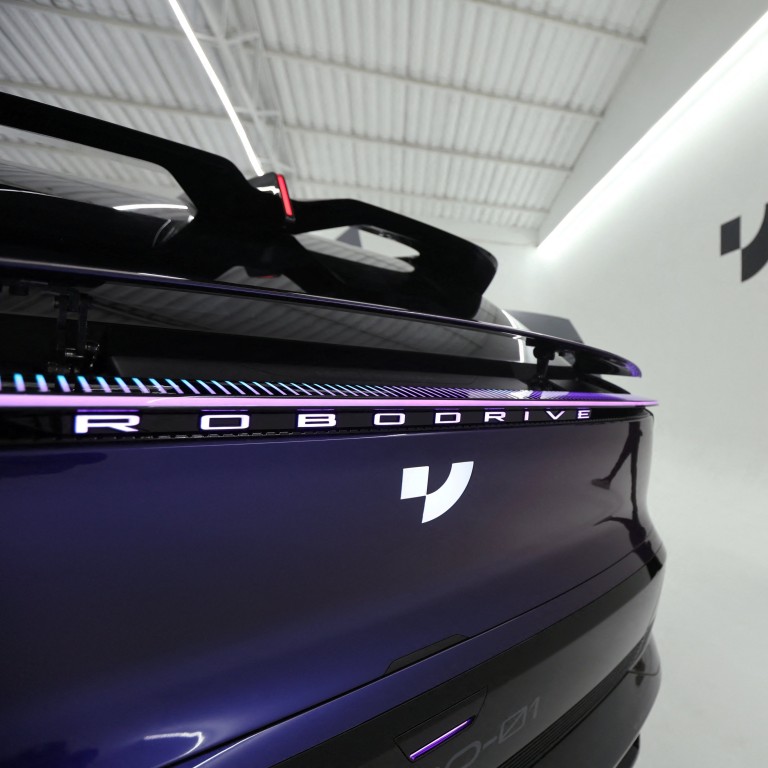 Baidu's Jidu Auto releases virtual concept robocar as intelligent EV unit moves towards mass production in 2023
Jidu Auto's chief executive Xia Yiping introduced the company's first concept robocar, called Robo-01, in Xi Rang
A planned production car in 2023 is expected to be about 90 per cent similar to the virtual concept car introduced on Wednesday
Jidu Automotive
, the intelligent electric vehicle (EV)-making unit of tech giant Baidu, has released a virtual model of its first concept robocar as it moves towards planned mass production of EVs in 2023.
At a press conference on Wednesday that opened with a segment from classic US sci-fi series Knight Rider, Jidu Auto's chief executive Xia Yiping introduced the company's first concept robocar, called Robo-01, in Baidu's version of the metaverse Xi Rang.
"The Jidu robocar aims to meet users' needs for intelligent travel, in-car intelligent assistance and an intelligent cabin in the new era," said Xia, the co-founder and former chief technology officer of bicycle-sharing company Mobike, during the virtual press conference.
After setting up Jidu with leading mainland carmaker Geely last March, the release of Robo-1 marks a milestone for Baidu as it seeks to take on more established rivals such as Tesla and domestic EV start-ups such as Nio, Li Auto and XPeng.
The concept robocar contains features including a 3D borderless dash screen, zero-gravity seating, a U-shaped steering wheel and adjustable lidar. The 3D cockpit platform operates with Qualcomm's Snapdragon chips.
As Jidu readies its first production model, competitors have been refining their offerings in autonomous driving, a technology which has faced criticism in recent years due to complaints over malfunctions and some
fatal accidents
.
Tesla's founder Elon Musk recently said that Tesla aims to have self-driving cars, without the need for human intervention, by May 2023.
The number of intelligent cars in China is expected to reach 28 million in 2025 and 38 million by 2030, according to estimates by the country's National Development and Reform Commission.
Aside from Jidu, Baidu has been a leading player in China's robotaxi scene with its Apollo Go service, and operates one of the world's largest open-source autonomous driving platforms launched in 2017. In March, along with fellow robotaxi company Pony.ai, Baidu was given permission to operate autonomous vehicles without a human assistant in Beijing, a first for robotaxi services in China.
However, even with Baidu's support, it remains to be seen whether Jidu can catch up with rivals in an increasingly competitive field.
"Jidu is targeting the family passenger vehicle market with prices above 200,000 yuan (US$29,915)," said Robin Li, Baidu's co-founder and chief executive, during the company's first-quarter earnings call.
That means Jidu, which aims to start taking vehicle orders in 2023 for delivery in 2024, will be up against vehicles that run on fossil fuels at around the same price range.
The production car in 2023 is expected to be about 90 per cent similar to the virtual concept car released on Wednesday, with "ready-to-go" advanced autonomous driving, the company said. Jidu closed a series-A fundraising round for US$400 million in January.