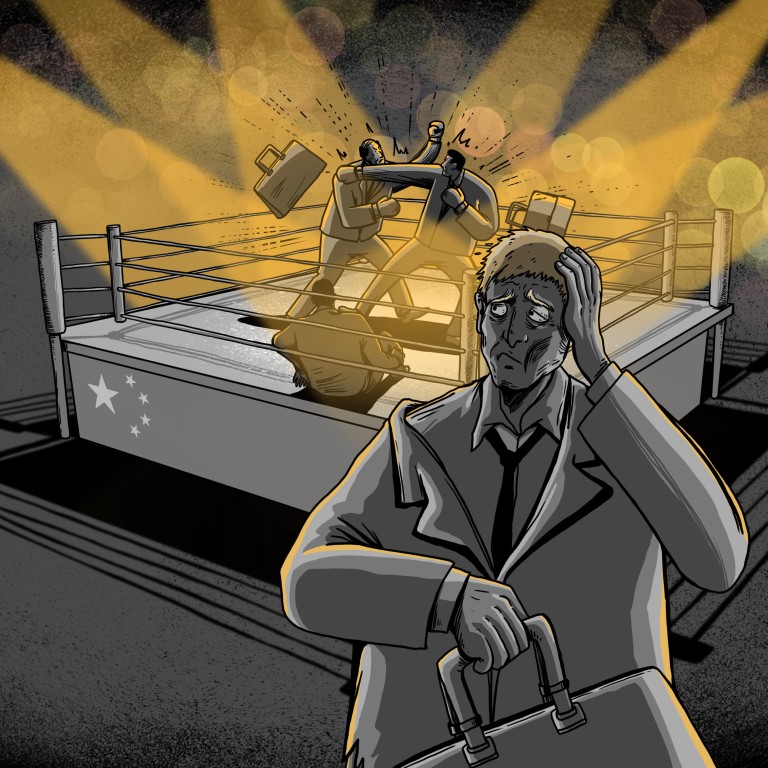 China's hostile environment for Western tech pushed out Amazon and Airbnb, but competition remains the biggest challenge
An increasing number of Western internet firms are calling it quits in the world's second largest economy, citing Covid-19 and a tougher regulatory environment
More recent challenges just tell part of the story, according to analysts, who say platforms like Airbnb, Amazon and Uber were outcompeted by local rivals
Just by the size of its economy and population, China has long stood as a market that global businesses cannot afford to ignore. Yet a string of recent exits, including Airbnb and Amazon, shows the country is increasingly becoming a cautionary tale for multinational firms.
While economic reforms started almost half a century ago, a recently emergent middle class has made China even more appealing to many global firms seeking a toehold in the world's second largest economy. Not even one of the strictest censorship regimes in the world has been enough to deter internet giants. Mark Zuckerberg, founder of Facebook owner Meta, was still courting favour with Chinese officials as recently as 2016, when he went for a highly publicised jog in Beijing through air thick with smog.
While Zuckerberg never succeeded in launching his social media services in China, many other internet giants have tried their hand at the market only to flee years later – and the number of retreats are rising. A combination of an increasingly intrusive regulatory regime, fierce competition from local rivals, and shifting Chinese consumer preferences has pushed many firms to throw in the towel.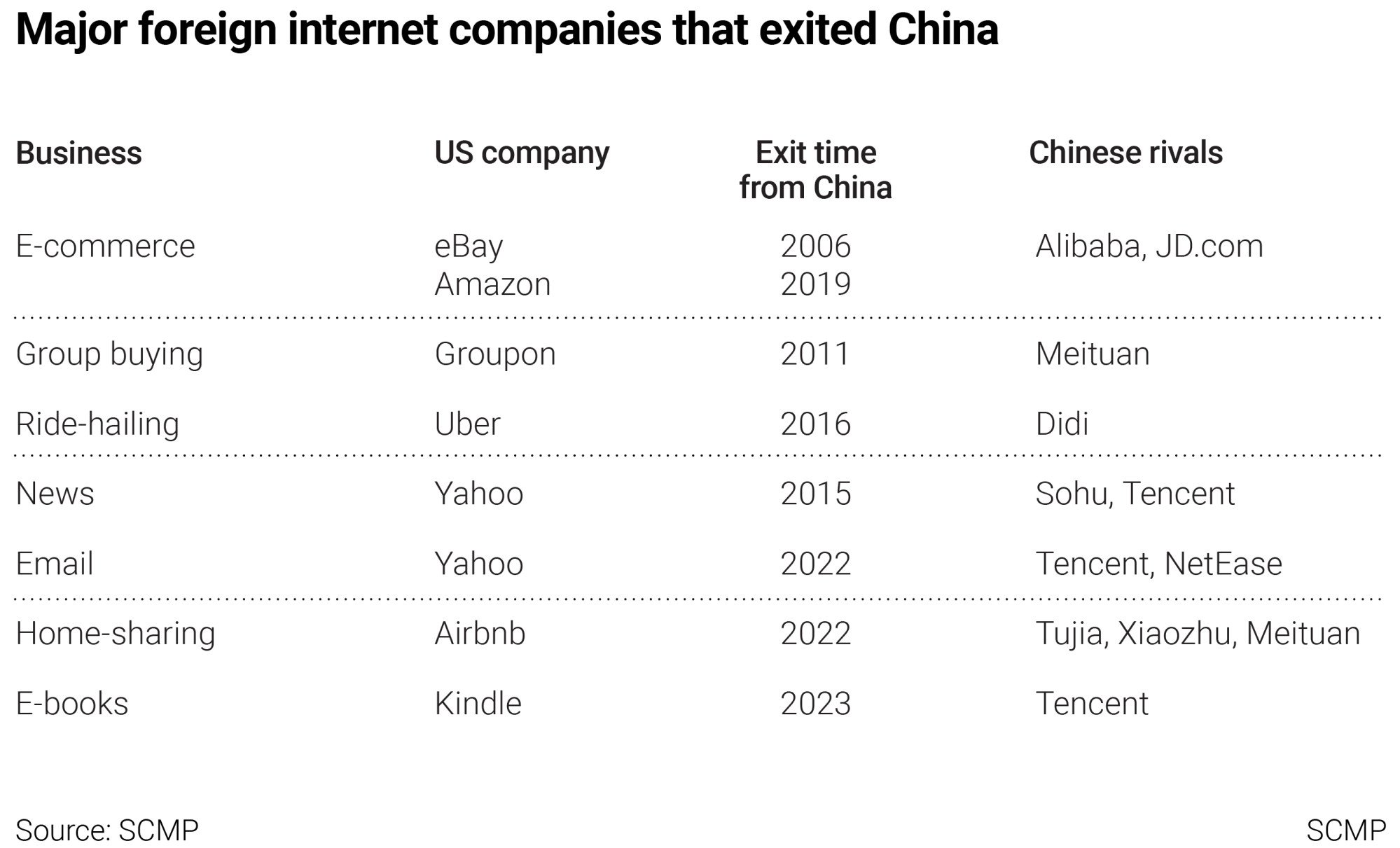 "China's severe lockdown and Covid restrictions are just some of the contributing factors to Airbnb's exit, but they hardly constitute the main reason," said Angela Zhang, an associate professor of law at the University of Hong Kong. "The fundamental reason has to do with the stiff competition that Airbnb faced in the Chinese internet market from indigenous rivals such as Meituan and Ctrip."
The multifunctionality of
Meituan
and Trip.com, as Ctrip is now known, is built on a mature mix of businesses, giving these platforms an edge when competing with Airbnb's specialised service, Zhang said. "This is particularly the case for Meituan, which is a super app that has enabled the firm to direct a lot of traffic to its short-term rental business," Zhang added.
Airbnb rivals Meituan, Trip.com-backed Tujia and Xiaozhu all said they would take over for some landlords that previously listed on US-based platform.
Airbnb is hardly the only one to decide that such challenges are no longer worth the expense, as a slate of recent departures illustrates.
Shortly after Airbnb's announcement, Amazon said it was
closing its Kindle business
in the country, with the online e-book store to shutter by June 30, 2023. The e-commerce giant said it has stopped selling its Kindle devices to local distributors, after its own listings started
disappearing in January
.
After spending three years bleeding cash in China, ride-hailing giant
Uber
sold its China operations
to rival
Didi Chuxing
in 2016. More famously, Google shut down its censored mainland search engine in 2010, which it launched four years prior, in response to a series of cyberattacks.
Microsoft's professional social network LinkedIn also managed to run a censored version of its platform in China for a few years, before announcing its closure at the end of 2021. It
launched a new app called InCareer
in December without a social feed that focuses on job listings. Yahoo also announced in February that it would
shut down its email service
in China.
Not even footwear company Nike was spared from
pulling its running app out
of the country this month, as strict new data laws have made it more difficult to run such services.
The exodus marks a sharp contrast to just a few years ago when China was seen as a growth market with endless possibilities. When Airbnb founder Brian Chesky visited China in 2017, the ambition was palpable. The company vowed at the time to
double its investment and triple its workforce
in the market.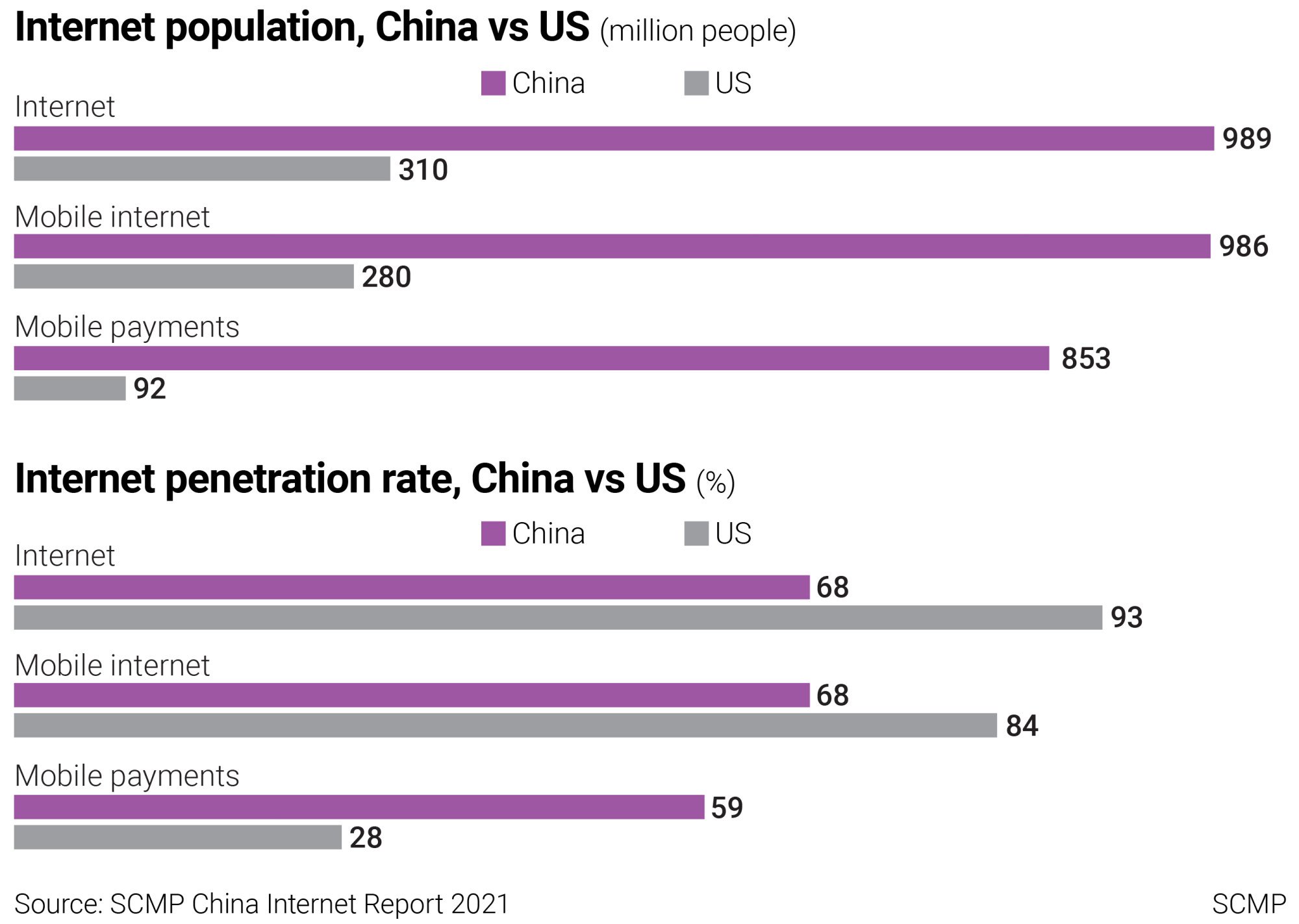 News of Airbnb's plan to exit China came as a surprise to Yang Pili, who started renting out a vacant bedroom on the platform in 2019 in her hometown of Lanzhou, a historical city in northwestern Gansu province. Yang entrusted the management of the listing to her mother, who was looking to keep busy after retirement.
"My mother has been a Superhost for two years and had quite a lot of fun hosting travellers from across China and the world," Yang said. "But I guess it's reasonable under the current Covid-19 situation in China. We haven't had any guests in the past year because of the pandemic."
"There are a lot of restrictions for travelling in China because of the pandemic, and the situation is not getting better soon," she added.
Airbnb specifically cited Covid as the reason for closing up shop in China. Stays in the market accounted for just 1 per cent of the platform's total revenue in recent years.
The market transaction scale in the shared accommodation sector decreased by 3.8 per cent year on year last year, mainly from the impact of the pandemic and regulation, according to a report published by China's State Information Centre in February.
However, as with other tech companies, Airbnb has been plagued by challenges with localisation and rising competition from domestic rivals.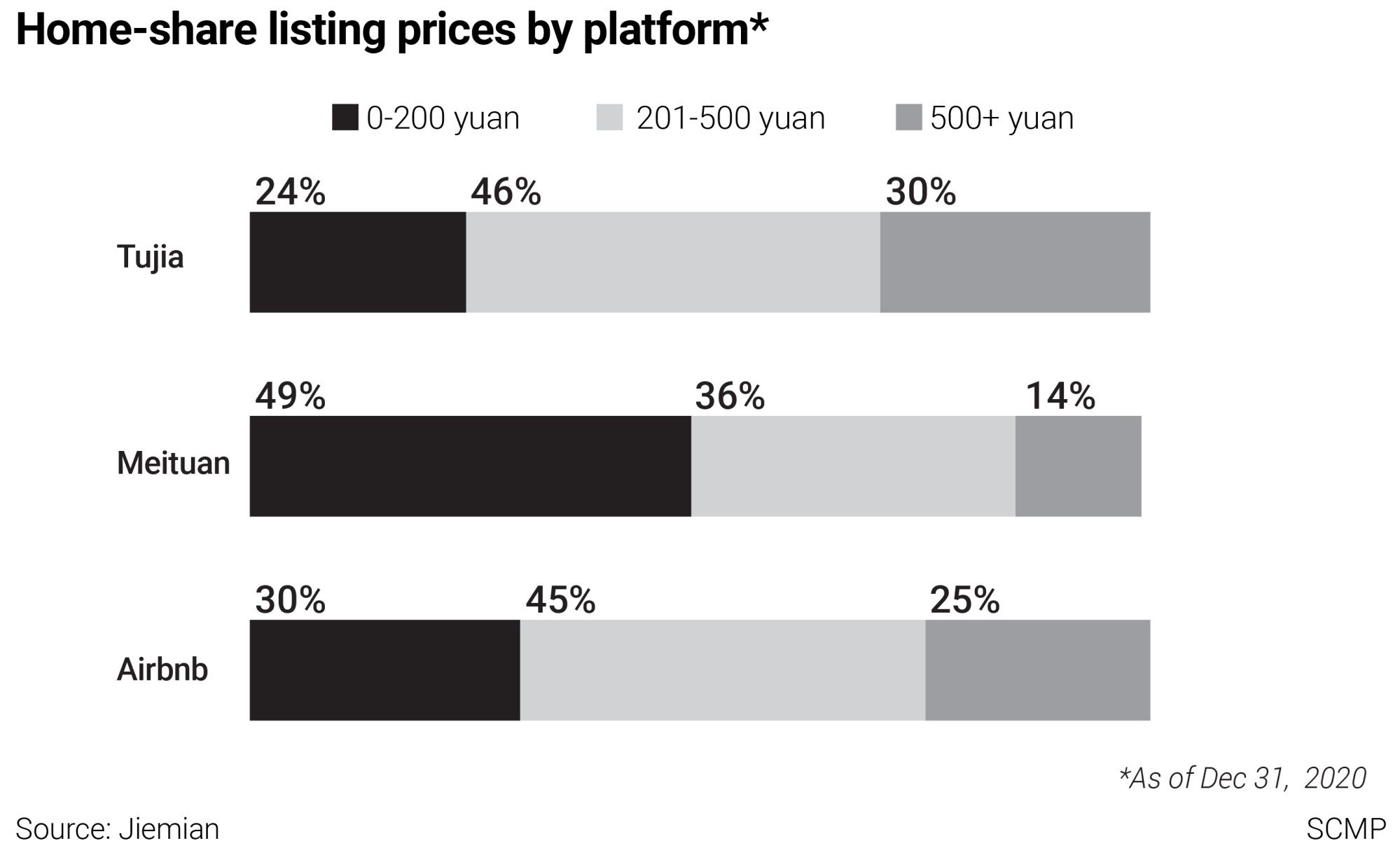 Numerous challengers in the market have made it difficult to compete, while recent consolidation has favoured local tech giants. After acquiring rival Mayi in 2016, home-sharing platform Tujia bought the homestay business of Trip.com, which itself is an investor in Tujia.
Alibaba Group Holding
's travel platform Fliggy, meanwhile, invested in rival Xiaozhu, which started sharing listings from the larger platform.
Alibaba is the owner of the South China Morning Post.
Airbnb's weakness in localisation was its main failure in China, according to Tong Wenhao, an analyst at research firm LeadLeo.
"The discount Airbnb offered was not as high as those local platforms, so consumers preferred to turn to Fliggy and Trip.com," Tong said. "It is easier for those local platforms to win the trust of consumers because of their years of experience in the travel industry."
That is one of the key weaknesses shared by foreign internet firms such as Amazon and eBay, which have been expanding globally but failed to crack the China market, according to Tong.
Amazon and eBay were outcompeted by local platforms run by Alibaba and
JD.com
, with eBay shutting down its Chinese EachNet service as early as 2006. Another platform that failed to adapt was Groupon, which found it difficult to compete with the hundreds of group-buying companies that cropped up in China.
Amazon's main failing, according to Tong, was trying to import its Prime subscription model in 2016. Free shipping was already common at the time, he said, so asking for 288 yuan (US$43) per year for the privilege was not worth it for many consumers.
"It's difficult for Amazon to gain a foothold in China when the consumers make the simple comparison," Tong said.
Tong also noted changes in the way consumers shop online in China. Alibaba's Taobao is a leader in the burgeoning live-streaming e-commerce market, for example, while Amazon has invested little in this field. This inability to adapt has meant less visibility for foreign internet brands.
"Airbnb also has less publicity on popular domestic social media platforms and does not have a comprehensive platform like Alibaba's Taobao to attract more traffic," Tong said.
However, expertise in localisation is not a guarantee of success. Uber had a highly independent subsidiary operating in China and a partnership with domestic internet search giant Baidu. After an intense subsidy war with Chinese peer Didi, however, the global ride-hailing champion finally bowed out of the market.
"Uber was by far the most successful because they had the most localised operations, and their market share was significant," said Rui Ma, an angel investor and founder of Techbuzz China Podcast. "The organisation was very flexible and decentralised, and I think they had a relatively good outcome."
Uber's experience suggests good localisation alone might not have been enough to save Airbnb in China.
"One can always increase one's odds by being more localised, but in this instance I'm not sure that would have been too helpful given the amount of well-funded competition," Ma said. "China is a very expensive market to fight in when you have dedicated and well-funded competitors."
Apart from the pandemic and stiff competition, foreign companies have also faced pressure from a tighter regulatory environment, which in just the last year has seen strict new requirements on content censorship and data protection. China's new
Data Security Law and Personal Information Protection Law
took effect last September and November, respectively.
When LinkedIn shut down in China, it cited "a significantly more challenging operating environment and greater compliance requirements in China".
LinkedIn's new platform for China suggests there is life after death for those that can find a way around censorship rules, but it does not always pan out. Google was reportedly working on a new censored search engine for China code-named "Project Dragonfly", but it was
scrapped after public backlash
.
In the less political sphere of hardware, however, there are still success stories for foreign firms in China. Apple remains the No 3 smartphone brand in the country, selling 13 million iPhones in the first quarter of 2022, according to Counterpoint.
Electric vehicle maker Tesla is also a market leader, remaining far ahead of local rivals like Nio, Xpeng Motors and Li Auto. The three Chinese carmakers sold a combined 280,075 vehicles in their home market last year, 13 per cent less than the 321,000 Teslas sold in the country.
Still, a mix of risks and uncertainties make China a difficult environment to operate in. LeadLeo's Tong said that while he expects more foreign internet firms to leave China, it is an enormous market that will continue to lure companies in the long run.
Angel investor Ma is more optimistic about Chinese companies globalising than she is about international companies entering China.
"China has a sufficiently different ecosystem now from the rest of the world that it will be quite complex to navigate … I think only companies with differentiated, advanced technology or very strong branding would find it worth their while," Ma said.
"Globalising outward is different – China has some good business models in e-commerce and digital entertainment that could be exported with success, especially when you take into account the supply chain advantage."