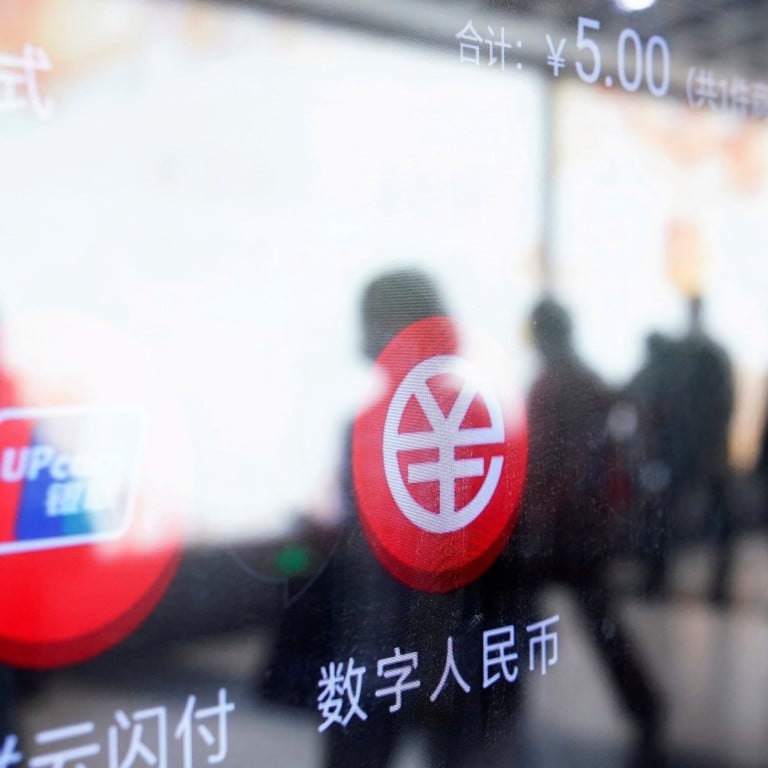 China's digital currency: e-CNY trials move beyond retail to cover corporate loans for small businesses and tax payments
In Suzhou a concrete producer borrowed 1.5 million yuan from the Agricultural Bank of China to pay suppliers in e-CNY: Xinhua Daily
The digital currency – officially called Digital Currency Electronic Payment (DCEP) – has also been used in Chongqing municipality for tax purposes
Trials of China's digital yuan have expanded beyond retail consumer use to cover corporate loans and taxes, as Beijing continues to push ahead with its plans for the e-CNY.
Loans have been granted to small and medium enterprises (SMEs) in the form of digital yuan in at least three cities, according to research by the Post. The latest case was in Suzhou in eastern Jiangsu province, where a concrete producer borrowed 1.5 million yuan (US$222,000) from the Agricultural Bank of China with the proceeds to be used to pay suppliers in e-CNY, according to a Tuesday report by state-run newspaper Xinhua Daily.
Because e-CNY was used for the transaction, the funds were transferred "faster" and "free of service charges" compared with traditional lending, according to the report. In China, small businesses find it difficult to borrow from banks so they often turn to lending agencies for help – but this can come with fees of between 1 and 3 per cent.
According to the report, a plastic products maker in Xiamen in southeastern Fujian province, earlier this month also borrowed 90,000 yuan in digital format from Chengtai Microcredit, a micro credit agency. And in April, a hospitality company in Qingdao, Shandong province, borrowed the same amount from online lending platform Guo Sheng Inclusive Finance.
Meanwhile, Shanghai-based construction materials manufacturer Zhongxiang obtained 2.8 million yuan in e-CNY through factoring, a type of finance in which a business sells its receivables or invoices to a third party to meet its short-term liquidity needs. The borrower, SY Holdings Group, said it would continue to explore the use of digital yuan in construction sites and hospitals.
Besides loans, the digital currency – officially called Digital Currency Electronic Payment (DCEP) – has been used in Chongqing municipality for tax purposes. Local home decoration provider Powerdekor paid 3,009 yuan using its e-CNY wallet via the Industrial and Commercial Bank of China, the largest bank in China, according to the report.
In March, DCEP was used to transfer construction fees of nearly 555,000 yuan from Suzhou Highspeed Railway Xincheng State-owned Assets Holding to Suzhou Baorong Construction Project Management Co. The finance department at the recipient received the funds "within seconds", according to a separate Xinhua Daily report.
"Promoting the digital yuan to business operators is easier than doing it with hundreds of millions of individual consumers", said Wang Pengbo, an analyst at consultancy BoTong Analysys. "Companies have financing needs for loans, insurance and payments, whereas people spend it shopping or dining. In essence, both can benefit from e-CNY's traceability and fast settlement upon payment."
Since China started trials of the DCEP in 2019, more than 20 cities have conducted consumer-targeted promotions, handing out vouchers worth hundreds of millions of yuan.
In the latest push, Shenzhen late last month started a new round of giving e-CNY vouchers worth 30 million yuan in partnership with delivery services giant Meituan. The money can be spent on groceries, food deliveries and bike rentals through the Meituan app, as well as at selected offline stores.
Zhang Ming, chief economist at Ping An Securities, said that DCEP trials to date have mainly focused on retail payments but that exploration would "broaden to businesses" in a commentary for Xuexi Shibao, an organ of the Central Party School.
"If e-CNY is [widely] used in loans to SMEs, the financing tool will be more accurate and convenient, and incentives can reach companies directly", Zhang wrote.
China's broader DCEP trials have caught the attention of US lawmakers. Last week, Republican senators Tom Cotton, Mike Braun and Marco Rubio proposed a bill to prohibit US app platforms from enabling transactions using digital yuan to "reject China's attempt to undermine [the US] economy".
Robert Greene, a former senior adviser to the US Department of Treasury, published an article last July that said one potential function of the e-CNY was to skirt US financial sanctions.
However, although Beijing wants to become a world pioneer in digital currency there is no timetable for an official launch yet. At the end of December, there were 261 million e-CNY users, nearly
double the number
from October last year, according to the latest data from the People's Bank of China.