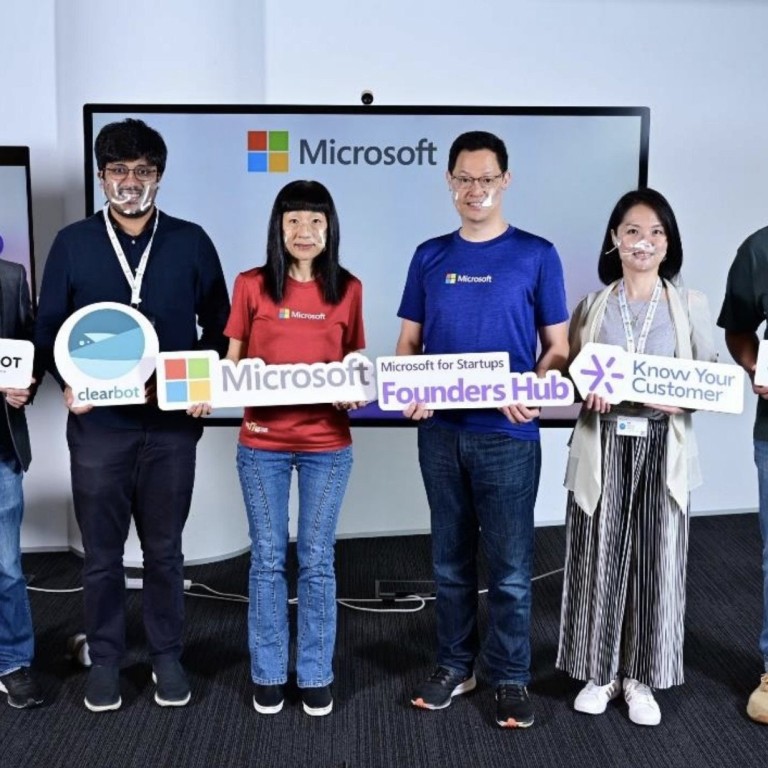 Microsoft supports Hong Kong start-ups in partnership with Science Park, Cyberport
Microsoft for Startups Founders Hub is designed to provide Hong Kong-based start-ups with technology and guidance
More than 40 local start-ups have joined the programme, including Clearbot, AlgoBot, Know Your Customer and Sensestek
US software giant Microsoft on Wednesday unveiled its latest start-up incubation programme in Hong Kong, joining the ranks of global Big Tech companies such as Amazon to tap the city's potential as an international innovation centre.
Microsoft for Startup Founders Hub is designed to provide Hong Kong-based start-ups with technology and guidance to tackle technical bottlenecks and boost business development.
Participants can use Microsoft's products – such as Microsoft 365, Teams, GitHub Enterprise and LinkedIn – for free. The start-ups would also gain access to a broader customer base through the introduction to Microsoft's partners, the US tech giant said.
Microsoft said it hopes to advance the start-up ecosystem and strengthen the city's status as an international innovation and technology centre through its initiative, which is run in partnership with the Cyberport business park and government-run Hong Kong Science and Technology Parks (HKSTP).
"We aim to remove the barriers to success for local start-ups, and ensure they fulfil their potential to positively impact the local market and beyond," said Cally Chan, general manager of Microsoft Hong Kong and Macau.
Start-ups are pivotal to Hong Kong's future, and Microsoft will continue to expand their investments in the city, Chan added.
Hong Kong's start-up sector has seen robust growth in recent years due to favourable market environment and government support, having cultivated 18 unicorns to date, said Eric Chan, chief public mission officer of the Hong Kong Cyberport Management Co.
The start-ups are eligible to enjoy the benefits for up to four years, and businesses with positive social impact will receive even more support from Microsoft, said Kelvin Tse, director of global partner solutions at Microsoft Hong Kong.
Several other international tech companies have recently chosen Hong Kong as a testing ground for next-generation technologies.
Earlier this month, Amazon Web Services
announced a collaboration with HKSTP
to nurture start-ups in cloud-empowered fields such as biotechnology, artificial intelligence and software-as-a-service.