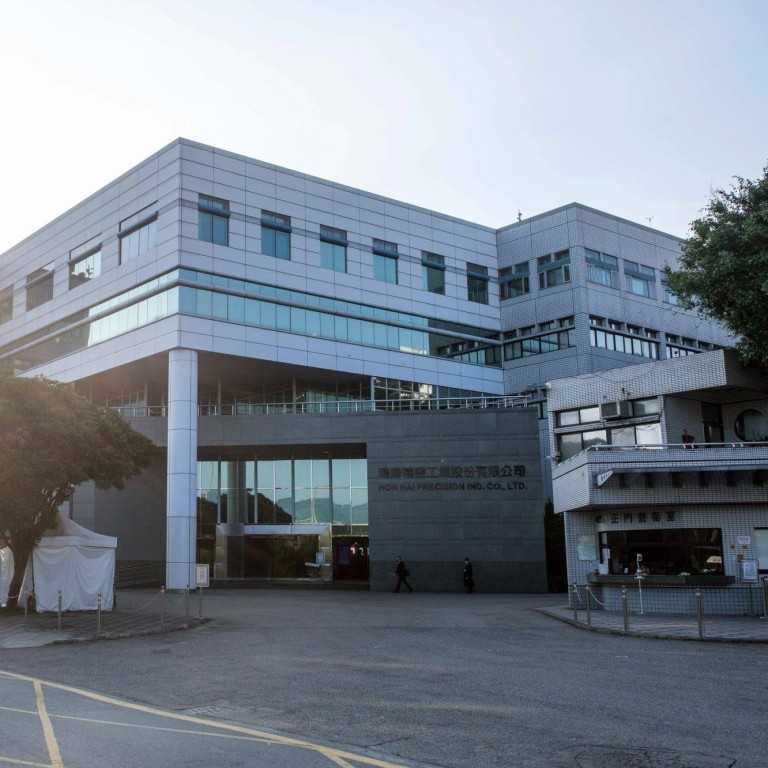 Foxconn's proposed investment in China chip conglomerate Tsinghua Unigroup likely to be blocked by Taipei: report
The investment plan, awaiting approval from Taiwan's Ministry of Economic Affairs, will 'definitely not go through', according to FT report
The development comes amid rising technology tensions between the US and China and after Speaker Pelosi's visit to self-ruled island
Taiwanese authorities are pressuring Apple supplier Foxconn to scrap a US$800 million investment in China's state-backed chip conglomerate Tsinghua Unigroup, the Financial Times reported on Wednesday.
If the report is confirmed, it would be another example of a major deal within the semiconductor industry falling apart amid growing tensions between Beijing and Taipei.
The investment plan, which was announced last month and is awaiting approval from Taiwan's Ministry of Economic Affairs, will "definitely not go through", the Financial Times quoted an unnamed senior Taiwanese government official involved in national security issues as saying.
Taiwan's investment regulator has yet to formally review the case, but according to the FT report, national security officials have already been brought in to review the case and they have said the deal needs to be blocked.
"It is clear that now they have elevated this [investment] to the national security level, prospects have dimmed," the report cited a person close to Foxconn as saying.
Tsinghua Unigroup did not reply to a request for comment from the Post.
Foxconn, formally known as Hon Hai Precision Industry, told the Post on Wednesday that it has already reported the investment matter to the competent authorities. "Going forward, we will continue to update competent authorities on the overall investment situation," the company said, without elaborating.
On Tuesday, US President Joe Biden signed into law the bipartisan Chips and Science Act. Under the legislation, the US will set aside nearly US$53 billion to fund domestic semiconductor production.
Subsidy recipients are also barred from expanding production in China beyond "legacy semiconductors" – defined as chips made with 28-nanometre process technology or older – for 10 years.
The US has also been ramping up efforts to lobby Taiwan, South Korea and Japan to join the Chip 4 Alliance. Beijing views the pact as a US-led attempt to exclude China from global semiconductor supply chains.
Foxconn, the world's biggest contract electronics maker which hires millions of workers in mainland China, said last month in a statement to the Taipei stock exchange that it was a shareholder in embattled conglomerate Tsinghua Unigroup via a 5.38 billion yuan (US$798 million) investment by a subsidiary.
In an interview with local media last month, Lai Chung-chiang, head of the Economic Democracy Union, a think tank that advises the government on cross-Taiwan Strait economic issues, described Foxconn's investment as unfavourable for Taiwan.
"The US has been limiting technology transfers to China, and Taiwan is still a close ally [of the US]," Lai said. "Foxconn's move will harm the trusted relationship between Taiwan and the US."
The Nikkei reported Foxconn Chairman Young Liu as saying to investors during an earnings call that it "is a simple financial investment … we happened to have this opportunity to invest [in Tsinghua Unigroup] via a fund."
Liu stressed that Tsinghua Unigroup no longer has chip manufacturing capabilities and said that since the company's restructuring, it no longer controls Chinese memory chip giant Yangtze Memory Technology or Wuhan Xinxin Semiconductor Manufacturing, according to the Nikkei report.