Huawei
Get more with myNEWS
A personalised news feed of stories that matter to you
Learn more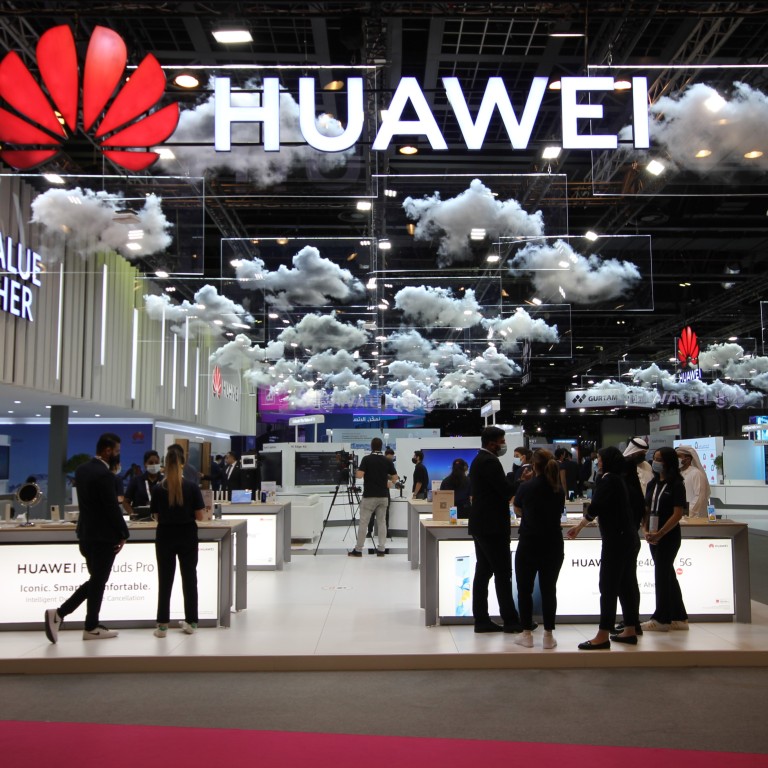 Huawei's revenue falls another 5.9 per cent in first half, but the decline is slowing amid cloud-computing lift
Huawei pulled in US$44.7 billion for the first six months of the year, in line with forecasts, according to the privately held company
Cloud computing remained a bright spot for the telecoms equipment maker, as it pivots to corporate services while under US sanctions
Huawei Technologies Co
saw its revenue shrink further in the first half of 2022, but the pace of decline narrowed as the company continued to further diversify its revenue streams with cloud computing and new sales engines after its handset business was decimated by US sanctions.
First-half revenue fell 5.9 per cent year on year to 301.6 billion yuan (US$44.7 billion), according to data released on Friday by the Shenzhen-based telecoms equipment maker, paring back the much steeper 13.9 per cent first-quarter drop.
Performance in the first half was "in line with forecasts", the company said in a statement.
Revenue from the device business group, which includes smartphone sales, fell 25.4 per cent to 101.3 billion yuan, from 135.7 billion yuan in the same period last year, as it continued to lose market share, both in China and abroad, because of a lack of access to advanced chips resulting from US sanctions.
Its network gear business, which sells to telecommunications network operators, grew 4.24 per cent to 142.7 billion yuan in the first half.
The company's enterprise business has been a bright spot thanks to growth in cloud computing and other services. The unit recorded a 27.5 per cent jump in revenue to 54.7 billion yuan.
The cloud business has achieved "healthy" sales and rapid growth in the first half of 2022, William Dong, president of Huawei Cloud Marketing, said in a written statement.
The company did not break out cloud-only revenue for the first half, but the unit grew 30 per cent last year to reach 20.1 billion yuan.
"Profitability is not a priority for us," Dong said. "We will continue to increase our investment in artificial intelligence and other technologies that can help our clients improve efficiency."
Dong added that the cloud unit will actively explore new fields such as new energy and drug discovery after gaining ground among government agencies, financial institutions and carmakers.
Huawei, which is privately held but has been reporting financial results for more than a decade, said its net profit margin was 5 per cent for the first half.
"While our device business was heavily impacted, our ICT [information and communications technology] infrastructure business maintained steady growth," Ken Hu, Huawei's rotating chairman, said in a statement.
"Moving forward, we will harness trends in digitalisation and decarbonisation to keep creating value for our customers and partners, and secure quality development."
The telecommunications giant is struggling to diversify its revenue streams after US sanctions curbed its access to advanced chips, all but killing the company's once-lucrative smartphone business.