TikTok
Get more with myNEWS
A personalised news feed of stories that matter to you
Learn more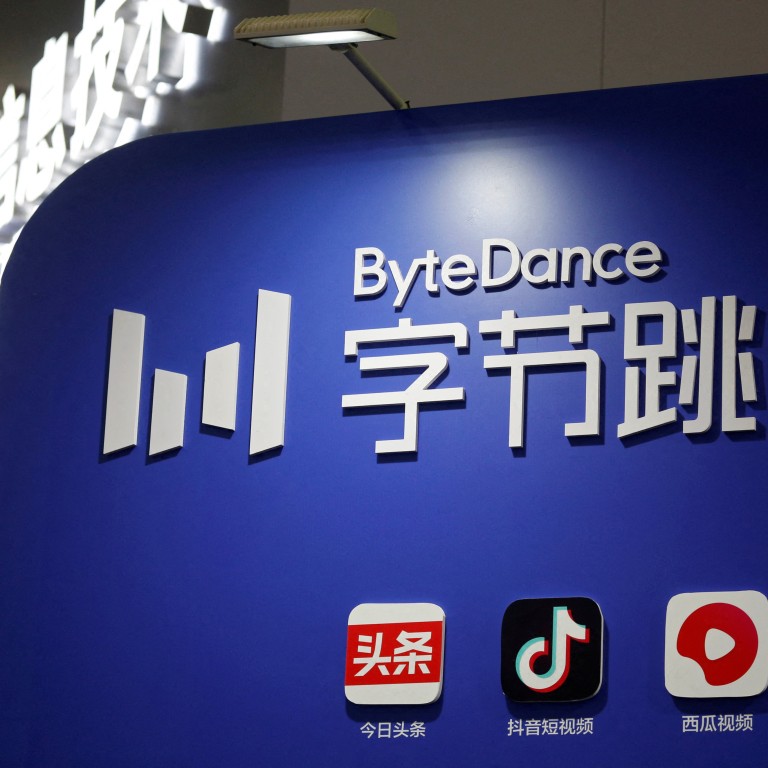 TikTok facing fresh scrutiny over Beijing influence after Forbes report on how 300 ByteDance employees used to work for state media
The Forbes report states that ByteDance currently employs 300 people who previously worked at state media outlets
However, journalism experts have questioned the suggested link between previously working for state media and ongoing propaganda efforts
Scrutiny of Chinese state influence over ByteDance-owned short video app TikTok by US media has reached new levels after a report by Forbes that 300 current employees at the app and its parent used to work for Chinese state media outlets.
The report, which is based on public employee profiles on LinkedIn, said the records "reveal significant connections between TikTok's parent company, ByteDance, and the propaganda arm of the Chinese government", fanning fears that Beijing could use ByteDance platforms to influence public opinion.
The Forbes report shows that ByteDance has hired people who have previously worked at state media outlets, including Xinhua, the People's Daily – the official mouthpiece of the ruling Chinese Communist Party – and China Global Television (CGTN), owned by the Chinese state broadcaster China Central Television.
However, some journalism experts questioned the suggested link between where a person has previously worked in Chinese media and participation in propaganda efforts.
"In China, becoming a journalist basically means working for state-owned media," said Fang Kecheng, an assistant professor at the School of Journalism and Communication at the Chinese University of Hong Kong. All media outlets registered in China that allow original reporting have to be publicly owned and Chinese regulations prohibit private or foreign capital in news production.
Fang added that many opinion leaders and intellectuals, with a background in state media, are critical of the Chinese authorities and do not take propaganda orders from the state.
Yuan Li, a columnist for The New York Times and one of the most vocal critics of Beijing, worked for Xinhua, while Hu Shuli, founder of Chinese media groups Caijing and Caixin and the face of investigative journalism in China, worked for a state-owned newspaper in her early career, Fang noted
According to the Forbes report, about 300 ByteDance employees, including 50 at TikTok, have worked at Xinhua, the People's Daily and CGTN, and some are still employed at these state media outlets. A ByteDance representative said in a written statement that ByteDance does not allow its employees to have second or part-time jobs. ByteDance employs around 100,000 people globally.
While no evidence has been presented showing that ByteDance takes a lead from Beijing to promote pro-China messages on TikTok, which has over 1 billion users across the world but is not available in China, there are global concerns over the influence of the Chinese state when it comes to data practices and content controls.
BuzzFeed, an American news website, reported last month that ByteDance had used TopBuzz, a now-defunct English-language news app, to push pro-China messages to Americans. ByteDance denied the accusations.
Meanwhile, Bloomberg reported in July that a Chinese government entity responsible for public relations had attempted to open a stealth account on TikTok targeting Western audiences with propaganda but TikTok's policy team refused the request.
ByteDance, which was started a decade ago in a Beijing flat by Chinese entrepreneur Zhang Yiming, has been an aggressive recruiter in recent years, offering attractive pay packages compared with traditional businesses.
According to China job information website Maimai, ByteDance is the
second most generous employer
in the tech industry, offering an average monthly wage of 32,800 yuan (US$4,865) in 2022, much higher than People.cn Co Ltd, the Shanghai-listed unit of the
People's Daily
, which offered an average monthly salary of around 4,300 yuan in 2021.
Ahead of an expected multibillion-dollar IPO, ByteDance has been trying hard to convince overseas consumers and regulators that TikTok is managed independently and that TikTok is free from Chinese propaganda.
For example while Douyin, the domestic version of TikTok, is full of video clips supporting Russia's invasion of Ukraine, in the European Union TikTok joined with Facebook and Microsoft to block Kremlin-backed news outlets RT and Sputnik.