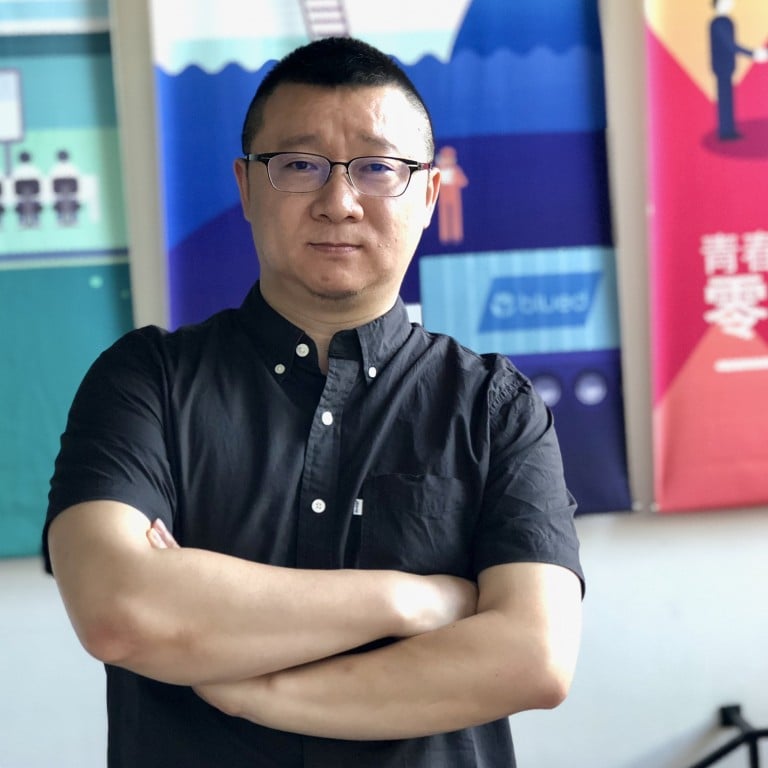 Founder of Blued, China's largest gay dating app, steps down after delisting in New York with no named successor
Ma Baoli announced on Monday that he is vacating his roles as CEO and chairman, and hinted at the difficulties of running an LGBTQ platform in China
As Beijing has increasingly targeted content depicting same-sex relationships in recent years, it has also tightened regulations on social media
The founder of BlueCity Holdings, the operator of China's largest gay dating app Blued, resigned as chairman and CEO of the company on Monday shortly after the company was privatised and delisted from the Nasdaq this month.
Ma Baoli
announced the change with a post to his personal
WeChat
account seen by the
South China Morning Post
.
"We have turned ideals into reality and made something impossible possible," Ma wrote, hinting at the difficulties of running a business catering to the lesbian, gay, bisexual, transgender and queer (LGBTQ) community in a country where gay marriage is not legal and the government has taken an increasingly stringent stance against content depicting same-sex relationships.
"I feel content and unregretful, as I've accomplished my mission," Ma added.
Ma, a former policeman, is also known by his alias Geng Le, which he has used since the early 2000s when he founded one of China's earliest and most influential online gay forums, Danlan.org. The site wound up becoming the foundation for BlueCity.
With the success of Blued in the smartphone era, BlueCity grew revenue to reach US$107.2 million in 2019, the year before going public on the Nasdaq in July 2020, reaching a valuation of nearly US$800 million.
However, profitability has proven elusive as the space for LGBTQ groups online in China
has shrunk in recent years
. By the time the company delisted from the Nasdaq this month, its share price was just US$1.54, less than 10 per cent of its initial public offering price of US$16, giving it a market cap of US$57.7 million
BlueCity has not announced a successor for Ma, but a company representative said it would "fulfil its obligation to disclose the information in a timely manner".
The social media firm announced its planned privatisation in April, saying it would be funded by a group comprising Ma and a fund controlled by Hong Kong-listed NewBornTown, a developer of multiple social networking apps targeting overseas markets.
At the completion of the deal, NewBornTown will be the majority shareholder, contributing nearly US$50 million of the US$60 million buyout.
NewBornTown did not immediately respond to a request for comment on Monday.
At the time of BlueCity's IPO, it made history as the
first publicly traded gay social network
. In addition to Blued, which has 60 million registered users across 170 countries and regions, it also runs live-streaming and health-related services.
On the day of the IPO,
Ma struck an optimistic tone
about the potential for an app like Blued in China. "The Chinese government has said several times in international meetings that it does not discriminate against sexual minorities and promises equal health and employment rights for LGBTQ+," he said in an interview at the time.
As government restrictions on LGBTQ content have tightened, Beijing has also introduced harsher regulations governing internet platforms generally. New rules on
privacy
,
data management
and
algorithmic recommendations
have crimped popular revenue models.
In 2019, Blued
suspended registration of new users
for a week after a Chinese report that some underage users contracted HIV on dates set up via the app. BlueCity reported a net loss of US$48.6 million in 2021, widening 40 per cent from the previous year, while revenue decreased 12.6 per cent to US$38.2 million.
.