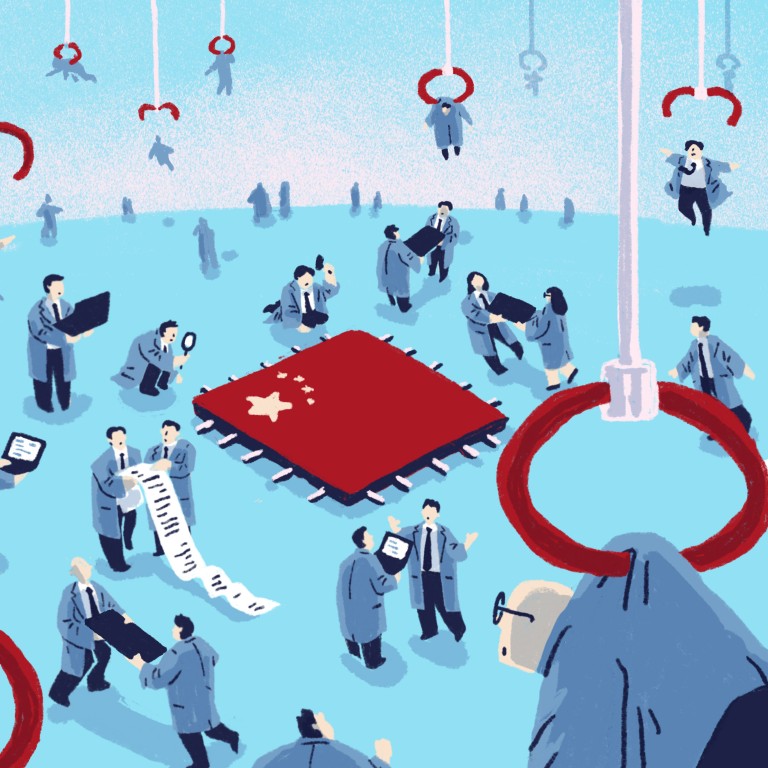 US-China tech war: Beijing forges ahead with all-in chip effort, brushing aside asset bubbles and graft probes
China lacks the software, equipment and capabilities for advanced chips, a weakness laid bare by the tech war between Washington and Beijing
In the face of political calls for self-sufficiency, it is hard to avoid waste, fraud and bubbles amid a continuous flow of state funds, experts say
In July 2018, Xiao Yaqing, then chairman of China's state-owned assets watchdog, visited the Beijing office of Tsinghua Unigroup, a day after the state-backed semiconductor conglomerate announced another big takeover deal – the US$2.6 billion acquisition of French chip maker Linxens.
Xiao, who two years later would head China's Ministry of Industry and Information Technology, discussed with Unigroup's then-chairman Zhao Weiguo how the country's state and corporate sectors could work together in semiconductor development, according to a press release issued at the time.
Fast forward to four year later and three key figures in a group photo taken at the time, shot against the background of Unigroup's slogan "chase the dream, change the world", are subject to state graft investigations.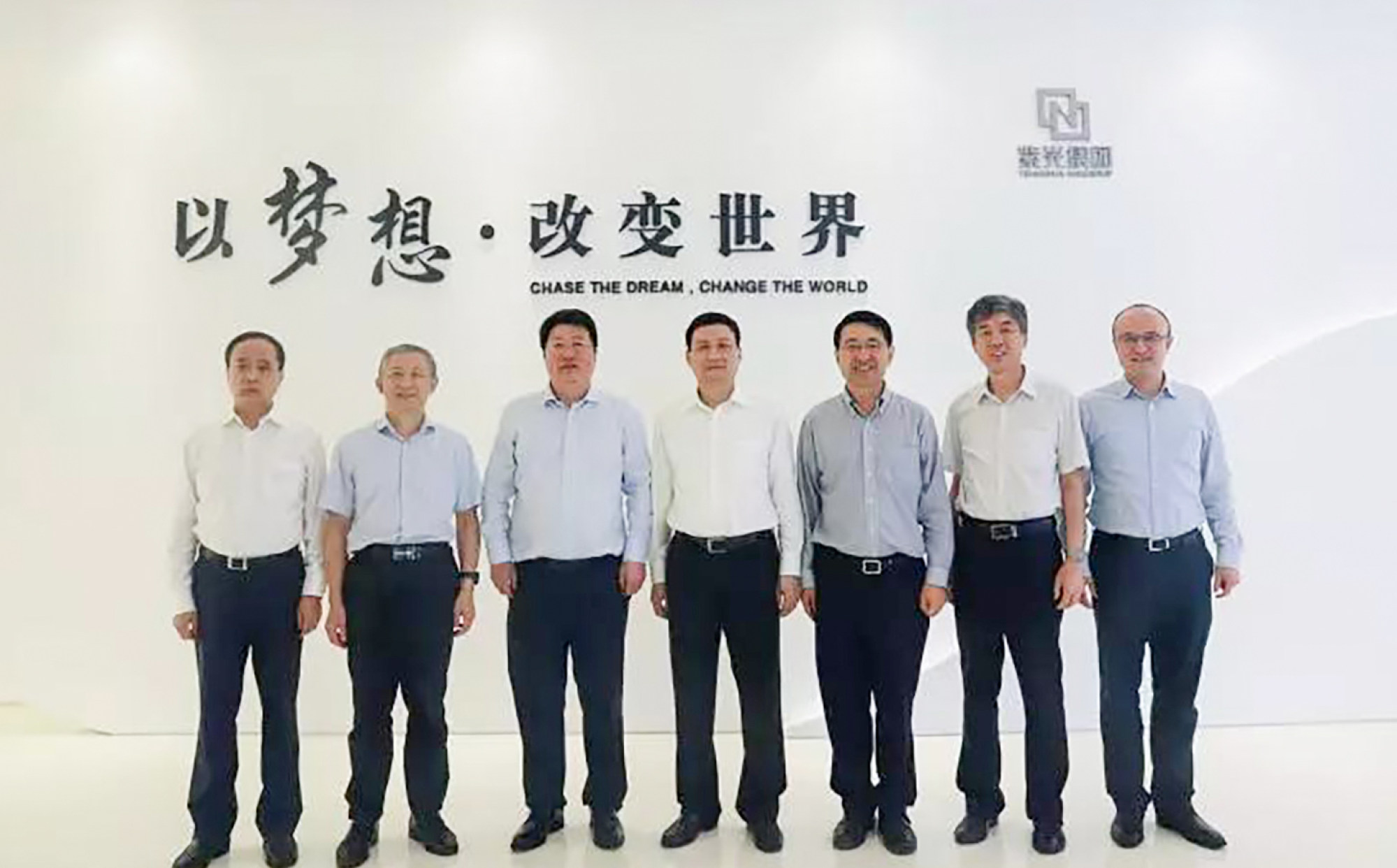 China's anti-corruption agency confirmed its investigation into Xiao on July 28, after he had not been seen in public for weeks. It came as an
anti-corruption drive
was sweeping through China's state -led chip investment apparatus. To date, there is no evidence and no official statement as to whether Xiao's detention is linked to this effort.
Zhao is also subject to an investigation, as is Diao Shijing, the co-president of Unigroup and a former director general in the industry ministry, according to Chinese media Caixin.
Before these developments, Unigroup went through a bankruptcy restructuring after failing to repay its debts and was taken over by new owners, becoming a cautionary tale for the consequences of blind expansion.
Zhao and Diao have joined a long list of corruption targets in China's chip industry. They include Ding Wenwu, the former president of the China Integrated Circuit Industry Investment Fund, also known as the Big Fund, as well as Lu Jun, the fund's former chief executive, and Yang Zhengfan, another executive at the fund, who are all being investigated.
Authorities have not released details of any suspected wrongdoing and have not confirmed any links between the cases. One thing is clear though, all those under investigation are key players in China's state-led quest for greater self-sufficiency in the semiconductor industry and less reliance on foreign technologies. Unfortunately, this also means confronting a landscape rife with ambitious entrepreneurs, shrewd speculators and even scammers.
Antonia Hmaidi, an analyst at the Berlin-based Mercator Institute for China Studies, said that the failure of Unigroup shed light on the problems plaguing China's chip industry, especially when it comes to companies reliant on state financing, as they have come to expect "an endless supply of money to invest without making any sound decisions".
China's powerful leader Xi Jinping has repeatedly urged the country's cadres and scientists to
address the strategic "choke points"
when it comes to advanced technologies and especially chips, which control the performance of everything from smartphones to ballistic missiles.
Currently, China lacks the software, equipment and capabilities to produce advanced chips, a weakness laid bare by an escalating tech war between Washington and Beijing. The US has imposed trade sanctions on China that prohibit the export of advanced US-origin technology on national security grounds, which have – as an example – crippled the smartphone business of Huawei Technologies Co, one of China's technology powerhouses.
According to comments published by state media outlets, Xi strongly believes that China should become self-reliant in core technologies, even if some of these have taken decades to develop in the West.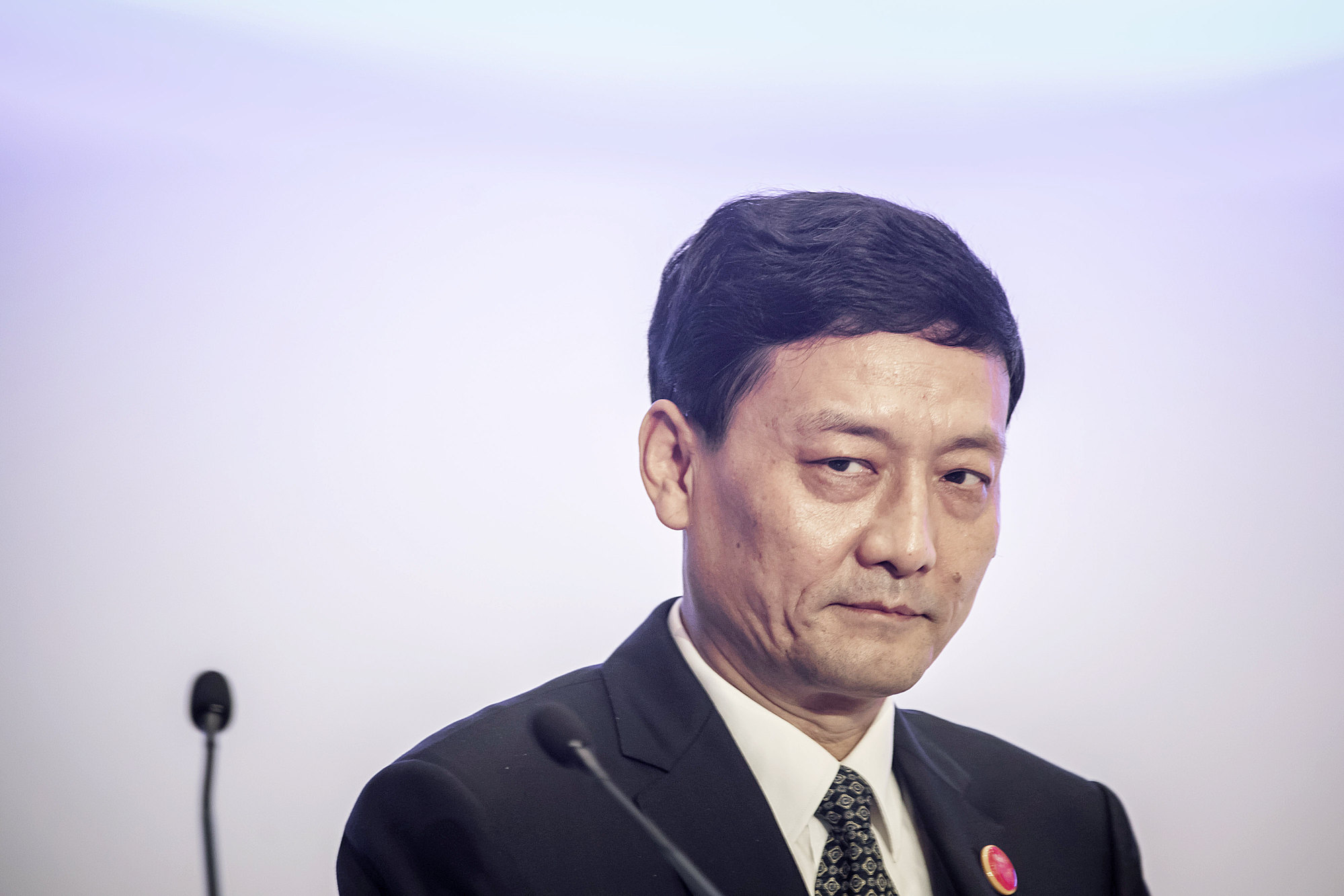 During a visit in 2018 to a technology firm in the central Chinese city of Wuhan, Xi said the country had developed its own nuclear weapons and satellites when it was under sanctions, thanks to the "socialist system advantage of concentrating power on the big priorities". As such, China can repeat this success, meaning the country "must give up wishful thinking and rely on ourselves", said Xi, in comments published by state news agency Xinhua.
Spurred on by Xi's remarks, venture capital funds have chased chip-related start-ups, Big Tech firms and carmakers have promoted in-house chip designs, universities have rushed to open semiconductor schools, and local governments have sponsored and rolled out the red carpet for wafer fabrication projects.
But the quest for a great leap forward in semiconductor self-sufficiency has not been smooth sailing.
For a start, the sector is dependent on global supply chains, and China's push for independence – amid increased US scrutiny – runs the risk of isolation. The new
US Chips and Science Act
dangles subsidies to entice major players such as Intel, Taiwan Semiconductor Manufacturing Co and South Korea's Samsung Electronics to invest in the US over China.
Meanwhile, Dutch company ASML, which has a monopoly on high-end lithography machines vital to advanced chip production, is under US pressure to restrict exports to China, while Washington has been on a diplomatic offensive to persuade Tokyo, Taipei and Seoul to join a chip club –
the Chip 4 Alliance
– that will exclude China from semiconductor value chains.
At the same time, chip analysts are questioning whether Chinese players are drifting away from the goal of self-reliance.
At a recent annual industry conference in the eastern city of Nanjing, various Chinese experts said it would be impossible for China to tackle semiconductor bottlenecks all on its own, and that there is not a single country on the face of the planet that can build a chip industry based entirely on domestic procurement.
In the face of political calls to proceed apace with self-sufficiency amid intensifying geopolitical rivalry with the US, it is hard to avoid waste, fraud and bubbles amid a continuous flow of state funds, according to industry experts and professionals.
Andy Jiang, the former chief technology officer for the cloud business of Huawei, said China's chip bubble is huge and many new start-up can quickly haul in millions of yuan in funding while receiving a valuation running into billions. "This is very unrealistic," he said.
Jiang said many chip design firms are claiming to produce breakthrough products in just 12 to 18 months, which he sees as "too short". It takes "at least 6 years to produce a chip from scratch", he said.
"Chasing private money or government funds, using foreign IP [intellectual property] and US software or foundry services are all OK to a point, but it's not good to exaggerate success by saying they have been achieved without using any US or foreign technology," Jiang said.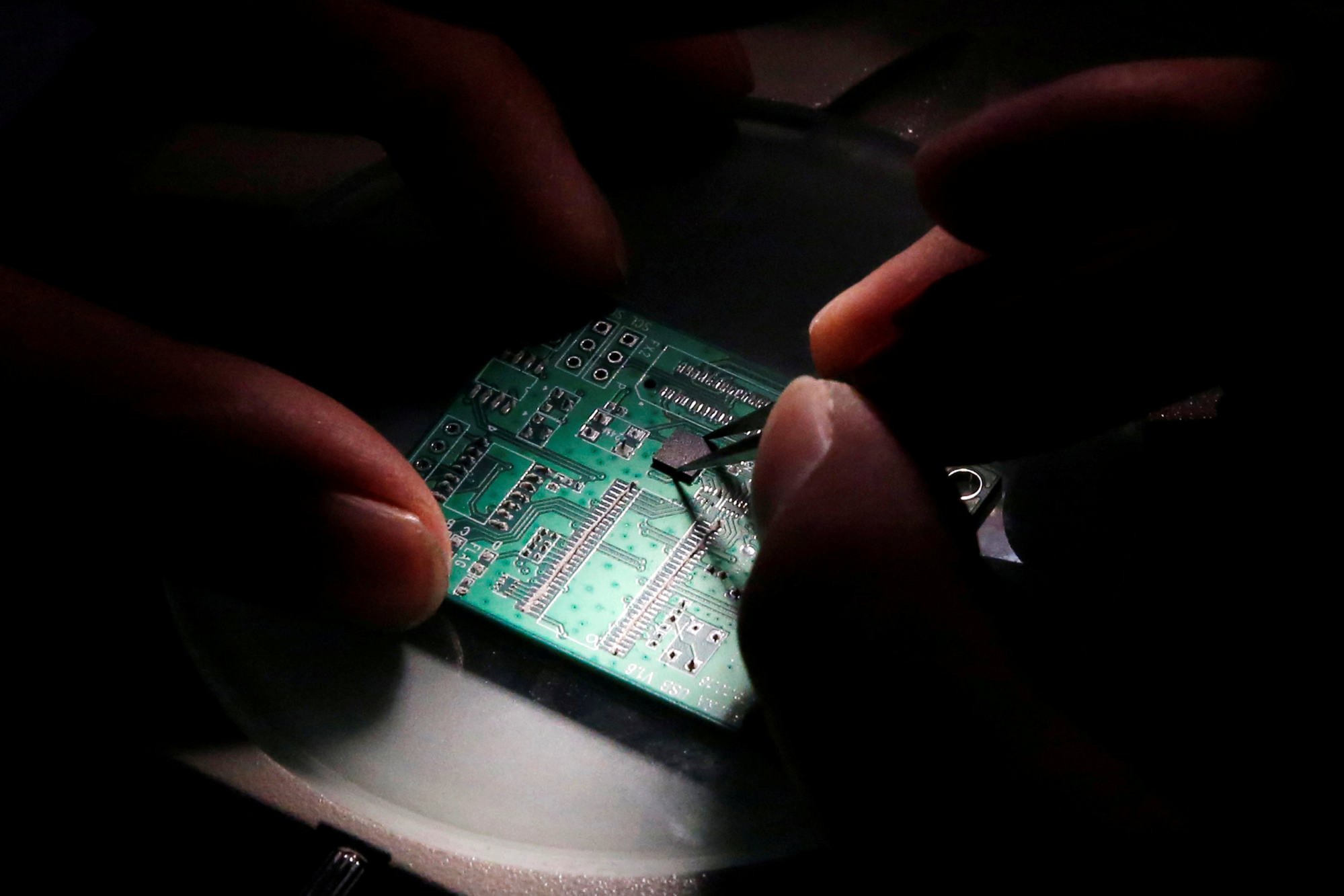 More than 820 semiconductor-related fundraising deals – excluding IPOs – were made in China from January 2021 to the first-half of this year, with the total sum raised amounting to more than 100 billion yuan (US$14.5 billion), according to data from Qichacha, which tracks deals in the private market.
The Big Fund, effectively a state venture capital fund created in 2014 by China's Ministry of Finance, the China Development Bank and some of the country's most deep-pocketed state-owned enterprises, has been a pivotal institution in channeling funds to promising start-ups.
The fund has earmarked a total of 343 billion yuan to bolster companies spanning the entire supply chain from chip design, manufacturing and testing to assembly. By the end of 2019, banks and other financial institutions were estimated to have pumped more than 500 billion yuan of investment via equity financing, debt and loans into the semiconductor sector, according to research by Eastmoney Security.
Some of this money has been put to good use – particularly when it comes to support for Semiconductor Manufacturing International Corp, China's largest contract foundry, which reportedly was able to produce a 7-nanometre chip without the need for ASML's latest lithography machine. Hua Hong Semiconductor, China's second-largest chip maker, has also benefited, and reported record revenue in 2021 thanks to strong demand for chips.
China's memory chip makers are also gaining ground on South Korea, whose China-bound semiconductor exports dropped 24 per cent year-on-year in the first seven months of this year. Seoul is worried that China's improved capacity in memory chips could hurt its business interests.
Further, total sales by China's chip industry comprising design, manufacturing, testing and assembly topped the 1,000 billion yuan threshold for the first time in 2021, more than triple the level of 301.5 billion yuan in 2014.
Wei Shaojun, a prominent electronics professor at Tsinghua University, said at a forum this year that China's semiconductor industry has achieved great progress. "It is precisely because of this that we have a certain voice over today's chaotic world," he said.
Nevertheless, investors and start-ups have viewed money from the Big Fund as a symbolic blessing by Beijing, and see the fund as a state institution which cannot bear losses. China's chip firms have also rushed to give director positions to Big Fund executives, showering them with financial incentives.
For example, Yang, one of the executives under investigation, sat on the board of at least 10 listed chip companies, according to corporate announcements.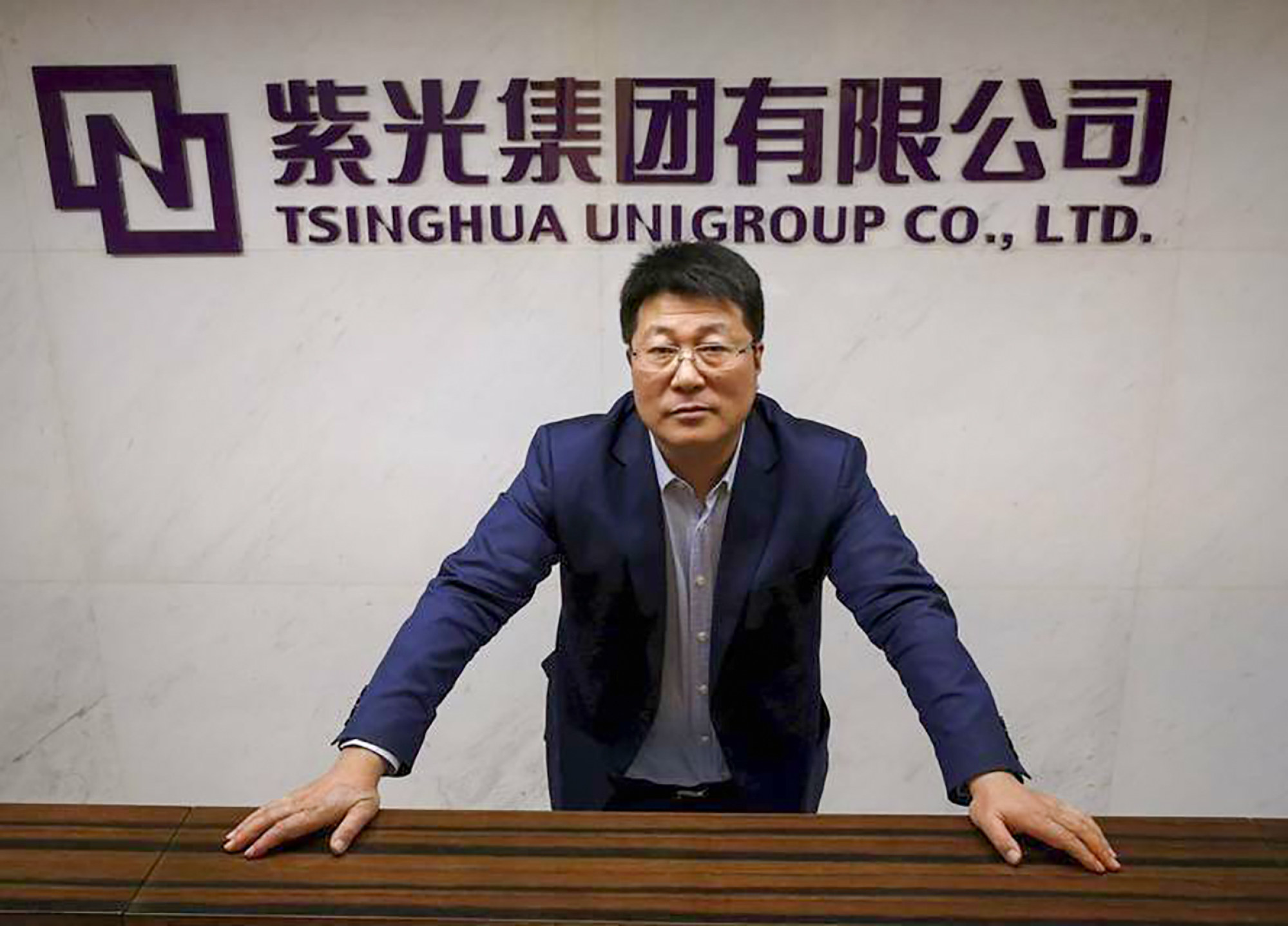 There have also been spectacular failures in the state-led chip boom. The Wuhan Hongxin Semiconductor Manufacturing Company (HSMC), for example, turned out to be an elaborate hoax, failing to produce a single chip despite huge promotion and initial investment from the local government. Chiang Shang-yi, a Taiwanese chip veteran who had a stint at HSMC, said in 2020 that
his experience with the project was a "nightmare".
Dan Pickard, an international trade and national security expert and attorney at Buchanan Ingersoll & Rooney, noted that China is now increasingly aware of the costs of corruption.
"While there are certainly external challenges for Chinese industries due to increasing sanctions, there is also recognition of an internal challenge due to massive investments that have not had adequate returns due to misappropriation," said Pickard.
But Beijing, given the external reality, appears to have no choice but to double down on its support for the domestic chip industry amid intensified containment efforts by the US. Xi appears to have anticipated this, saying in 2015 that it would be increasingly difficult to get core technologies from other countries, given that "the master may starve if he teaches the last trick to his pupil".
Stewart Randall, head of electronics and embedded software at consultancy Intralink, said China may apply its state-led investment strategy more wisely by focusing on companies that truly deserve support, given the various corruption scandals.
Meanwhile, apart from the choke points of chip design software and advanced lithography machines, China is catching up in terms of low-end chip manufacturing and packaging, in part by acquiring the mainland-based factories of foreign firms wanting to get out of the low end of the business.
American concerns about its declining share of semiconductor manufacturing and the potential threat from China gave rise to the bipartisan US Chips Act, which ironically borrowed from Beijing's playbook by promising US$53 billion of state subsidies for chip makers investing in the US.
The Chinese Communist Party "should take pride that their semiconductor industry is at a level where it scares the United States of America," Woz Ahmed, managing director of consultancy Chilli Ventures and former chief strategy officer at British graphics processing unit Imagination Technologies, told the Post.