Apple
Get more with myNEWS
A personalised news feed of stories that matter to you
Learn more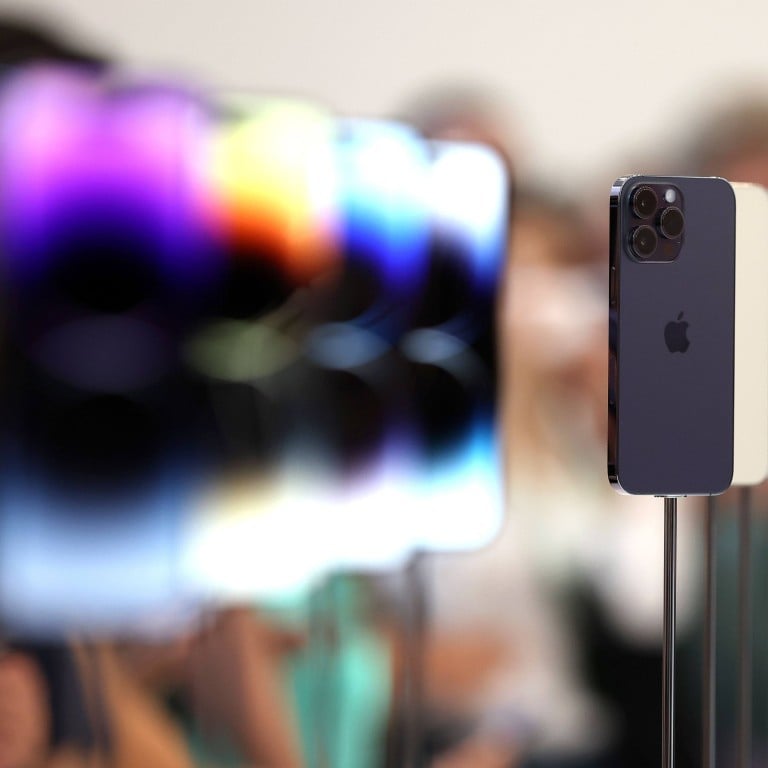 Apple's iPhone 14 receives mixed reaction from China's netizens but analysts tip it to do well in world's biggest smartphone market
Dozens of iPhone 14-related topics trended on Twitter-like microblogging site Weibo on Thursday
Analysts say the iPhone 14 series can help Apple to continue to wean people off Android phones in the high-end segment in China
Apple's iPhone 14 launch has received a mixed reaction on China's social media, with netizens comparing it to
Huawei Technologies Co's latest smartphone
for its apparent lack of major innovations, but many analysts have nonetheless tipped the latest handset to cement the US tech giant's lead in the high-end segment.
The Cupertino-based smartphone giant on Wednesday unveiled four new models of its iconic iPhone: the iPhone 14, iPhone 14 Plus, iPhone 14 Pro and iPhone 14 Pro Max, with prices beginning at 5,999 yuan (US$862) for the mainland China market. Pre-sales will start this Friday and the new models will be available officially from September 16.
Dozens of iPhone 14-related topics trended on Twitter-like microblogging site Weibo on Thursday. While there was excitement, some commentators appeared unimpressed by the absence of major advances in battery performance and processor development in the latest models.
"So what's the improvement in the iPhone 14 compared to the iPhone 13?" said one well-liked comment. "There's hardly any innovations. I'll just stick to my iPhone 12 for one more year and save some money," said another.
However, some users sang the praises of Dynamic Island, a newly-introduced feature that turns the notch of iPhone 14 Pro models into a hub for notifications and user interaction. "This is the right way to use a full display screen, using the system to make up for a flaw," said the most up-voted comments on Weibo.
Chinese netizens were also keen to compare Apple's iPhone 14 series with the latest Android handsets, especially the Huawei Mate 50 high-end model that was also introduced this week. Due to US sanctions that restrict the Chinese tech giant's access to advanced semiconductors, the Mate 50 came without 5G support but touted a new satellite communications feature.
The iPhone 14 also supports satellite connectivity for emergency services.
"Without 5G, I don't think Huawei has any advantage over Apple this time," said one popular comment on Weibo.
Despite the mixed consumer reaction, analysts say the iPhone 14 series can help Apple to continue to wean people off Android phones in the high-end segment, a competitive market for Chinese smartphone makers such as Xiaomi, Oppo and sanctions-hit Huawei.
Ivan Lam, senior analyst at Counterpoint Research, said avoiding a price hike was a necessary strategy for Apple this time around.
"The pricing strategy can help Apple resist repeat attacks by Chinese brands in the high-end segment, building on the successful gains of the past two generations of iPhone," said Lam. "[Huawei's Mate 50] will not be a threat to Apple, rather it's a defensive move to hold up its current share."
The Chinese smartphone market for 2022 is unlikely to pick up as the severity of macro headwinds will continue to dampen local consumer spending, but differentiation in user experience can still be a key driver for consumers to upgrade to new handsets, according to a report by tech research firm IDC on Thursday.
In the first half of 2022 Apple had a 70.5 per cent share of the domestic market's high-end segment of smartphones priced from US$600, according to data from IDC. This has been achieved at a time when all major Chinese smartphone makers geared up to launch more expensive models in an attempt to fill a gap left by sanctions-hit Huawei.
Greater China is one of Apple's most important international markets. In the second quarter, iPhone shipments in China surged 25 per cent from a year ago to 9.9 million units, according to market analysis firm Canalys.
Around 30 per cent of China's iPhone users are in the window for an upgrade to the latest iPhone model, and many of them are likely to switch to the iPhone 14 Pro and Pro Max, according to Dan Ives, managing director at investment firm Wedbush Securities.