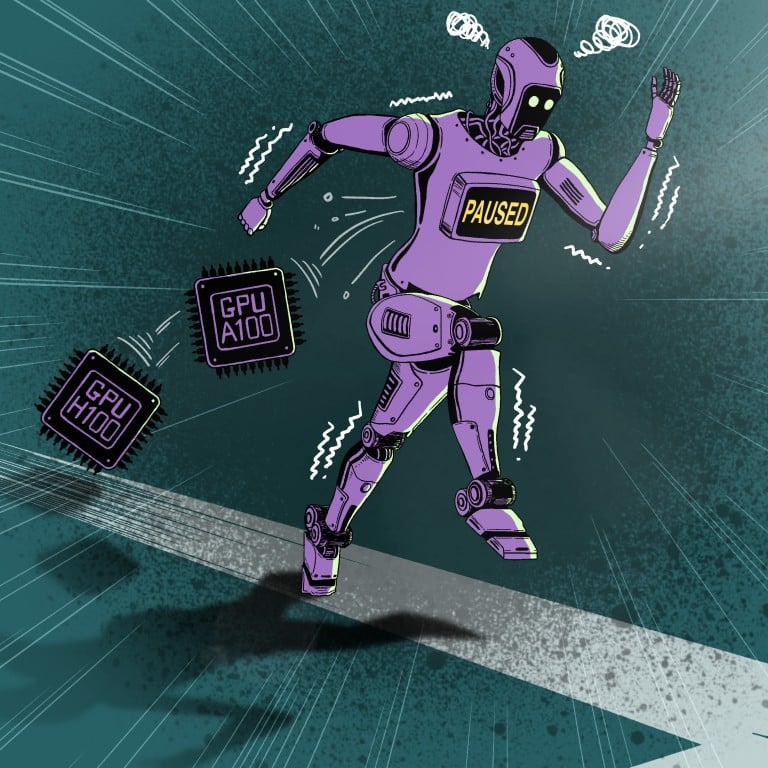 Tech war: why the US Nvidia chip ban is a direct threat to Beijing's artificial intelligence ambitions
US export restrictions on Nvidia data centre GPUs could hit China's most powerful artificial intelligence systems, which rely on such chips
Industry insiders expect companies to stockpile Nvidia chips before the ban takes effect next year, while carmaker Xpeng says it has years of reserves
ByteDance's enterprise cloud service, Volcengine, has cut the training period for an image-recognition,
artificial intelligence (AI)
model from 5 days to 3 days; Alibaba Cloud's Sinian computing platform has beat a
Google
-held record by recognising 1.078 million images per second in offline scenarios; and China's largest server maker Inspur's NF5488A5 model has been hailed as a world-class product in medical image segmentation, speech recognition and natural language processing.
But none of these achievements by China's most powerful technology players would be possible without the powerful graphic processing units provided by Nvidia Corp, the Santa Clara-based GPU giant that has played a pivotal role in powering China's progress in AI, data analysis and computing power.
The US government's sudden decision last month to restrict Nvidia from selling its two most advanced chips, the A100 and the upcoming H100, to clients in China has therefore sent jitters across China's AI, cloud computing and smart vehicle sectors, as there is no immediate substitute for the Nvidia GPUs that train AI models for autonomous driving, semantic analysis, image recognition, weather variables and big data analysis, according to industry insiders and tech analysts.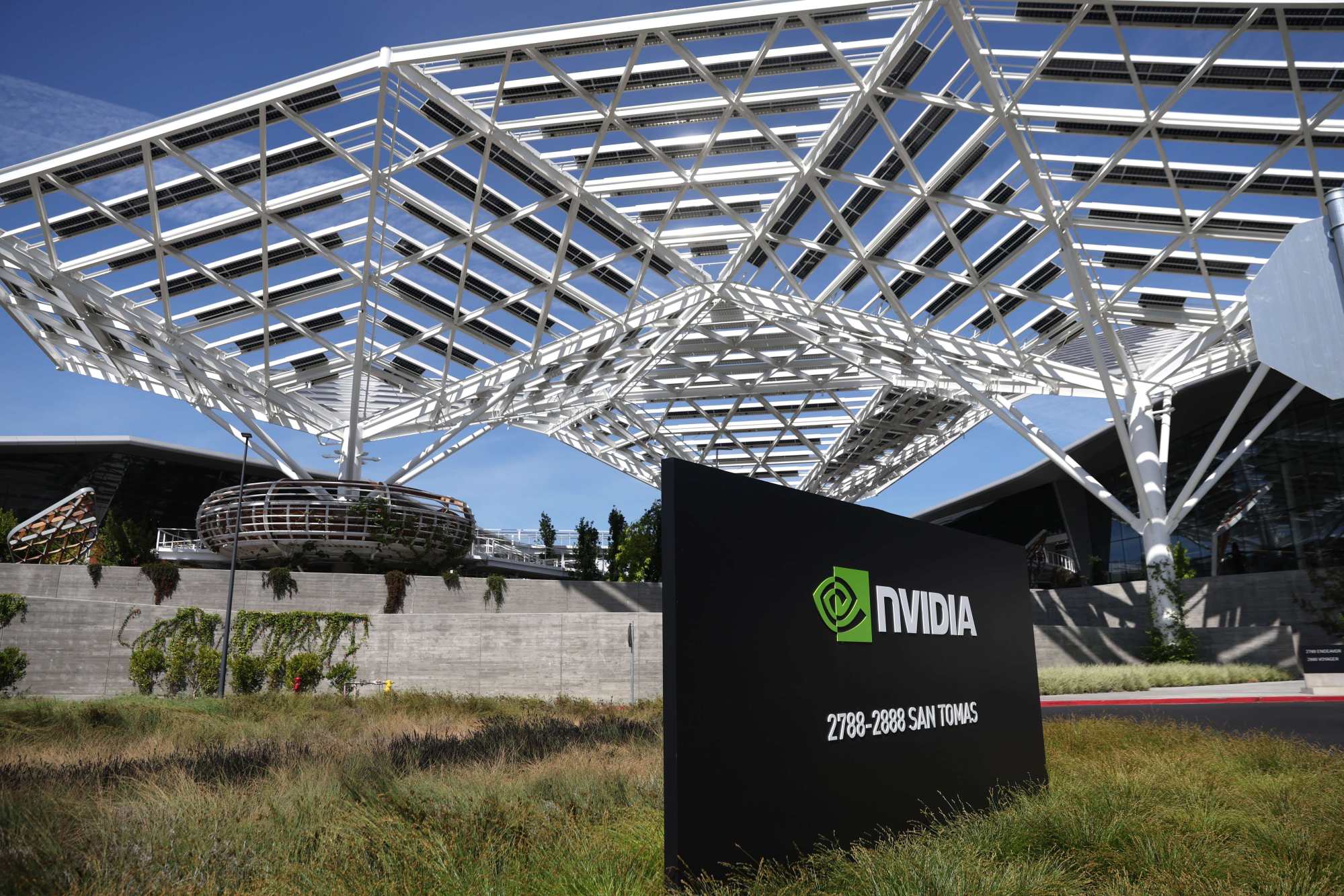 The full extent to which Washington's latest ban on chip technology will hit China's downstream industries is still hard to evaluate. Nvidia has said it is trying to mitigate the impact on Chinese clients, such as replacing the advanced GPUs with products that are not subject to US licensing requirements.
Elsewhere, a number of Chinese GPU firms have expressed hopes that the ban may give them a chance to win over former Nvidia clients now that the US-made chips are off limits.
But it is not hard to detect the psychological impact from this targeted US measure on Chinese policymakers and investors.
President Xi Jinping stressed at a key meeting this month that China must step up development of technology critical to national security and adopt a top-down "new whole country system" to seek breakthroughs. The summary of Xi's remarks did not mention semiconductors or the latest GPU restrictions by the US.
He Xiaopeng, founder of Xpeng, one of China's biggest electric vehicle makers, commented on his social media account that the Nvidia chip ban would be bad news for cloud-based autonomous driving training, but would not impact Xpeng too much because it has already purchased the advanced chips it needs in sufficient quantity for the years ahead.
A scramble for Nvidia chips from Chinese clients is expected to take place, dealers said.
A Shanghai-based sales manager at VSTECS Holdings, China's second-largest telecommunications equipment and cloud service distributor, said all Chinese clients would start stockpiling affected chips before the ban officially comes into effect. Nvidia has said that it can continue to ship AI chips from its Hong Kong facility through September 2023.
"Most cloud service providers in China use Nvidia chips in their GPU-based products," said the manager, asking not to be identified because he is not authorised to speak with media. "If this hardware is restricted from being shipped to China, GPU-based cloud resources will be in short supply and the impact will be huge," he added.
Most of China's cloud providers, including Alibaba Cloud (owned by
Alibaba Group Holding
), Tencent Cloud (owned by
Tencent Holdings
), and
Baidu
Cloud have used chips from other vendors, such as Intel and AMD, to power their cloud infrastructure. Many cloud servers rely on central processing units (CPUs), using Intel's x86 or Arm-based architecture, to do the heavy lifting.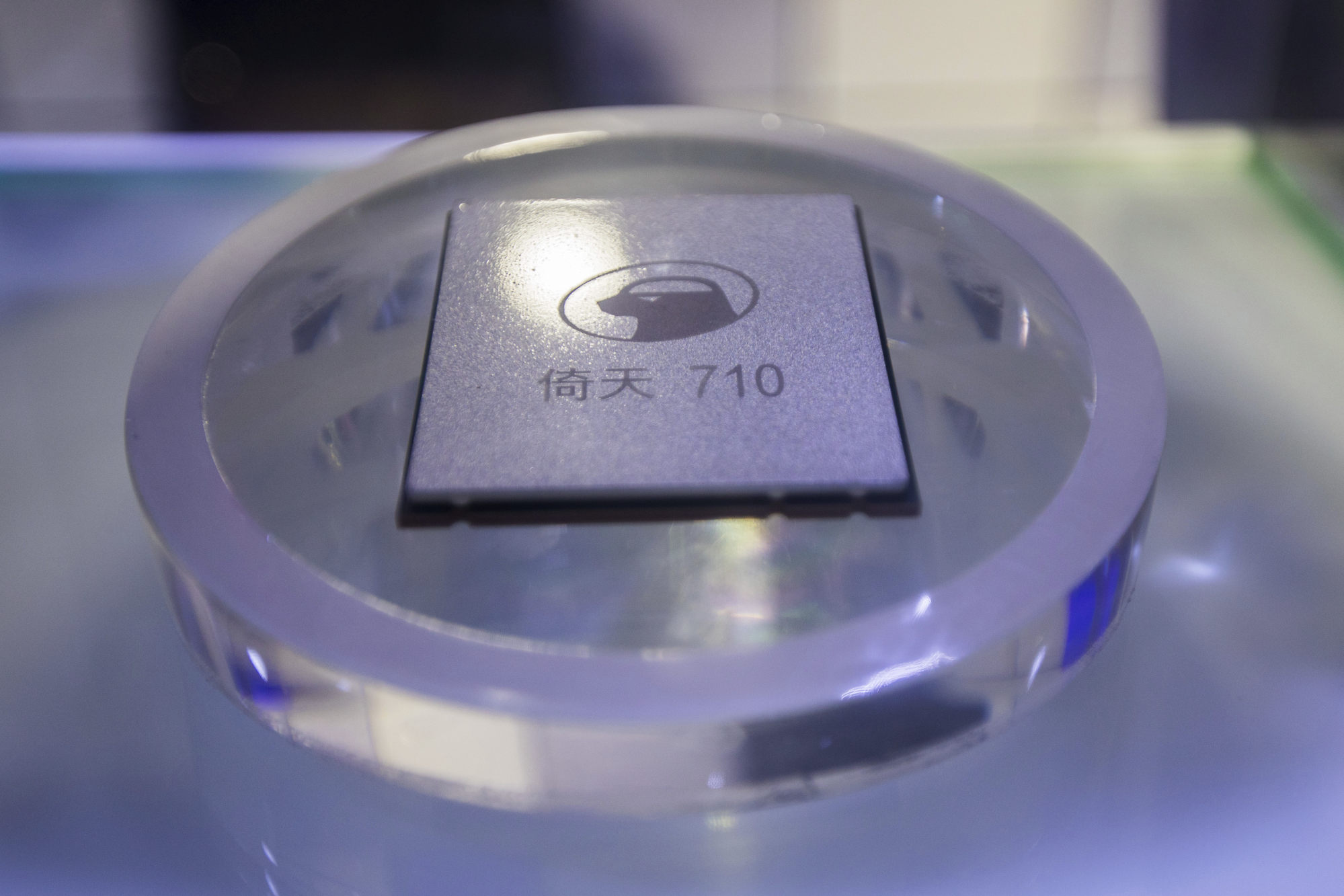 But Nvidia's A100, which was launched in 2020, and the TSMC-manufactured H100, which is expected to be ready for shipment in the second half of this year, have advantages in handling huge, parallel threads of computation.
Compared with Intel and AMD's multiple-core CPUs, Nvidia's GPUs employ thousands of cores, making them ideal for machine learning and deep learning AI models.
Nvidia's data centre business, which includes sales of the two advanced chips, is one of its fastest-growing units with US$3.8 billion in sales in the fiscal quarter ended July 2022, with strong year-on-year growth of 61 per cent.
As China becomes a global AI powerhouse with nearly one million businesses claiming to be related to AI, the country has become a "very large market" for Nvidia, according to its founder and CEO Jensen Huang, a Taiwanese American entrepreneur who is widely respected in China.
China's demand for its chips is one reason Nvidia's market capitalisation is now about three times that of Intel. China as a whole accounts for about a quarter of total sales at Nvidia, in gross terms, and the maximum third-quarter sales losses from the latest US government ban is estimated at about US$400 million, the company said.
US trade restrictions on the Chinese telecoms giant, which have severed its access to advanced chips, have strangled its lucrative smartphone business. Its latest Mate 50 smartphone models do not even support 5G functions, even though Huawei has been the cheerleader for 5G network equipment for years.
While advanced GPUs, technically speaking, can be replaced by the combination of less powerful ones for certain functions, the difference can be huge and the A100's abilities have been an attractive sales point for Chinese clients.
Both Alibaba Cloud and Baidu Cloud, for instance, have incorporated A100 chips into large swathes of their cloud infrastructure to power GPU-based cloud offerings. Alibaba owns the South China Morning Post.
According to a recent Reuters report based on government tender documents, Nvidia's A100 chip has also been bought by some of China's most strategically important research institutes, such as Tsinghua University and the Institute of Computing Technology at the Chinese Academy of Sciences (CAS).
Inspur, China's top server maker and which has highlighted the incorporation of Nvidia's A100 GPU in its products, told analysts that it is talking actively with Nvidia on the current situation, according to Chinese media outlet Jiemian.
It has echoed Nvidia CEO Huang's statement that the US company is looking for alternatives for China clients. But Huang has also said replacement products might "be worse for customer workloads that need the full performance of the A100".
An Nvidia manager in China, who requested anonymity due to the sensitivity of the matter, said that Chinese AI firms could end up spending more time to train their AI models, which in turn could slow down China's progress in AI. China has vast troves of data from its 1.4 billion residents but the country still relies on powerful chips to improve its algorithms.
The latest US ban, which comes on top of previous restrictions, is expected to hit the industry's soft underbelly as Chinese domestic GPU makers have yet to match Nvidia with any equivalent products.
Lu Jianping, chief technology officer at Shanghai-based Iluvator, one of the country's leading GPU makers, was quoted by the Economic Observer last week as saying that the company's GPU still lagged far behind Nvidia's offerings. Lu, who previously worked for Nvidia and
Samsung Electronics
, said his company's plan is to cover 5 per cent of the market whereas Nvidia has 95 per cent.
However, some domestic investors hope that the ban may fast-track China's development of its own GPUs, in line with Beijing's oft-touted plan for self-sufficiency in strategic technology sectors.
Another Chinese GPU company Biren Technology, founded in 2019 by Wall Street veteran Zhang Wen, is currently an investor darling for its ambitions in the GPU space.
It has raised about US$633 million in its first 18 months, according to PitchBook, and last month it launched a BR100 GPU that it claims can break world records for computing power. The product has yet to be tested by the market.
Wang Yu, a manager at Zhuhai-based Hengqin Financial Investment, a fund focusing on semiconductor and hardware, said that the US ban could give fresh reasons for investors to throw money into the GPU space, but his firm nevertheless sees some overinvestment risks.
It will be a long shot, even for Biren, to replace Nvidia. "Chinese GPU start-ups are not a match for Nvidia and AMD," said Sravan Kundojjala, a senior analyst at Strategy Analytics. "Even a seasoned GPU player like AMD is struggling to compete with Nvidia in data centres."
One of Nvidia's key advantages is its unified device architecture, a parallel programming model, which the company began to develop in 2006. It has been widely adopted by developers as an easy way to speed up compute-intensive applications, said Kundojjala.
As such, those who want to compete against Nvidia have to create an entire software ecosystem, which is extremely difficult.
Nevertheless, there are some people willing to bet on China's long-term ability to shake off the likes of Nvidia.
Two days after Nvidia confirmed the planned US government export ban, an executive at a Shanghai-based GPU start-up got a call from an existing investor who wanted to put more money into the venture, according to a person familiar with the situation.