Alibaba
Get more with myNEWS
A personalised news feed of stories that matter to you
Learn more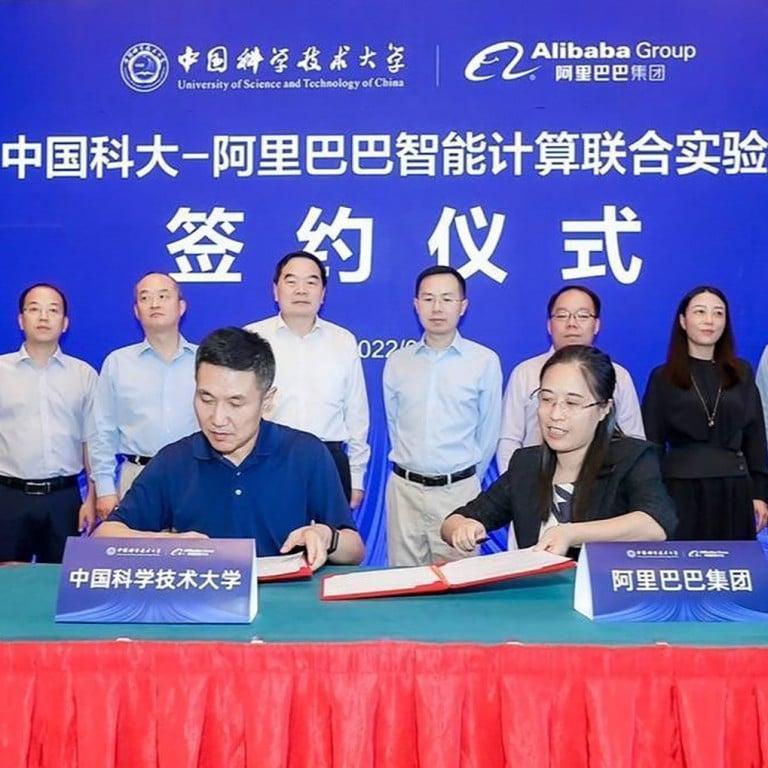 Alibaba sets up AI labs with two prestigious Chinese universities as Washington ramps up tech restrictions
Alibaba is teaming up with Peking University and the University of Science and Technology of China to focus on frontier theories and cognitive intelligence
The news comes shortly after Washington restricted access to advanced GPUs from Nvidia and AMD that have become critical to AI applications
Hangzhou-based Alibaba, owner of South China Morning Post, announced over the weekend that it launched the AI Innovation Joint Lab, a project between its online advertising subsidiary Alimama and Peking University. The lab focuses on frontier theories, methodologies and key technologies in AI, the two parties said.
The Beijing-based university has a two-decade track record in AI. In 2002, it launched the School of Intelligence Science and Technology, the first of its kind in China. It has been a leading university in the space ever since.
The announcement of the new lab came just two days after Damo Academy, Alibaba's in-house research institute, said on September 15 that it had launched an Intelligent Computing Lab with the University of Science and Technology of China (USTC) in Hefei, capital of eastern Anhui province. That lab, according to an announcement put out by USTC, will focus on cognitive intelligence, privacy-preserving computing, intelligent speech technology, natural language processing, and machine vision.
While China's tech giants have splurged significantly on AI researchers, their efforts pale in comparison to those of many international peers. The US still dominates the AI industry, according to the AI 2000 index published by Tsinghua University in January. Out of 21 subcategories – which include natural language learning, computer vision, chips technology, Internet of Things, and augmented reality – 16 were led by US scholars in the rankings.
Among the top-ranked Chinese AI scholars were Jia Yangqing, vice-president of Alibaba, and He Xiangnan, who heads USTC's Lab for Data Science.
The US accounted for nearly 60 per cent of the 1,146 scholars on the AI 2000 index, while China was a distant second with 232 listed scholars.
As mistrust deepens between the US and China, Washington has dialled up its scrutiny of Chinese technology purchases, leading to a range of sanctions restricting access to advanced technologies such as semiconductors and AI. Most recently, the US banned the export to China of specific graphics processing units (GPUs) made by California-based chip giants Nvidia and AMD.