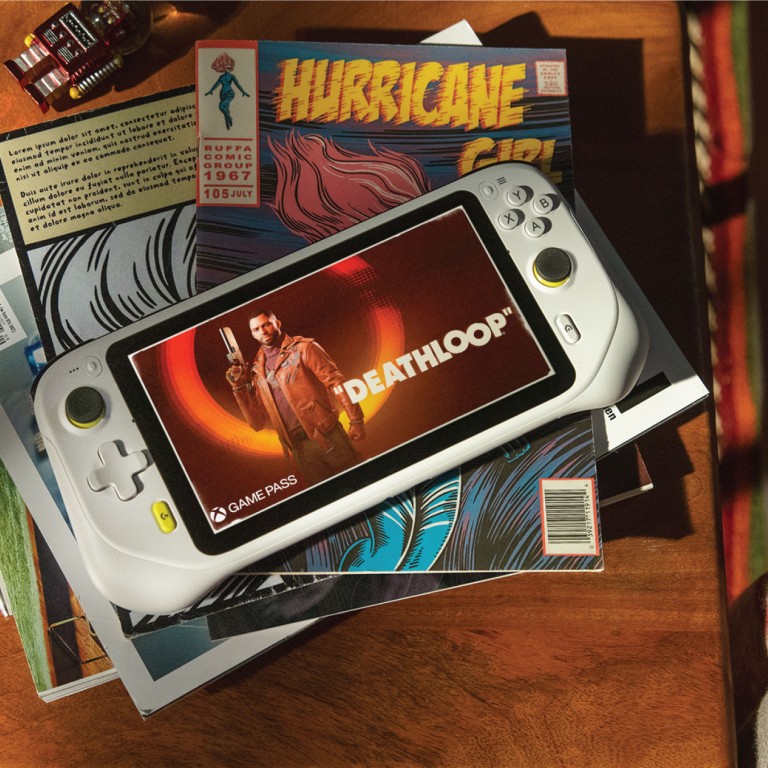 Tencent and Logitech join forces for first handheld cloud gaming console which will face off with Valve's Steam Deck
The handheld console will support cloud streaming from Xbox Game Pass Ultimate and Nvidia GeForce NOW
The handheld console is expected to be available in October at a suggested retail price of US$349.99
Tencent Holdings, the world's largest video gaming company by revenue, has joined hands with Swiss-American computer gear provider Logitech to launch a handheld game console, which could become a rival to Valve's Steam Deck.
The handheld console called Logitech G Cloud, developed by Tencent Games and Logitech G, will support cloud streaming from Xbox Game Pass Ultimate and Nvidia GeForce NOW, the cloud gaming services provided by Microsoft and Nvidia Corp respectively, according to a press release by Logitech on Wednesday.
The new console will also enable players to stream local games from an Xbox console or Steam, download remote play apps and allow video streaming via the Google Play Store, it added.
The new device, which will help users to "play AAA games when they are away from their console or PC" according to Logitech, will likely be a direct challenger to Steam Deck, the latest handheld game console developed by Valve Corporation, which was released in February and brings games from the world's largest PC game store to a handheld console.
The new device, which is the first such handheld console based on cloud gaming technology, opens a new chapter for the Chinese gaming giant to "further push the frontiers of gaming devices", said Daniel Wu, general manager of Tencent Games Smart Solution Innovation Lab, in an earlier press release from Logitech in August that announced the partnership between the two companies.
Cloud gaming, which utilises data centre servers to stream video games thereby eliminating the need to download or install PC or console games, has become an increasingly popular form of video gaming in recent years.
In 2021, China's cloud gaming market recorded revenue of 4.06 billion yuan (US$570 million), with a year-on-year increase of 93 per cent, according to a report jointly released by the China Academy of Information and Communications Technology and market research firm IDC.
You Haokun, a senior analyst at research institute LeadLeo, said the new device will benefit the promotion of cloud gaming to a wider consumer market, but it still has various limitations at this stage.
"It is very embarrassing that the handheld console only supports Wi-fi instead of mobile connectivity. Just like AR glasses that must be connected through wires, it limits the promotion of the product," said You. "Under Wi-fi-connected scenarios, it is also hard for such a portable device to create more attraction than PCs which are connected by a network cable, unless it has a good content ecosystem."
You added that the business model of providing cloud gaming services via a console remains uncertain.
The handheld console, which has a 7-inch 1080p resolution touch screen and a refresh rate of 60Hz, is expected to be available in October at a suggested retail price of US$349.99, although pre-order buyers may be able to get it for US$299.99 for a limited time period, according to Logitech's press release. By contrast, Steam Deck is priced at US$399, US$529 and US$649, based on different memory capacities.
Tencent, which is battling economic headwinds, a shrinking video game user base and declining revenue at home, has doubled down on its investment in foreign AAA video game studios, as it looks overseas for more growth.
In August, Tencent invested 300 million euros (US$293 million) in Guillemot Brothers Limited, the family holding group behind French gaming giant Ubisoft Entertainment SA, enabling it to more than double its stake in the creator of the Assassin's Creed series. This came just a week after Tencent announced its acquisition of a 16.25 per cent stake in Japan's FromSoftware, developer of the hit action role-playing game Elden Ring.
However, some Chinese video gamers users on Friday complained that the price of the new handheld game console was too high.
"It is even more expensive than [some versions of] Xbox, but at least I can still play via an Xbox console when the network is not that good, which is impossible for the handheld cloud gaming device," said a user under the handle "FBI Minghan" on Chinese video game community app Xiaoheihe.
Consoles have also remained a small part of China's overall video gaming market, as they were prohibited from sale until a 15-year government ban ended in 2015. Major console makers have since launched China-specific versions of their hardware, but with limited game titles approved by the government and with modified content.