Apple
Get more with myNEWS
A personalised news feed of stories that matter to you
Learn more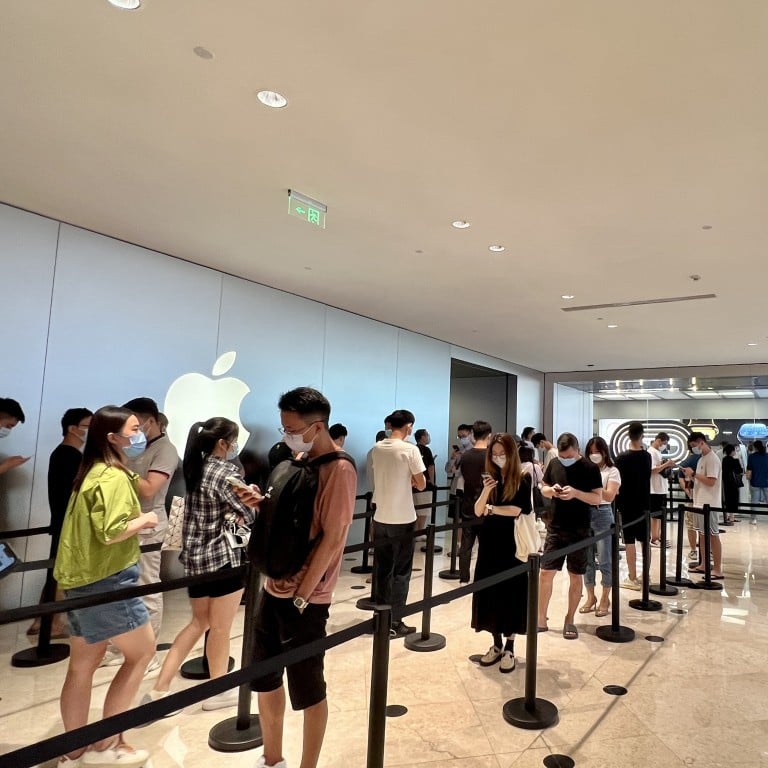 Sales of Apple's new iPhone 14 a mixed bag in China, with Pro models in hot demand but lukewarm response for standard models
Apple supplier Foxconn Technology Group is said to have dismantled parts of its production lines for standard iPhone 14s, and switched them to Pro
Analysts say Apple may need to fine-tune its differentiation strategy in China between the standard and Pro models
A week after Apple launched its new iPhone 14 handsets in China, the verdict from consumers appears to be a mixed one, with Pro models in high demand but basic models facing lukewarm sales amid mounting economic headwinds in the country.
"Based on our current research, the standard iPhone 14 model has had a less favourable sales performance than that for Pro models, with the Pro Max being the most well-received [of the series] among Chinese consumers," said Will Wong, a Singapore-based analyst at IDC.
The sales performance indicates "Apple may need to fine-tune its differentiation strategy between the standard and Pro models … [to] potentially better stimulate demand for more budget-conscious iPhone users," added Wong.
Apple supplier Foxconn Technology Group is said to have dismantled parts of its production lines for standard iPhone 14 models in China and updated them to Pro lines, according to a report by Chinese state-owned media outlet China Securities Journal. A spokesman at Foxconn, formally known as Hon Hai Precision Industry, said the company "would not comment on market rumours".
TF Securities analyst Kuo Ming-chi, who said earlier this month that orders of the iPhone 14 and 14 Plus were likely to be cut, wrote in his latest report that if such a production line switch is made, iPhone 14 Pro models would take up 60 to 65 per cent of total shipments for the iPhone 14 series in the second half of 2022, up from a previous estimate of 55 to 60 per cent.
The iPhone 14 Pro Max, the most expensive model, is expected to be the most popular, accounting for 30 to 35 per cent of the new product line, according to Kuo, who is known for his accurate assessment of Apple's business in China.
Sales volume for basic models of the iPhone 14 series dropped 71 per cent in the first 11 days post launch, which included a week of pre-orders and four days of public release as of September 19, compared to last year's iPhone 13 versions in the same sales period, according to market research firm Sandalwood Advisors. Sandalwood monitored the sales performance of Apple handsets on Tmall, an e-commerce platform operated by the Post's owner Alibaba Group Holding.
Pro models of the iPhone 14, which include the Pro and Pro Max, jumped 38 per cent, according to the Sandalwood report released last Friday. In total, the iPhone 14's overall line-up recorded a 6 per cent decline in unit sales volume, but a 4 per cent rise in sales amount compared to the previous version in the same period.
"The sales performance of the iPhone 14 series reflects the changes in the iPhone product line strategy amid the global macroeconomic downturn, deficient consumer demand, and rising supply chain costs," Sandalwood said.
China's
smartphone
shipments
plunged 31 per cent in July to 19.1 million
, amid weak consumer sentiment and the lack of major new releases, according to the latest data by the China Academy of Information and Communications Technology. For the first seven months of 2022, total smartphone shipments in China reached 153 million units, down 23 per cent from the same period last year.
Sandalwood data showed that the sales volume on e-commerce platforms continued a decline in the past three months, with 4 per cent year-on-year drops in June and July and a wider 10 per cent slump in August.
The lacklustre performance of the basic models of iPhone 14 began to show on the first day of public release, when scalpers reported that prices in the grey market had dropped below the official price tag, while the Pro models had asking prices of up to 2,000 yuan higher than original prices. The Pro models have been a hot topic of discussion on Chinese social media.
"Hoping to ask other buyers in Fujian province: when did you place your order and has it started shipping yet?" posted a user called Wu Yin on Weibo on Monday, who expected her order to start shipping on October 10.
Another user named Xiaohua complained that she tried for 10 days to buy a 256-gigabyte iPhone 14 Pro Max in purple for in-store pickup.
An online order for the iPhone 14 Pro Max currently requires a wait time of five to six weeks, while the Pro version takes about four to five weeks to be delivered, according to a check on Apple's official website on Monday.