Apple
Get more with myNEWS
A personalised news feed of stories that matter to you
Learn more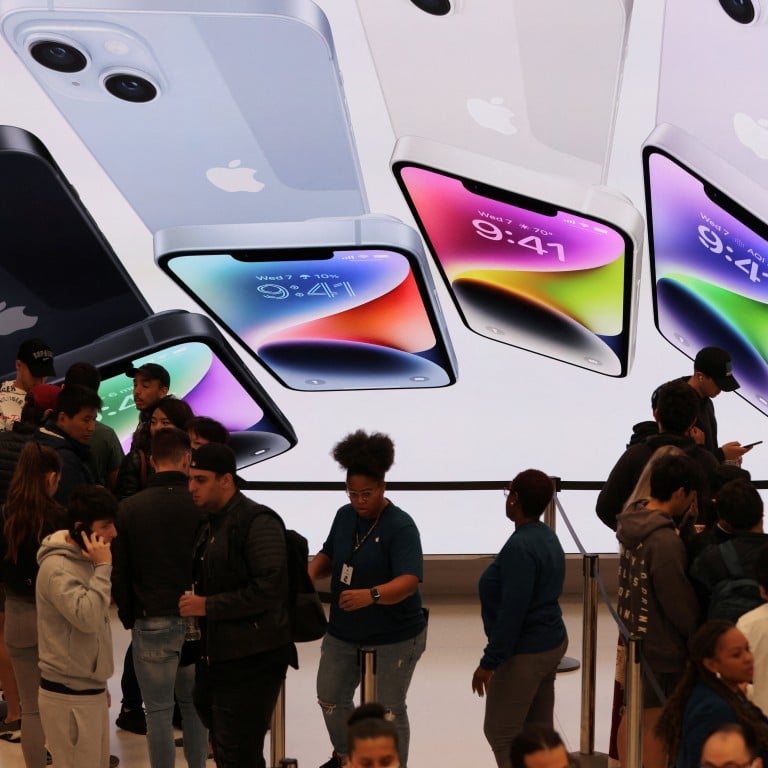 Apple adds six Chinese suppliers, but cuts seven mainland contractors in gradual move to diversify its manufacturing network
Mainland China remains the US tech giant's primary production base, where about half of factories run by its top 190 disclosed suppliers are located
Apple's latest supplier listing signals a gradual move to diversify its manufacturing network beyond China to countries like India and Vietnam
Mainland China remains the US tech giant's primary production base, where about half of the factories run by its top 190 disclosed suppliers are located, according to a South China Morning Post analysis of the firm's contractor list for its financial year ended September 25, 2021.
Apple's latest published supplier list represents 98 per cent of the company's direct spending for materials, manufacturing and assembly worldwide. Data on each supplier's monetary value and production capacity was not disclosed.
The latest listing reflects how Apple has moved to diversify its supply chain beyond China to countries like
India
and
Vietnam
, as
Covid-19 lockdowns
on the mainland disrupt manufacturing activity and growing tensions between Beijing and Washington further
unsettle business
in the world's second-largest economy.
Neither Apple nor Ofilm, which is based in the eastern city of Nanchang, has commented on the forced labour allegation.
While Apple's supply chain diversification efforts have gathered speed this year, analysts expect the US tech giant to continue working closely with mainland Chinese producers for the foreseeable future.
"Apple may reduce production in mainland China and increase [manufacturing] in India and Vietnam, but it still has close ties with mainland producers [that are part] of its supply chain," said Eddie Han, manager at Taipei-based Isaiah Research.
A number of mainland Chinese suppliers are already expanding supply chain partnerships with Apple, according to Han.
"Apple has an extremely high demand for product quality," Lam said, adding that continued work with long-term Chinese partners enables the US tech giant to reduce uncertainty.
Some major Apple suppliers that only ran factories on mainland China years ago have expanded their operations in other countries.
Shenzhen-based earphone maker INB Electronics, for example, has established operations in northern Phu Tho province in Vietnam. Taiwanese lens maker Genius Electronic Optical has added a new plant in Taichung City in the island, to complement its operations in southeastern Fujian province.
California-based Boyd Corp, an energy management and environmental sealing solutions provider, added new plants in the state of Chihuahua in Mexico and in the Midwestern US state of Wisconsin, while continuing to run its factories in southern Guangdong and eastern Jiangsu provinces.
Apple's new Chinese suppliers and manufacturing locations:
Baotou INST Magnetic New Materials Co (Inner Mongolia)

Beijing Zhong Ke San Huan High-Tech Co (Zhejiang)

Crystal-Optech Co (Zhejiang, California)

Jiangyin Kangrui Molding Technology Co (Jiangsu)

Shenzhen Linkconn Electronics Co (Jiangsu)

Wingtech Technology Co (Yunnan, Zhejiang)
Suppliers removed from Apple's list and their locations:
Golden Arrow Printing Co (Jiangsu)

Jinlong Machinery & Electronics Co (Guangdong)

Selen Science & Technology Co (Jiangsu)

Suzhou Victory Precision Manufacture Co (Jiangsu)

Suzhou Xinjieshun Hardware Machine Electricity Co (Jiangsu)

Jones Tech (Jiangsu)

Ofilm Group (Guangdong, Jiangxi)