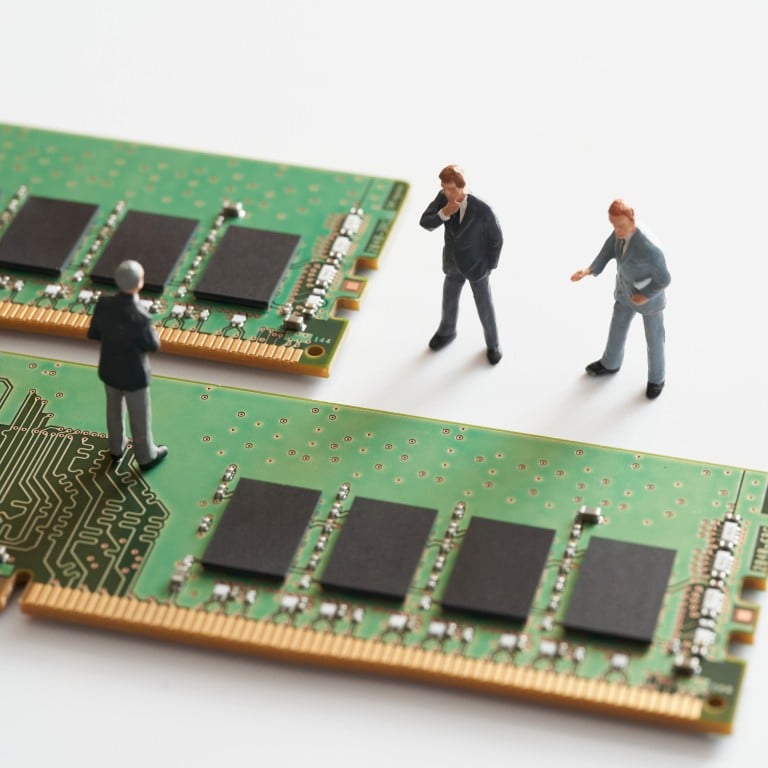 Tech war: China's chip self-sufficiency drive under siege as new US export controls tighten access to advanced semiconductors
The US has further restricted China's ability to obtain the latest computing chips, develop supercomputers and manufacture advanced semiconductors
Washington has also added new licence requirements for items destined to Chinese chip foundries
The
Bureau of Industry and Security
(BIS), an agency under the US Department of Commerce, on October 7 implemented updates that further restrict China's ability to obtain advanced computing chips, develop and maintain supercomputers, and manufacture advanced semiconductors used in military applications, including weapons of mass destruction.
The updates add new licence requirements for items destined to arrive at Chinese chip foundries, which will face a "presumption of denial". By comparison, mainland chip fabrication facilities owned by multinationals will be decided on a case-by-case basis.
The relevant thresholds include: logic chips of 16-nanometre, 14nm, or below; dynamic random access memory chips of 18nm half-pitch or less; and NAND flash memory chips with 128 layers or more.
"A siege is forming," said Arisa Liu, a senior semiconductor research fellow at the Taiwan Institute of Economic Research. "The intensified US tech export restrictions aim to strike at China's abilities in super computing, AI [artificial intelligence] and semiconductor manufacturing."
In addition, the US is imposing new licence requirements to export items used to develop or produce semiconductor manufacturing equipment and related items.
The tightened controls, however, establish a Temporary General Licence. This would minimise the short-term impact on the semiconductor supply chain by allowing specific, limited manufacturing activities related to items destined for use outside China.
Still, China's semiconductor self-sufficiency is expected to be worse off under the latest tech exports restrictions imposed by the US, according to research fellow Liu.
The impact of the latest restrictions is likely to send more shock waves across China's semiconductor industry, providing a stern challenge to Beijing's leaders on how to keep the nation's hi-tech self-sufficiency programme on track.
Shares of Naura Technology Group, China's leading semiconductor equipment maker, closed down 10 per cent to 250.56 yuan (US$35.02) in Shenzhen on Monday.
The US sanctions have "filled the whole Chinese chip industry with a sense of chill" because Washington is using semiconductor technology as a tool to contain China's progress, Gu Wenjun, chief analyst at research firm ICwise, wrote in a research note.
"There's no possibility for reconcilement," Gu said. "Unprecedented challenges loom for China's semiconductor industry."
A 60-day process is needed to add Unverified List parties to the Entity List on account of sustained uncooperativeness by a host government to facilitate the agency's review.
YMTC, China's leading NAND flash maker, as well as DK Laser and Beijing Naura Magnetoelectric Technology Co, were among the 31 entities recently added to Washington's Unverified List.
The latest restrictions also expanded the scope of the US Foreign Direct Product Rule to include advanced computing and items such as supercomputers.
This is expected to make it harder for the 28 Chinese entities added to Washington's trade blacklist between 2015 and 2021 to obtain such foreign-produced items that contain US-origin technologies.
While Chinese Foreign Ministry spokeswoman Mao Ning has described the latest restrictions as a means for the US to "maintain technological hegemony", some analysts expect Beijing to pursue lobbying efforts in Washington.
China is expected "to encourage US firms to lobby the administration" after the US midterm elections this year and ahead of the next US presidential elections in 2024, according to Woz Ahmed, managing director at consultancy Chilli Ventures.